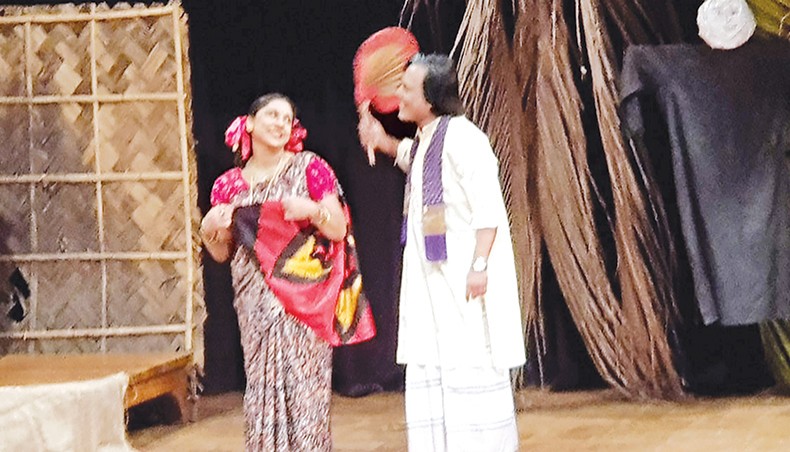 Theatre troupe Bangladesh Theatre celebrated its 38th founding anniversary staging its 6th production titled Sea Morog at the National Theatre Hall of Bangladesh Shilpakala Academy on Friday.
Besides, the troupe honoured thespians and paid tribute to theatre activists who died this year.
Guests and organisers paid tribute to Aly Zaker, KS Feroz, Mahmud Musa, Ahsan Habib, Sadek Bachhu and others at the programme lighting candles.
Following which, Bangladesh Theatre felicitated theatre activists namely Ananta Hira, Rezanur Rahman, Rafiqullah, Chancal Saykat, Abdul Halim Aziz, Humayun Kabir Himu, Ashok Roy Nandi, dancer Amanul Haque and poet Lily for their contribution in respective areas.
The play Sea Morog has been written by Asadullah Farazi and directed by Humayun Kabir Himu.
Sea Morog is a comedy that highlights problems typically associated with the rural areas including superstition and lack of education. The story revolves around an influential person of a village named Badal Sarkar, who one day finds a rooster that appears to bring good luck.
Khandokar Shah Alam enacted the role of Shikder character while Firoz Khan played Mustafizur Rahman Suman. Besides, Rafiq Ullah, Nabia Islam Rita and Farzana Fatema Sumi acted in the play.
'We celebrate our founding anniversary organising a theatre festival every year but this year we celebrated the occasion on a small scale due to the COVID-19 crisis. We staged the 286th show of Sea Morog and felicitated theatre activists marking the occasion,' Khonder Shah Alam, chief of the troupe, told New Age.
Want stories like this in your inbox?
Sign up to exclusive daily email
More Stories from Theatre