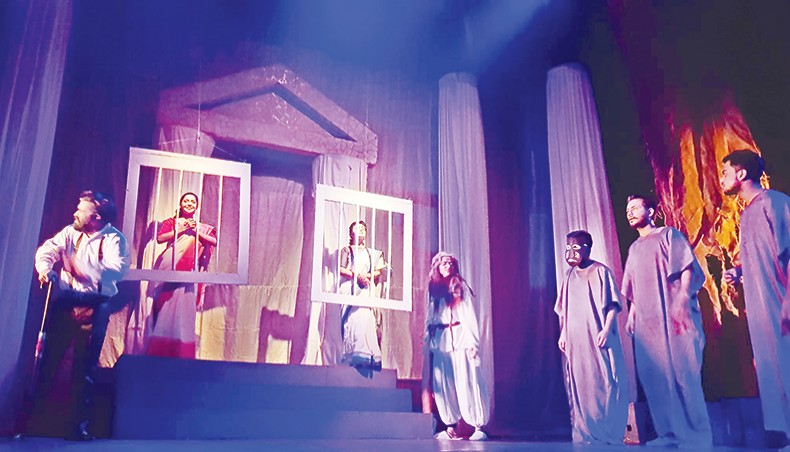 Prachyanat School of Acting and Design premiered Greek playwright Sophocles's play Antigone at the Experimental Theatre Hall of Bangladesh Shilpakala Academy on Friday.
The play has been translated and directed by Neel Kamrul. It depicts the war of succession between the sons of the king of Thebes Oedipus namely Eteocles and Polynices.
The two princes die in the war and the brother of the king Creon ascends the throne of Thebes. He declares that Eteocles will be buried with state honour and Polynices's body will not be buried as he rebelled for the throne.
The play begins with Antigone, the daughter of Oedipus, promising to bury her brother Polynices' body. Her sister Ismene refuses to help her but Antigone buries Polynices secretly. She gets caught and the story moves forward.
Shegufta Ahmed played the role of Antigone in the play.
'I have enjoyed playing the female lead in the play. It has been a great learning experience for me,' said Shegufta Ahmed.
Besides, Nazifa Anzum Tusi,Maliha Tanzim Purni, Supti Das Chaity, Salman Arafat, Shahnaz Parvin Jonaki, Lihazul Ahsan, Tuhin, Alvi Noman and Sadman Albvhi have acted in the play, which was staged by the students of 38th batch of the theatre school.
'Prachyanat School of Acting and Design annually teaches two batches every year. Each batch has to stage a play after completing a six-month professional acting and designing course. The play was staged by the students of the 38th batch,' Saiful Journal, coordinator of the theatre school, told New Age.
Want stories like this in your inbox?
Sign up to exclusive daily email
More Stories from Theatre