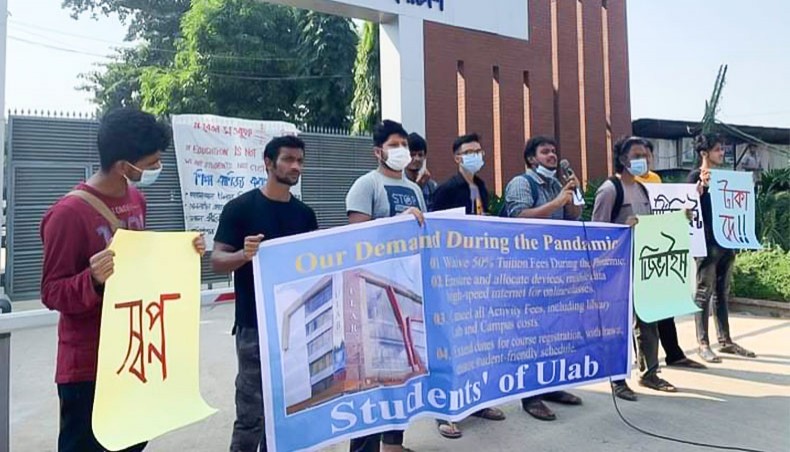 Students of the University of Liberal Arts Bangladesh have been protesting for over a month with four-point demands that include a reduction in the tuition fees and a student-friendly registration process. A participant of the protests, Raihan Atique writes about his experience in the movement and academic life during the COVID-19
PRIVATE universities started their journey in Bangladesh in the early 1990s. During the first decade, these institutions were popular among the economically affluent class because of the high cost of education. However, by the mid-2000s, students from different economic backgrounds started to see private universities as a genuine option to pursue higher education.
The influx of students from middle and low-income households did not make the private universities more accessible rather it added to the commercial aspirations of the institutions. So the commercialization of tertiary education went on relentlessly to the extent that even during the COVID-19, the private university administrations are unwilling to compromise in terms of tuition fees. Even when we know how the economy has hit hard, many families have lost bread-earners, children have lost fathers and mothers, thousands have lost jobs, while even more people have had their income slashed and peoples' mental health has deteriorated.
To put the costing of these institutions into perspective, we can loosely say that bottom tire universities cost at least Tk 5 lakhs, mid-level ones cost around Tk 7 to 8 lakhs and in the top-level universities, graduation degree sets a family back by more than Tk 10 lakhs.
My institution, the University of Liberal Arts Bangladesh falls within this middle category in terms of expenses. For a four-year media studies and journalism degree, I have to pay Tk 7.5 lakhs. Every semester, for four courses, I need to pay Tk 60,000. That is without the cost of housing, food and transportation in Dhaka. It should be mentioned that my university has an open-credit system meaning students may choose the number of courses they take per semester; however, most students choose to take three-four courses every semester to ensure they complete their studies in time.
The pandemic and subsequent economic effects disorganised the timeframe of students' academic curriculum. Dropout rates increased. Where students would take four courses every semester, they are now taking one or two courses. Students have no choice but to apply for tuition fee waivers to continue their education. When online classes started, the University Grants Commission had specifically ordered private universities to consider every student's economic situation on humanitarian grounds.
The ULAB turned down many applications for a waiver. When the authority was asked how many applications for a waiver they entertained during the pandemic, they said, they had considered 28 students for a financial waiver. There are almost 4,500 students currently enrolled in the ULAB.
It needs to be mentioned here that even as the university waived Tk 4,000 from Tk 20,000 preregistration fee during the summer 2020 semester, they discontinued this waiver during the fall 2020 semester. The number of students and amount of waiver suggests that the university allowed Tk 1.8 crore in waiver during the summer semester.
However, when the students applied for a waiver in the fall semester, our vice-chancellor told them they had a loss of Tk 5 crore for allowing Tk 4,000 waiver each in the last semester, and so, it is not possible to offer any waiver now. The amount mentioned as 'loss' appears odd, if we look at the actual amount waived in the summer. In this situation, many students of ULAB began to organise in support of their four-point demands.
A large number of the ULAB students are from outside of Dhaka. They are in difficult situation. The cost of smart devices and the internet added to their educational expenses when they are already paying a lot in living cost. Many students used to use university lab for all the academic works. How can they afford a laptop or smartphone in this crisis? It is not mandatory for a private university student to have a smartphone or laptop because they can take care of their academic works at the university lab. In the current situation, one must have at least one device for an internet connection to attend online classes.
When the operational cost of the university has come down because the campuses are close with minimal on-site activities, the electricity and water costs must have come down, expenses in security and cleaning may also have come down. In addition, the festival bonus of the teachers is reportedly reduced. On what grounds are they demanding full tuition fee from the students?
Students are now responsible for ensuring internet access through an IT device. Students are also told by e-mail to turn on the camera during the test since physical invigilation is not possibly by teachers during the COVID-19 outbreak. For that, if they need two mobiles they are asked to borrow another phone from someone. To have a conversation about these issues, when the protesters went to the authority, the university agreed to sit in a meeting. The ULAB sat with the students twice to discuss, but the discussion did not bring any resolve.
Although, they agreed on some points, they stated they won't be able to all demands due to the ongoing 'economic instability'. They insisted that the university is financially dependent on tuition fees from the students. However, the Private University Act 2020 clearly states there are six income sources for private universities, student fees being only one of them. In addition, for private universities in Dhaka and Chittagong, there are supposed to be a Tk 5 crore crisis-time fund. As students, we are quite unsure where this scarcity of funds comes to play while deciding our demand for waiver when the Act clearly outlines diverse sources of funding for private universities.
We found their logic inconsistent with the law. As our academic life is on the line, we did not have any other choice but to continue our mobilisation in favour of 4-point demands. On October 23, parents of many students got phone calls from the university, tactically asking them to keep their children away from the movement. So, the students and their parents soon got scared that the university might take actions against them. We believe such actions are unexpected from a university which particularly has 'liberal arts' in its name, especially, when the university is teaching us journalism and the department has earned international accolade.
In front of the Dhanmondi campus, as a part of the protest, we called for a concert on November 7. Police tried to stop us in different ways. Three vans police arrived one by one but not a single student left the spot. The university authority could not stop us in any way and so they sent a disciplinary notice to two of the organisers of the protests. Later, these two students were expelled. And, I am one of the two expelled students.
The university did not hesitate to risk the academic future of these two students. The disciplinary committee of the ULAB held secret hearings with them on two occasions. Two of them were not allowed to sit at once and they had to go individually. However, the expelled students were asking from the beginning of a public hearing. Since they were accused of making 'wrong' comments publicly, they wanted a public hearing, a chance to defend themselves publicly. Authority denied their request for a public hearing.
The ULAB code of conduct states that accused student can apply for a public hearing if he/she wants but the ULAB disciplinary committee didn't go for the open hearing. As the demands are nothing sensitive, then why are authorities defying their own rules and deny a public hearing? Is it an expression of their authoritarianism or they are trying to hide something?
As a result, many students in Bangladesh and abroad erupted in protests. All of them have sent messages of solidarity to the protest. Media personalities like Amitabh Reza Chowdhury, student leaders like the Jawaharlal Nehru University Student Union president and the University Teacher's Network sent out messages of support. They are continuing their protests for fair demands. They only demanded a tuition fee waiver during a public health emergency.
After our protest, some students were interviewed by the university authorities and given waiver through a video conference titled 'Financial Aid'. We have heard that many students are harassed in various ways. Students were discouraged to apply for a waiver. Many offensive questions were being asked. They were told that those who have lost their parents are more likely to be helped by the university. This, however, means that the university administration is not acting in accordance with the UGC directive that asked them to adopt a more humanitarian mode of operation during this time of crisis.
After all these, Sadat Mahmood and I were expelled for our involvement in the on-going movement for a waiver. Students upset at the authority's decision of cancellation of studentship declared a strike. The protesting students did not allow any outsiders to the university gate.
Since Meena Bazar, Organikare and KK Tea warehouses (business concerns of Gemcon group), students action became an obstacle for the movement of goods carrying vehicle in and out of the warehouse. The security of Gemcon group exploded at one point and the students were assaulted by civilians. Attackers kept their faces covered. One of the protesters sustained injuries in the leg. Students, at this point, demanded punishment of those involved in the attack. Once again, they demanded an open hearing. They were told, a decision will be made by 8:30pm that night. No words from the university administration reached them. The students waited until late in the evening. They did not even talk to students, let alone arranging treatment for injured students.
The next day, the students were planning on holding a daylong cultural event, but could not secure electricity connection from the campus authority. At one point the Gemcon security assaulted the student again. The deputy-proctor to the ULAB arrived at the scene with police protection, when he spoke with students but it was rather futile.
The next day Sadaat Mahmood and I were arrested by the police. We were not informed, despite repeated requests to know the allegations, the arresting officers did not show the arrest warrant. The university did not shy away from suing its students just to stop the movement.
The Gemcon security who repeatedly assaulted us was not arrested. Instead, the authority filed a case against us. We were beaten again at the police station. Sadaat Mahmud still cannot walk properly due to his injury. All this violence only to deter us from asking our own campus authority to act rather humanely during a time of severe economic and health crisis?
Raihan Atique is a student (who wants his studentship back) of the University of Liberal Arts Bangladesh.
Want stories like this in your inbox?
Sign up to exclusive daily email
More Stories from Mindspeak