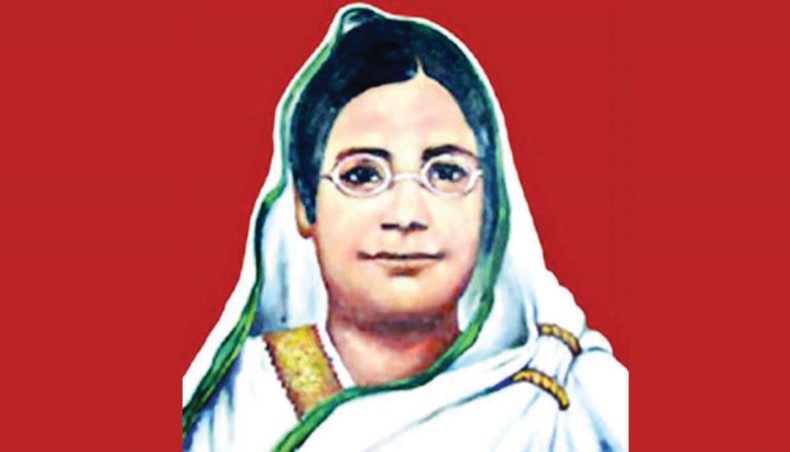 In 1930, her essay 'Subeh Sadeq', Rokeya Sakhawat Hossain (1880–1932) calls upon women to break their silence, reclaim their lives and be the agents of their own emancipation. It appears that her call resonates more today than it did before, writes Nahid Riyasad
The dumb and silent have no foes
That's how the saying goes
All of us with titles tails
Keep so quiet telling no tales.
— Rokeya Sakhawat Hossain quoted in Azfar Hussain (The Daily Star, December 5 2020)
IN THE last couple of months, Bangladesh has seen fierce protests, condemning sexual violence and demanding equal rights for women. The protesters took to the streets when a string of gender-based crimes was reported.
At this juncture of time, the birth and death anniversary of Begum Rokeya Shakhawat Hossain (1880-1932) carried added political significant as she is the symbol of women's emancipation in Bangladesh. The anniversary is celebrated as moment to reflect on the progress and perils of women's struggle today.
She was an essayist, fiction writer, poet, journalist, translator, educationist, social reformer and organiser. Her works — besides enriching Bangla literature written by woman writer of her time — deals with the causes of women with particular focus on their education and emancipation.
Roushan Jahan characterised Rokeya as 'the perceptive feminist foremother' considering how her works addressed different feminist questions. Critics also think her uniqueness comes from the way she has negotiated with western feminist ideas and created a body of knowledge that more context specific and relevant for Bangladesh.
Looking back at her life and works can be an exploring journey to find out the lives and struggle of Bengali Muslim women in the pre-partition Bengal. Also, the journey will reveal how important her works were to pave the path of formal education for ordinary women.
Some of her major works include Matichur, a collection of her essays in two volumes accommodating her feminist thoughts; Sultana's Dream, a novella — originally written in English and later translated to Bangla by herself — sets in a fictional feminist-utopian land ruled by women; Padmarag, where she talks about the strings of difficulties experienced by Bengali women and Abarodhbashini, where she challenged the practice of purdah and how it can endanger women's lives, self-image and identity.
She established the first girl's school in Kolkata for Muslim girls which are seen as a milestone in terms of education for the women. Few months after the death of her husband Sakhawat Hossain, she started Sakhawat Memorial Girl's High School after his name in Bhagalpur with only five students. In 1911, a dispute over property with her husband's family forced her to move the school in Kolkata, but she ran the school for 24 years.
In 1916, she founded the Muslim Women's Association, an organisation that fought for women's education and employment. The platform was active in holding debates and conferences regarding the status of women and education. She advocated reforms, particularly for women, and believed that excessive conservatism were principally responsible for the relatively slow development of Muslims in British India.
Her progressive thinking and endeavours of social reforms was disliked by a lot of her contemporaries. Conservative quarters of the Muslim society did not approve of her works because she was an advocate of women's education. So much so, she was not allowed to rest in peace in Kolkata. Her dead body was shifted to the outskirt of Kolkata Panihati, Sodepur. Her grave was later discovered by historian Amalendu De.
There is a lot of debate around her name. She is commonly referred to as Begum Rokeya. Begum comes from Beg — a Turkish expression to identify noble men — and Begum is their wives who by norm would live inside their houses. Now, Rokeya's works contain sharp criticism of these women and against the very system that keeps women inside the house.
A prominent rights activist of Bangladesh Farida Akhter wrote an opinion piece on Rokeya titles 'Ononno Rokeya' where she argues that the Begum before her name is added out of respect. Farida thinks that considering Rokeya's writings and works, the Begum has become a symbol of feminism and helps Rokeya to stand as a feminist figure.
However, personal letters, letters published in newspapers and school documents showed that she preferred to write RS Hossain as a short form of Rokeya Sakhawat Hossain.
Rokeya's poet identity is not much talked about but she was a politically engaging satirical poet whose wit and sarcasm can be rebellious. Some of her important poems include 'Banshiful', 'Nalini o Kumud', 'Saugat', 'Appeal' and 'Nirupam Bir'. What she wanted convey in her poetry is — your silence is not going to protect you.
In 1930, her essay 'Subeh Sadeq', Rokeya calls upon women to shed their silence, reclaim their lives and be the agents of their own emancipation. It appears that her call resonates more today than it did before.
Nahid Riyasad is a member of the New Age Youth team.
Want stories like this in your inbox?
Sign up to exclusive daily email