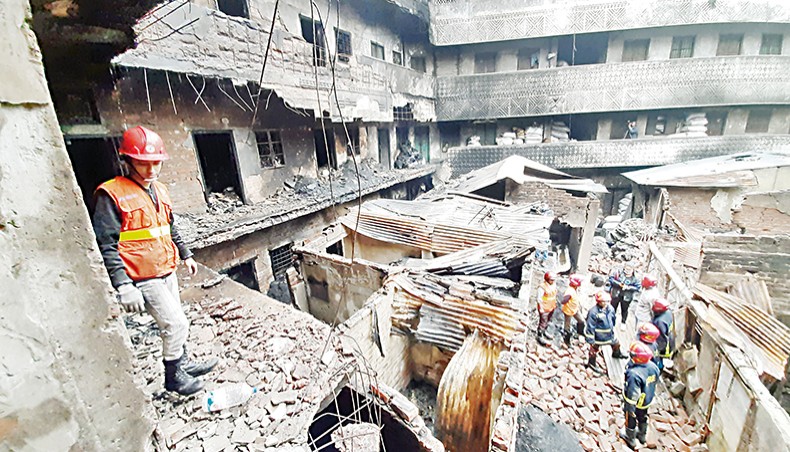 Dhaka's Old Town is caught in a vicious cycle of fire-related disasters as once again a fire accident gutted over 50 shops, a number of storehouses and a plastic factory early Friday.
The fire originated at a four-storey structure called Noakhali Building on Urdu Road, only hundred yards from Wahed Mansion, where at least 70 people were killed and many were injured in a fire on February 20, 2019.
Fire service officials said that no casualties were reported in the incident but all the shops, storehouses and a plastic factory were gutted in the fire that began at about 4:45am.
Debashish Bardhar, deputy director of the Fire Service and Civil Defence, said that 15 fire fighting units doused the fire after four hours and rescued a 62-year-old worker from the third floor of the building.
Officer-in-charge of Chawakbazar police station Mawdud Hawlader said that police are yet to find the owners of the disputed building.
He said that police sealed off the building and informed the concerned agencies about it.
Plastic Goods Manufacturers and Exporters Association vice-president KM Iqbal Hossain said that plastic is not as inflammable as chemicals.
He said that fire in plastic recycling factories occurred repeatedly as the government failed to relocate them.
Local councillor Kamal Uddin Kabul said that the building was declared risky for use but its owners rented out its floors for plastic business and a factory.
Fire service officials said that the fire started on the ground floor of the building and spread within minutes because of the inflammable plastic items stored there on all floors.
Residents of the densely populated areas said that fire broke out at least four times in the last five years at Noakhali Building.
They said that chemical business continued unabated in Dhaka's Islampur, Chawkbazar, Nimtoli, Lalbagh and Shahid Nagar even after repeated deadly fire incidents caused by such substances there as the government could not relocate the hazardous business despite repeated commitments.
Dhaka South City Corporation officials said that all the hazardous factories were illegal now as the corporation had not been renewing any of the 2,000 trade licences since 2013-14 fiscal.
The Bangladesh Small and Cottage Industries Corporation undertook a project to relocate the chemical stores from the area to Sirajdikhan in Munshiganj on a 308-acre area.
Chemical traders usually store inflammable chemicals in parking spaces and in apartments and buildings generally meant for residential and commercial use.
BSCIC officials said that the project worth over Tk 1,600 crore had been scheduled for completion by June 2022 but it might need further extension as project implementation was progressing slowly for various reasons.
The families of many dead in the fire at Wahed Mansion of Chawkbazar said that they were living a subhuman life after losing their earning members as the government was yet to give them any compensation.
Nasir Uddin, father of dead victim Wasi Uddin Mahid, said that after the deadly fire incident, the city corporation ran a month-long drive to evict chemical warehouses from the densely populated residential area, but many chemical storage facilities were still situated there.
The government probe committee identified that the fire had originated at a chemical warehouse located at Wahed Mansion, a commercial building on Nanda Kumar Dutta Lane, Churihatta, barely 2.5 kilometres away from Nimtoli where a deadly fire from chemical explosion killed 124 people in 2010.
Ashiq Uddin Sainik of Nanda Kumar Datta Lane told New Age that chemical businesses were back in full swing in the densely populated areas of Old Town immediately after the taskforce ended the eviction drive against the illegal businesses.
Want stories like this in your inbox?
Sign up to exclusive daily email
More Stories from Country