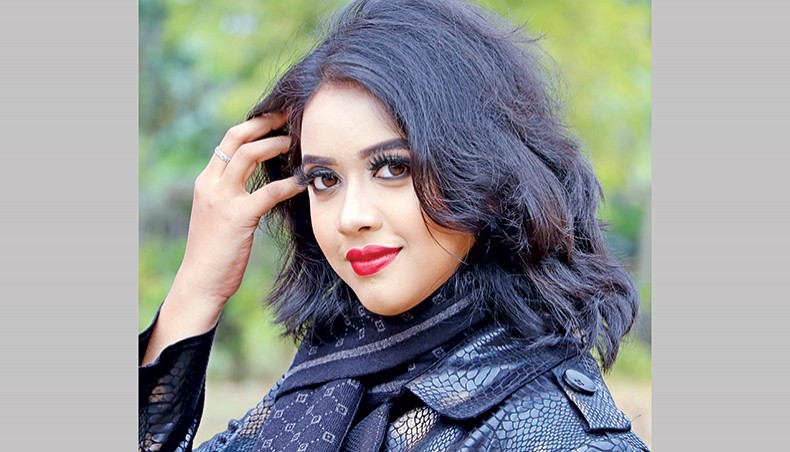 Fatima Tuz Zahra Oyshee, who bagged National Film Award 2019 as the best female playback singer, said she wants to leave her mark on the country's music scene and want to live in the hearts of the music lovers through her songs.
She jointly received the award along with singer Momtaz Begum.
Oyshee lent her voice to the song Mayare in the film Maya-The Lost Mother.
'I am honoured to receive the National Film Award. I am thankful to my family and teachers for their support. I urge my well-wishers and fans to keep me in their prayers. I still have a long way to go. I want to leave my mark on country's music scene and want to be remembered for my songs,' Fatima Tuz Zahra Oyshee told New Age.
Oyshee was born in a culturally inclined family. She grew up listening to Tagore, Nazrul, folk and modern songs along with rock music. She received her first music lessons from her mother.
'I received my first music lesson at an early age from my mother. Later, I received music lessons at Rangpur Shishu Academy in 2000 and Noakhali Moumachi Kachikachar Mela from 2003 to 2007. I began performing at TV shows aired on BTV and NTV when I was a student of class four,' said Oyshee, who recorded her first song together with Hridoy Khan for the album Hridoy Mixed Three.
'I recorded my first song Dakshina hawa together with Hridoy Khan in 2010. It was penned by Gunjan Rahman,' Oyshee mentioned.
She has received huge response from music lovers for her albums titled Oyshee Express, Oyshee's Maya, Oyshee's Haowa, Chokher Bali, Oyshee Express-2, Oyshee Express-3, GB Dilki Doya Hoyna, GB Dillite Nizamuddin Auliya and others.
She has recorded more than 300 solo songs including Preme porechi, Tumi chokh mele, Maya, Mutho mutho bhlobasa, Du dike kade hridoy, Chupi chupi, Baishakh elo, Shokher ghuddi, Brishti,, Amay niye chol, Bolna tui, Mishe gechho, Bhalobasha dao and others.
She has also lent her voice to the playback songs in the films namely Odhikar, Tukhor, Game-2, Koto Swapna Koto Asha, Harjit, Bhramar and others.
'I always give my all when recording a song as I want to conquer the hearts of music lovers with my songs. I urge all to listen to my songs and give valuable feedback,' she said.
Oyshee have participated many concerts in countries including Australia, Oman, Qatar, India and others. She had to cancel a number of concerts due to the COVID-19 crisis in 2020.
'COVID-19 has delivered a huge blow to musicians and singers of our country. I perform at about 40 concerts every year. However, I had to cancel all concerts this year due to the COVID-19 crisis. I am scheduled to perform in a concert titled Virtual Digital World 2020 marking the Victory Day,' ended Oyshee.
Want stories like this in your inbox?
Sign up to exclusive daily email