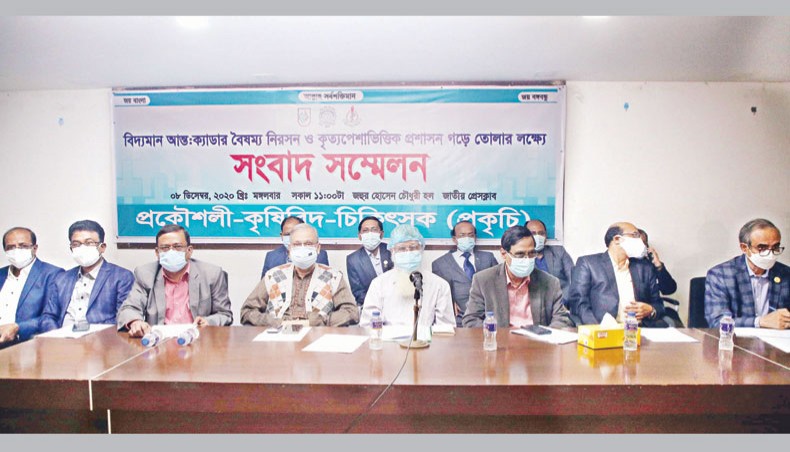 Prakaushali-Krishibid-Chikitsak coordination committee on Tuesday demanded prime minister Sheikh Hasina's intervention to end the discrimination that officials of 26 cadres were facing as they lag behind admin cadre officials in terms benefits, posting and promotions.
Leaders of associations of engineers, agriculturalists and doctors in their joint memorandum submitted to the prime minister stated a 16-point demand addressing the forms of discrimination they were facing compared with the admin cadres, whom they termed as 'the privileged ones'.
They placed a separate three-point charter of demands addressing the problems of the doctors, engineers and agriculturists.
'We will wait for a week to see a change. Otherwise, we will continue organising meetings with the district-level Prakrichi leaders and officials of other 23 cadre services for holding a movement in January,' Prakrichi-BCS coordination committee member secretary Md Ehteshamul Huq Chowdhury told New Age after placing their demands to the PM office.
Earlier on Tuesday morning, they placed the demands to state minister for public administration Farhad Hossain at his office and also briefed the press on their demands at the National Press Club.
On November 30, Prakrichi-BCS coordination committee held a meeting with some Awami League leaders seeking the ruling party's help.
Associations of doctors, engineers and agriculturalists revived Prakaushali-Krishibid- Chikitsak coordination committee was revived in October for raising their issues with the government following the recent appointment of admin cadre officials on deputation to top and mid-level positions in different agencies meant for technical cadres like doctors, engineers and agriculturists.
At Tuesday's press conference, presided by Institution of Engineers president Nurul Huda, Ehtesham said that their first demand was to operate and lead the agencies and ministries, assigned to do technical jobs such as power and energy, health and agriculture with the technical service cadres or by the people having the relevant technical knowledge.
They said that founding president Sheikh Mujibur Rahman had enacted the Services (Reorganisation and Conditions) Act, 1975 for ensuring a discrimination-free cadre service and also made a doctor the health ministry secretary.
They demanded elected representatives would chair the inter-service cadre meetings instead of an equivalent status admin cadre official.
They demanded creating some posts equivalent to senior secretary for the technical service cadres and an upgrading of the head of some of the government agencies such as Petrobangla and the Directorate General of Health Services.
Like the admin cadres, they demanded, creation of grade 2 and grade 3 posts proportionate to the grade 1 posts.
Officials of equivalent status must enjoy the same benefits, said Ehtesham and demanded stopping of deputation of the admin cadre officials in the offices designated to provide technical services and all the technical projects must be led by officers having relevant technical knowledge.
All the admin cadre officials serving at the agencies and ministries meant for providing specialised services on deputation must be removed immediately, Ehtesham said, adding, 'If required, the professional service cadres must be provided administrative training for assuming the top positions in such agencies.'
'We also demand holding at least three department promotion committee meetings and the Superior Selection Board annually to ensure due promotions of technical service cadres,' Ehtesham emphasised that the inclusion of professional cadres in such committees and boards must be considered.
Bangladesh Medical Association president Mostafa Jalal Mohiuddin, Swadhinata Chikitsak Parishad president Iqbal Arslan, Krishibid Institution Bangladesh joint office secretary general Moqsud Alam Khan, among others, spoke at the occasion.
They said that the current government would not be able to reach the development targets it had set unless the right people were not placed in the right positions.
Want stories like this in your inbox?
Sign up to exclusive daily email
More Stories from Country