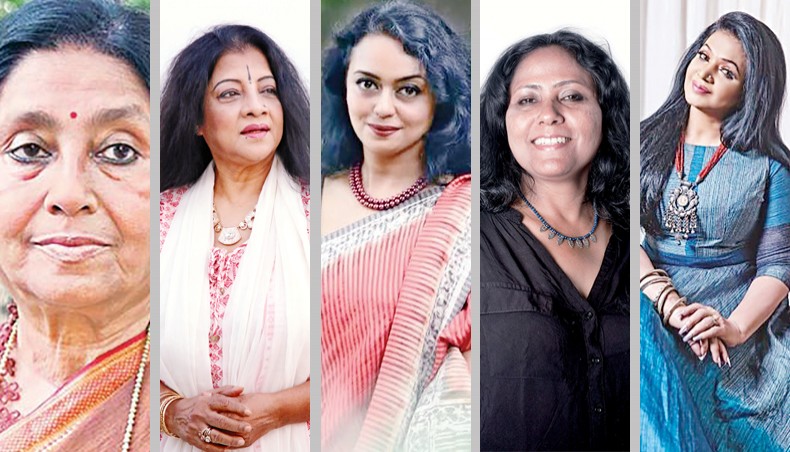 Artistes from different fraternities said that Begum Rokeya was the torchbearer of the movements for women's equal rights and women's education that began in the late 19th century but her dreams still remain unfulfilled.
Eminent Nazrul Sangeet singer Fatema-Tuz-Zohra, veteran actress Ferdousi Majumder, fiction writer Afsana Begum, visual artist Tayeba Begum Lipi and renowned dancer Shamim Ara Nipa shared their thoughts on Begum Rokeya and her contribution in securing a place for women in a patriarchal society.
Veteran actress Ferdousi Majumder said, 'Begum Rokeya was among the few who began the struggle for establishing women's education. Her brother and husband helped her in her stride and today's men should stand alongside women who are pursuing careers in many fields dominated by males.'
'She is a torchbearer for women. I think that every woman should recall her contribution and pay tribute every day. It is a matter of great sorrow that most women in the country still have lack access to literacy,' Ferdousi added.
Eminent Nazrul Sangeet singer Fatema-Tuz-Zohra said, 'Begum Rokeya has been an inspiration for us. When she campaigned for women's equal rights in all sectors, especially to ensure access to education, it was not easy for a Muslim woman at that time to pursue such a goal. I think we should promote Begum Rokeya at the grassroots level.'
She, however, lamented that many students in English medium school don't even know the name of Begum Rokeya, let alone about her contribution to women and society at large.
'Parents in general want to send their children to the United States, the UK and Canada for higher studies and the children are adapting to the western culture forgetting the country's rich cultural heritage. I urge all parents to provide their children a glimpse into the local pioneers who made immense contribution to ensure progress,' Fatema-Tuz-Zohra added.
Fiction writer Afsana Begum said, 'I respect Begum Rokeya as a renowned feminist thinker, writer, educator and political activist. Once she was the first to advocate the idea that women must be treated equally in the society and be considered as humans and rational beings. She revealed that nothing other than the lack of education for women was responsible for their inferior economic position. Her writing served as an eye-opener for all. I am also a fan of one of her creations, Sultana's Dream. I find the feminist fiction an apt response to patriarchy and it seems like an impossible project to me for a woman of her era. Even in today's standard she seems ahead of her time.'
'Though she got married early in her life, she continued writing and reading and made a social change through her works. She is still relevant today for her outstanding works,' mentioned Afsana Begum.
Seasoned artist Tayeba Begum Lipi said, 'Pairaband village, the birthplace of Begum Rokeya, is adjacent to my maternal grandfather's house. My mother often used to tell stories of Begum Rokeya in my childhood. I visited her birth place after I grew up. Then I read her book Sultan's Dream. If she didn't come forward, we wouldn't have been able to reach the level that we have today.'
'As we belong to the privileged class, we have been able to complete our studies. But the scenario in the rural areas is different from that of the urban areas. Religious bigotry and patriarchy are responsible for the perpetuation of oppression against women. Together they ensure that women do not move forward. Women's rights are yet to be established in our country and the situation is getting worse gradually,' Tayeba Begum Lipi added.
Renowned dancer Shamim Ara Nipa said, 'We are greatly inspired by Begum Rokeya who made immense contribution to establish women's rights in the country. As we follow in her footsteps, we should work hard to fulfill Begum Rokeya's visions including women's empowerment, equal rights, education and others.'
'Many women have been raped and tortured by men. It is a matter of great regret that women are not safe in our society. We should work together to create a free and fearless environment for women,' Nipa added.
She will remain an inspiration to women for years to come.
Begum Rokeya Sakhawat Hossain, commonly known as Begum Rokeya, was born on December 9, 1880 at Pairaband in Rangpur. Rokeya, through her writings, advocated that both men and women should be treated equally and for society to prosper, women should have equal access to education with their male counterparts. She died on December 9, 1932.
Want stories like this in your inbox?
Sign up to exclusive daily email
More Stories from Miscellany