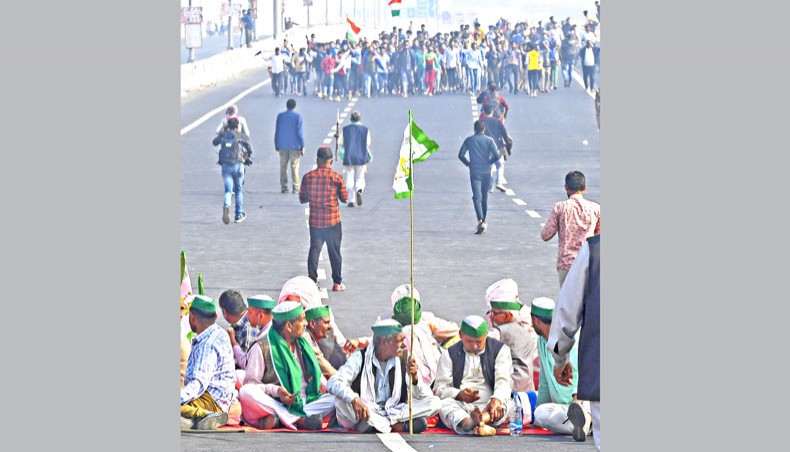 THERE'S little logic or parity, of course, in the idea that Narendra Modi could canvass support for Donald Trump's second term with massive rallies in Gujarat and Texas but Justin Trudeau should not comment on troubles plaguing Indian farmers — whose friends and families live in Canada — leave alone criticise police assault on their march to Delhi.
When an Indian spokesman or any other advises a foreign government to desist from interfering in their 'internal affairs' they remind me of an attitude that Lucknow's Nazir Khan Sahib is remembered for. The similarity surfaced with the Canadian prime minister's sharp criticism of police violence against the farmers, and India calling it interference in its affairs.
Nazir drove father's 1948 Ford Prefect with steady pride and transient moods. The variation could be gleaned from the angle at which he wore his Nehru cap on a given day. Once he was driving Amma through Hazratganj when a gentleman and a lady greeted my mother with a bow from across the street. Before she could wave back, Amma saw Nazir acknowledging the greeting with a knowing smile, and queried if he knew the couple. Nazir's reply came as a politer version of India's response to foreign queries on Delhi's human rights record. With a dismissive jerk to his right shoulder, and hands firmly on the wheel, Nazir said: 'Aapse matlab nahi hai.' (It is of no concern to you.)
Amma, of course, laughed all her life at the memory of the insouciant shrug from the driver with small-town angularities and who mouthed bad Urdu poetry in spare time. Supporters of the farmers' agitation, foreign and domestic, would be less indulgent of India's supercilious demeanour, particularly in dealing with its popular agitations.
Foreign policies can shift perceptibly as would the slant in Nazir's cap. Without investing any hard rules about it, it is safe to say that the cap's notional tilt to the left would generally reveal good cheer, like the day he cheekily told off Amma. A straighter cap reflected hard focus on the road while its regression to the back, which left Nazir's baldpate more exposed, usually marked an off-colour day waiting to mutate into a sullen silence.
On his rickety Avon bicycle, Nazir replaced the handle with a steering wheel he cannibalised from an old croc. A singular craving for assertion (and attention) was revealed in the way he threaded the bicycle with a car-like manoeuvre.
There was a time when ordinary Indians saw their country as part, even a prized part, of the larger world, nothing more, nothing less. When on December 6, 1992, Indian envoys from across the world were sending worried signals to New Delhi over the sacrilege in Ayodhya, they were reflecting a worry shared by ordinary Indians. JN Dixit, the foreign secretary at the time, advised his embassies to plainly inform their hosts that India was witnessing acts of right-wing criminality, which the government was committed to rein in. Dixit's contrite remarks reflected the policy of the day, but its democratic underpinning has since come off.
There were not too many cars in Lucknow in the 1960s, and Nazir revelled in cheekily overtaking Dr T Bahadur's 1906 Lagonda on a clean stretch between Mayfair cinema and Benbow's bakery in Hazratganj. This was only possible as the good doctor drove his vintage car at no more than five miles per hour, usually letting a perky horse cart go past his glistening automobile. Nazir's American Ford and Dr Bahadur's British Lagonda represented Lucknow's transition from a town in slow motion to a speedier but unevenly spread modernity that had roots in foreign shores, something it still does.
Bhagwati Charan Verma's searing Hindi poem about grinding village poverty of early independence only mocked efforts at denial. Charmar charmar chu-charar marar ja rahi chali bhainsa-gaadi. Verma widely known for his story of Chitralekha penned the poem in the 1960s. It likened India's stagnating poverty to the grinding speed of a bullock cart. The poem in a way successfully put the Lagondas and the Fords in perspective.
Away from his angularities, Nazir Khan Sahib belonged to an era when India's (and Lucknow's) Muslims and Hindus, Christians and Sikhs — all fresh from the trauma of Partition — buffered their bonhomie with persistent goodwill and shared an eclectic bond in each other's cultural celebrations. Muslim women in particular were addicted to Aminabad's Shama Silk House, owned by a family of Urdu-speaking Sikh refugees who migrated to Lucknow after 1947. Its Sikh owner had won a handy cash prize in a crossword puzzle the Urdu magazine Shama routinely held, hence the name. It was Punjab's proximity to Urdu that may have dazzled the Indian media when elderly farmers addressed press conferences to articulate an unwavering idea couched in incredibly soft phrases.
What is foreign policy if it doesn't reflect the desire of a people for peace, justice and equality? Urdu poet Kunwar Mahinder Singh Bedi was as much a Sikh devotee of Guru Nanak as he was of other religious icons. Nazir's choice of memorised verses was poor, but his heart was with Bedi's politics. Their romance with the idea of India included active support for rapprochement between Nehru and Ayub Khan, and between Kennedy and Khrushchev.
When Sikh sympathisers thronged the fabled women's protest against prime minister Modi's polarising citizenship laws, they were merely echoing what Bedi had said in a poem for former Indian president and scholar Zakir Husain. In it he advocated a blending of the best aspects of Hindu, Muslim, Sikh and Christian values. 'Hinduon se tujhe lena hai zehanat ka kamaal | Aur Sikkhon se shuj'at ki na ho jiski misaal | Ahle Islam se lena hai ibaadat ka jalaal | Aur Issaiyon se sabr, lagan aur isteqlal'. The lines may have been a tad sophisticated for Nazir, but their message would never daunt him.
Dawn.com, December 8. Jawed Naqvi is Dawn's correspondent in Delhi.
Want stories like this in your inbox?
Sign up to exclusive daily email
More Stories from Opinion