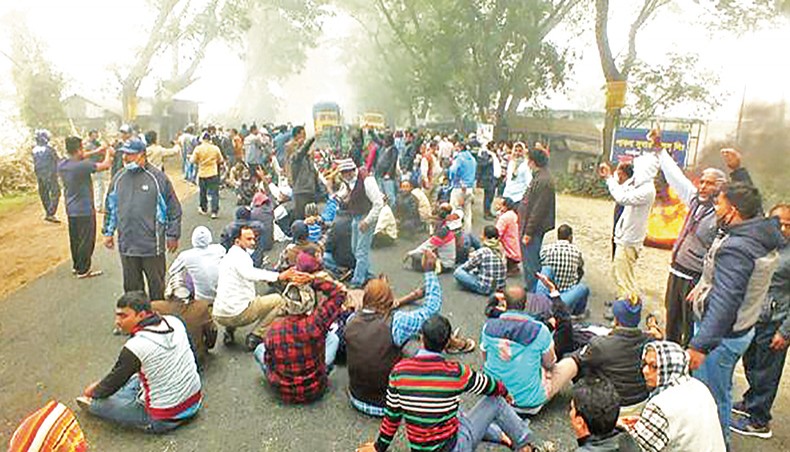 About 30,000 farmers, who on contract grew sugar cane for the six state-owned sugar mills that have recently suspended their operation, fear losing their production as they have been asked to supply it to the nearest sugar mill still in operation.
The nine sugar mills still in operation, they said, have their own sets of contract growers and the mills will take additional sugar cane supplies only after their own growers have finished supplying their produce.
With limited crushing capacity, they said, the operating sugar mills would not be able to deal with additional sugar cane supplies in the next three to four months.
'The timing of the closure of the sugar mills could not have been worse,' Bangladesh Sugarmill Sugarcane Growers Federation general secretary Shahjahan Ali Badshah told New Age.
The delayed sugar cane harvest this year means loss of at least two other crops for the sugar cane growers who would have cultivated potato or legumes or vegetables in their fields in case of timely harvest.
Contract sugar cane growers were already late in harvesting their crop when the government announced its decision to shut down the six state-owned sugar mills at the beginning of the month.
In many areas many of these farmers planted sugar cane in October of 2019 but harvesting of their crop is yet to begin.
According to the Bangladesh Sugar Cane Research Institute researchers, sugar cane matures in 10 months and it is best to harvest the crop in 12 months after planting.
Sugar cane starts to shrink after its harvest time is over, said the BSRI researchers.
About two lakh farmers were on contract for growing sugar cane for the 15 state-owned sugar mills. The sugar mills operate according to their own schedules and their processing of sugar cane continues through December.
But this year the sugar processing has not yet begun, let alone renewing contracts for growing sugar cane for the next year.
'The absence of contracts for growing sugar cane for the next year indicates the impending closure of all sugar mills,' said Bangladesh Sugar Mill Sugar Cane Growers Federation president Mazaharul Haque Prodhan.
He said that about one crore people were directly or indirectly involved in sugar cane production who suddenly found their livelihood under threat.
Sugar cane production also uses vast fallow land which would likely to remain uncultivated if the sugar mills are closed, he said.
This year sugar cane was cultivated on 57,020 hectares of land by contract growers.
There are farmers cultivating sugar cane on fertile arable land but they grow other crops — potato or legumes or vegetables — on such land in the first three months after harvesting sugar cane.
The cultivation of other crops is possible only when sugar cane is not fully grown but this year fields have remained occupied with fully grown sugar canes because of the delayed harvesting.
Bangladesh Institute of Development Studies professorial fellow Md. Asaduzzaman said that sugar mills should have suspended their operation following a plan allowing the people making their livelihood from the sector the time needed to make necessary adjustments.
He said that such an abrupt closure of operation may deliver a deadly blow to the farmers whose income was greatly reduced because of the coronavirus pandemic and frequent natural disasters such as flood this year.
'From the food security perspective the government should continue sugar production to avoid being completely dependent on import for the essential commodity,' said Asaduzzaman.
He blamed corruption and inefficiency for the fall of the country's sugar industry.
Bangladesh has an annual demand for nearly two million tonnes of sugar of which only about 4 per cent is met by local production.
The 15 state-owned mills have an overall production capacity of 2.10 lakh tonnes but produced about 70,000 tonnes in the past year.
The government announced the suspension of sugar cane processing at its six mills on December 1 aiming at reducing its increasing losses in the sector.
The 15 state-owned sugar mills had incurred an average loss of Tk 787 crore every year since 2015-16. In 2019 the loss reached Tk 965 crore.
The government loss from sugar production is attributed to its greater production cost than its market price.
The production cost of each kilogram of sugar in some of the mills crossed Tk 300 against the market price of Tk 60 in the past year.
The interest paid on the longstanding unpaid bank loans and the system loss drove the government's sugar production cost unusually high.
The Bangladesh Sugar and Food Industries Corporation gives loan and other supports to their contract growers and it has borrowed Tk 2,755 crore from various banks since 2005.
Although the growers have paid back almost hundred per cent of their loans with interest, the BSFIC has never paid back the banks their credit, with its overall outstanding loan with interest reaching Tk 3,247 crore now.
The farmers who contract-grew sugar cane for Shyampur Sugar Mills in Rangpur, one of the six mills whose operation was suspended, burst into protests.
'Many of us cultivated sugar cane on loans at high interest rates as we did not get any financial help from the mill authority this year,' said Mamunur Rahman, a grower in Rangpur.
'Now the mill is closed leaving us helpless with fields full of sugar cane,' he said.
BSFIC chairman Sanat Kumar Saha said that they would make arrangements so that the farmers would not have to suffer any loss and hoped to complete processing sugar cane in the next three months.
'We have to bring about reforms at some points. We cannot keep incurring losses,' said Sanat.
The mills whose operation was suspended are Pabna Sugar Mills Ltd, Shyampur Sugar Mills Ltd, Setabganj Sugar Mills Ltd, Kushtia Sugar Mills Ltd, Panchagarh Sugar Mills Ltd and Rangpur Sugar Mills Ltd.
Want stories like this in your inbox?
Sign up to exclusive daily email
More Stories from Country