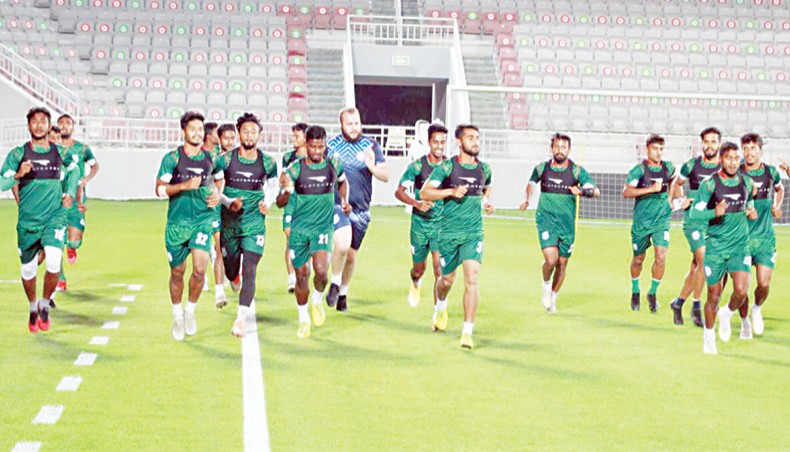 Bangladesh will try to put forward a decent performance when they take on mighty Qatar in their FIFA World Cup and AFC Asian Cup qualifiers Group E second-leg match at the Abdullah bin Khalifa Stadium in Doha today.
The match between the 59th ranked Qatar and the 184th ranked Bangladesh will begin at 10:00pm Bangladesh Standard Time and a crowd of 18,000 will be allowed at the venue. Satellite channel Bangla TV and T Sports will telecast the match live.
This match was originally scheduled for October 13 but due to coronavirus pandemic it got postponed.
'Qatar is expected to win. We know the pitch and conditions will favour Qatar…But the realistic target for us, it is about making sure of a good performance, making it very difficult them to get the result they expect,' said Bangladesh head coach Jamie Day through WhatsApp from Doha.
'And you never know in football, you could get that one chance and take it, though, it's a difficult game,' added the Englishman, who will be in the dugout after being tested COVID-19 negative on Thursday.
Day reached Doha on Wednesday after testing negative for the virus on November 30 in Bangladesh.
Bangladesh captain Jamal Bhuiyan remained optimistic against all odds as he said that they will take the field for a win.
'First of all the aim is to get at least one point…One point will be very good for us. But of course everyone wants to win, if we can play well, we can get three points,' Jamal said.
Qatar, who are the reigning Asian Champions and host of the 2022 World Cup, are leading the five-team table with 13 points from five matches.
They beat Bangladesh in the first-leg by 2-0 goals in Dhaka, defeated Oman by 2-1, Afghanistan 6-0 and 1-0 and played out a goalless draw against India.
Bangladesh are at the bottom of the table with only one point from four games with their only point coming from a 1-1 draw against India.
Bangladesh, who have three games remaining against Afghanistan, Oman and India at home, also lost to Afghanistan by 0-1 and 1-4 against Oman in their first-leg matches.
Oman are placed second in the group with 12 points from five games while Afghanistan and India are in the next two positions respectively with four and three points from five games each.
Aiming to give a good fight against Qatar, Bangladesh started their on-field activities in late October and returned to international competitions with a two-match friendly series at home against a mediocre Nepal in November.
They beat Nepal 2-0 in the first friendly on November 13 before playing out a goalless draw on November 17 in Dhaka.
Bangladesh reached Doha on November 19 and completed their 10-day training, including two warm-up matches, under assistant coach Stuart Watkiss.
Bangladesh lost in both practice matches by 2-3 and 1-0 goals respectively against local sides, Qatar Military and Lusail Sports Club, on November 25 and 28 respectively.
Want stories like this in your inbox?
Sign up to exclusive daily email
More Stories from Football