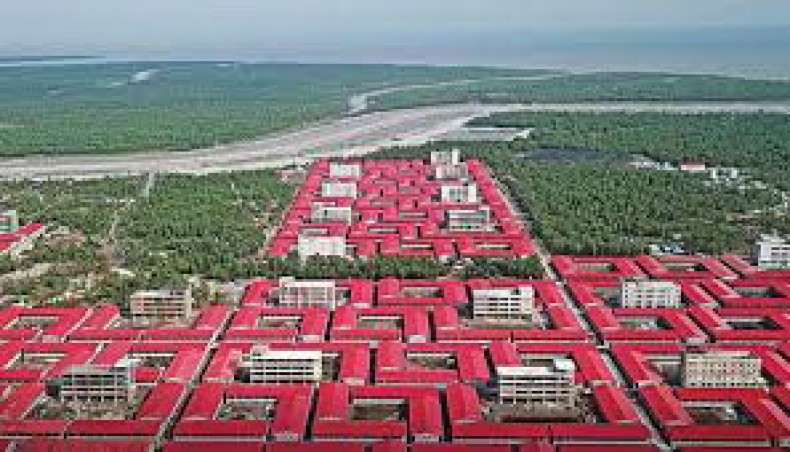 International rights groups Amnesty International and Human Rights Watch on Thursday urged Bangladesh authorities to immediately halt a plan of relocating the Rohingya refugees to Bhasan Char Island.
'The authorities should immediately halt relocation of more refugees to Bhashan Char, return those on the island to their families and community in mainland Bangladesh, and follow due process including the full and meaningful participation of refugees in any plan for their relocation,' London-based Amnesty International's South Asia campaigner, Saad Hammadi said in the statement.
In separate statement, New York-based Human Rights Watch's Asia director Brad Adams said Bangladesh government was actively reneging on its promise to the UN not to relocate any refugees to Bhasan Char island until humanitarian experts give a green light.
'If the government were genuinely confident in the habitability of the island, they would be transparent and not hastily circumvent UN technical assessments,' he said.
The AI and HRW statements came amid reports of a government plan to start the relocation of some 4,000 refugees to Bhasan Char next week, though Bangladesh authorities were yet to announce any date.
'The relocation of so many Rohingya refugees to a remote island, which is still off limits to everyone including rights groups and journalists without prior permission, poses grave concerns about independent human rights monitoring,' said Hammadi.
'It is crucial that the Bangladeshi authorities must let the UN, rights groups and humanitarian agencies carry out independent assessments of Bhashan Char's habitability first before taking any steps to relocate people there. No relocation plan, either to Bhashan Char or to another location, can be undertaken without the full and informed consent of the individuals involved,' he added.
'Some refugees already on the island have shared their anxiety with Amnesty International at being cut off from their families and community.
'Bangladesh and other members of the international community have a critical role not only in protecting the rights of the Rohingya people but also in ensuring their full and meaningful participation in decisions that affect them.'
Bhashan Char is a silt island developed by the Bangladesh Navy, where the Bangladeshi authorities plan to relocate 100,000 Rohingya refugees.
Human Rights Watch said it recently spoke with 12 families, who said their names were on the list, but that they had not willingly volunteered to relocate. Some refugees on the list have fled out of fear of forced relocation.

In a statement on December 2, the United Nations said that it had not been involved in preparation for this transfer to Bhasan Char and that 'any relocations to Bhasan Char should be preceded by comprehensive technical protection assessments,' reiterating that the UN stood ready to proceed with such assessments 'if permitted by the Government.'
European Union Ambassador Rensje Teerink said that the EU would not comment on relocation to Bhasan Char until the UN had been allowed to complete technical and humanitarian missions to the island.
Want stories like this in your inbox?
Sign up to exclusive daily email
More Stories from Country