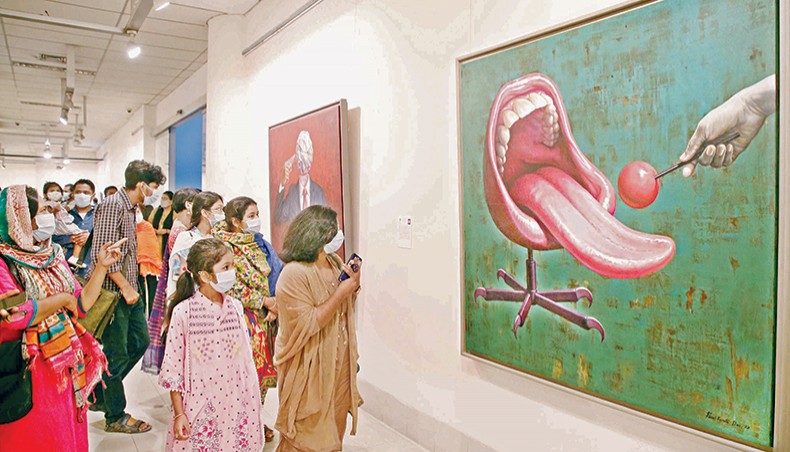 The 22nd Young Artists' Art Exhibition featuring 368 artworks by 337 young artists from across the country is under way at the National Art Gallery of Bangladesh Shilpakala Academy.
The month-long exhibition commenced on November 30 through an inauguration and prize-giving ceremony held at the National Art Gallery Auditorium of the academy.
Road transport and bridges minister Obaidul Quader was present as chief guest virtually, while state minister for cultural affairs KM Khalid was present as special guest and director general of the academy Liaquat Ali Lucky also joined the event virtually. Acclaimed artist Shahid Kabir and cultural affairs ministry additional secretary Md Abdul Mannan Elias were present as special guest. Besides, cultural affairs secretary Md Badrul Arifin was present at the event.
The programme was presided over by BSA director general Liaquat Ali Lucky and the academy's newly appointed fine arts department director Syeda Mahbuba Karim delivered the welcome speech, following which artist and art critic Mustafa Zaman spoke on behalf of the jury board.
A total of 519 artists aged between 21 and 35 submitted 1,400 artworks from across the country.
Though the jury board alongside some artists expressed their dissatisfaction over the medium-specific categories, works in the 22nd Young Artists' Art Exhibition were accepted in 11 categories, of which six were of conventional academic categories — painting, sculpture, craft, graphic design, oriental art and ceramic — while the rest were new media, photography, installation, video and performance art.
The selection committee comprised of Ivy Zaman, Rashid Amin, Harun Ar Rashid Tutul, Mofizul Islamm, Shawon Akanda and Dulal Chandra Gain.
A total of 12 prizes were awarded to the participating artists — one Young Artists' Art Exhibition 2020 award and 11 best awards in 11 different categories.
The jury panel comprised of artist Naima Haque, photographer Nair Ali Mamun, artists Mohammad Iqbal, Sheikh Sadi Bhuiyan, Mustafa Zaman and Anisuzzaman.
Soma Surovi Jannat bagged 22nd Young Artists' Art Exhibition 2020 award, which is the best award in all categories, for her Installation titled 'Adikatha'. All the awards carry a monetary prize and she received TK 1 lakh.
Soma Surovi Jannat's Adikatha has been created using diverse materials including paper from natural fibre, chalk, yellow soil, pen, tea and natural colour. She explores the origin of written words and the presentation is as sleek as any contemporary installation. Creating forms that refer to mostly on prehistoric forms, the artist added some additional layers of drawing on the forms to allude to contemporary time. Her creation is succinct and has a musical quality to it, which can be attributed to the subtlety of the forms she has chosen to construct and the flimsiness of the material she has used.
'There are no strong platforms for the emerging artists so that they could continue with their practices. Many artists have been hit hard by the COVID-19 outbreak. The Young Artists' Exhibition, National Art Exhibition and Asian Art Biennale are the major platforms for showcasing our talent. I am very happy that my work has been selected as the best work in the exhibition. It will inspire me to work hard in the coming days,' Soma Surovi Jannat told New Age.
The other award recipients got TK 50,000 prize money each along with crests and certificates.
Painting on canvas as well as on paper still seems to be the most popular medium among the emerging artists. Md Tariqul Islam was awarded for his painting titled 'Revenge-2', which is a large canvas teeming with references to both Indian myths and contemporary social reality.
Practice of printmaking — especially woodcut print and lithography — has also become widespread in the last twenty or so years. Md Rafiqul Islam received the best award for his triptych titled 'New Born'.
Installation art, which saw its entry into all national-level exhibitions since the mid-1990s, are poorly represented in the current exhibition. Kuntol Baroi received the best award for his installation 'Darshan O Shada'.
Md Mozahidur Rahman Sarker bagged the best award for his sculpture 'Territorial Rest', Sanjoy Kumar Pramanik received an award for his oriental art 'Ashray', Tanvir Hossain Rhythm received award for his ceramic work 'Anugatyer Samarpan', while Imran Hassan bagged the best award for his graphic design 'Aparthrita Atithi', Naim Hossain bagged award for his performance art 'Jiban Danda', and Md Fazlul Haque bagged award for his new media work 'Thamke Jawa Swabhabik'.
Artist Rubiyet-E-Sharmin's work in the craft category titled 'Astha-2' bagged the best award. The work shows Shiva's third eye while in the foreground a hibiscus is shown exuding its vigour.
Photography comes under a separate category in this exhibition for the first time. Mohsin Kabir bagged the best award for his photograph titled 'Grameen Chhaya'. The work shows a pond where reflections of trees assume an abstract dimension as the shimmering water is flooded with a golden light of a setting sun that remains outside the frame of the picture.
Besides, students from 12 universities from across the country have showcased their works at the exhibition for the first time.
The exhibition is also available virtually at Bangladesh Shilpakala Academy's website shilpakala.gov. bd.
The exhibition will remain open till December 29.
Want stories like this in your inbox?
Sign up to exclusive daily email
More Stories from Exhibition