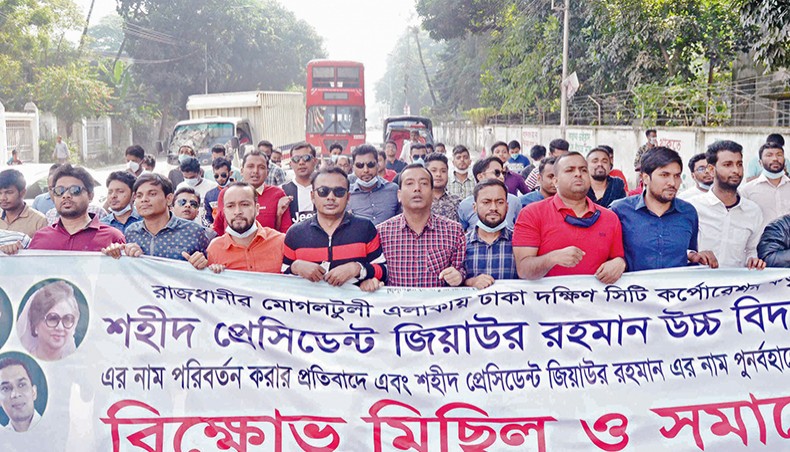 The Jatiyatabadi Chhatra Dal, student wing of opposition Bangladesh Nationalist Party, on Tuesday staged demonstration on the Dhaka University campus protesting at the renaming of 'Shaheed President Ziaur Rahman High School' in Old Town of Dhaka.
Leaders and activists of the JCD's Dhaka University unit, led by its convenor Rakibul Islam Rakib, brought out a procession in front of the Central Shaheed Minar in the morning.
They marched towards the university's TSC area and held a rally at the base of Anti-Terrorism Raju Memorial Sculpture.
They demanded immediate reinstatement of the school's original name.
Former Dhaka City Corporation mayor Sadek Hossain Khoka established 'Shaheed President Ziaur Rahman High School' and inaugurated it on March 25, 2006.
The name of the school has been changed as 'Mogaltuli High School' by the corporation authorities.
JCD DU unit member secretary Aman Ullah Aman, senior joint convenor Akhter Hossain and convening committee member Anisur Rahman Khandaker Anik, among others, were present at the protest rally.
Rakibul Islam said that the government could only erase Ziaur Rahman's name from the nameplate of the school using their muscle power but it could never remove his name from people's hearts.
'The consequence of the illegal task will not be good. So, the government must reinstate Ziaur Rahman's name immediately,' he added.
Meanwhile, a faction of the JCD DU unit leaders, who failed to get any posts, also brought out another procession with the same demand on the DU campus.
Want stories like this in your inbox?
Sign up to exclusive daily email
More Stories from Politics