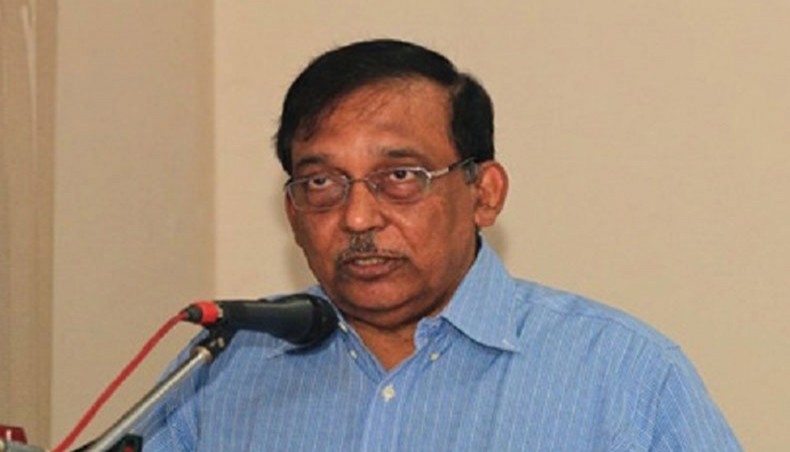 There would be no event in open space on the occasion of Victory Day on December 16 this year owing to the ongoing coronavirus pandemic, said home minister Asaduzzaman Khan Kamal on Tuesday.
'Indoor programmes could be held by following health guidelines,' he said at an inter-ministerial virtual meeting on Victory Day security measures.
Liberation war affairs ministry has undertaken nationwide celebration programmes marking Victory Day.
'The national flag in right size and colour should be hoisted in all governments, semi-governments, autonomous and private buildings as per the instructions of the Cabinet Division,' the home minister said.
He said that the sun rise on December 16 would be welcomed with 31 gun salutes in the capital, districts and upazilas.
The law enforcement agencies will also take necessary security measure across the country to avoid untoward situation, Kamal said.
Kamal said that appropriate security measures would be taken during the movement to the National Memorial Monument at Savar and placing of floral wreaths at the monument following proper health guidelines.
'Adequate security measures will be arranged to ensure security to foreign diplomats visiting the national memorial. The entire memorial area will be under the coverage of CCTV cameras,' he added.
The home minister said that special prayers would be offered at mosques, temples, churches and pagodas across the country, seeking eternal peace for the departed souls of the martyred and the peace and prosperity of the nation.
On Victory Day, improved diet will also be served in prisons, hospitals, old homes and orphanages across the country, he said.
Kamal said that medical teams and fire service personnel would be engaged in various programmes.
Public security division secretary Mustafa Kamal Uddin, inspector general of police Benazir Ahmed, liberation war affairs secretary Tapan Kanti Ghosh, Dhaka Metropolitan Police commissioner M Shafiqul Islam, representatives of law enforcement agencies and various ministries were present in the meeting.
Want stories like this in your inbox?
Sign up to exclusive daily email
More Stories from Politics