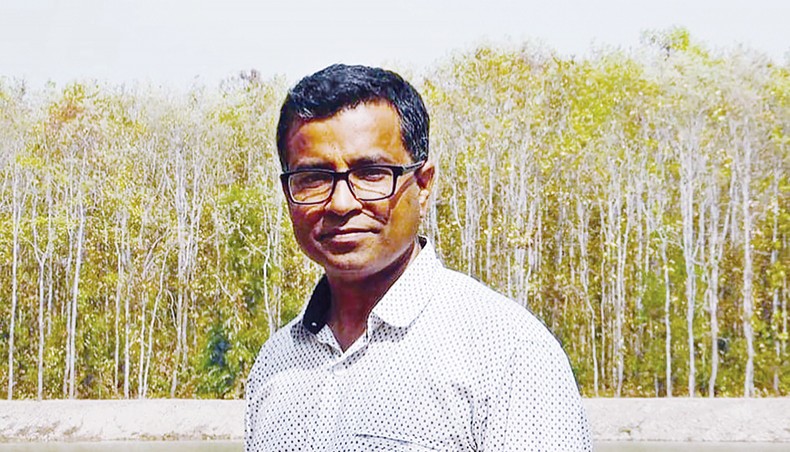 Kazi Nasir Mamun has been writing poems since the late '90s. He has published four collections of poems including Lakshindarer Gaan, Ashruparban, Kaak Tar Bhorer Kokil and Rohingya Pustake Atmahatya Lekha Nei till date. The work Lakshindarer Gaan has been translated into English under the title Song of Lokhindar and published by Antivirus Publications, Liverpool in 2014. Kazi Nasir Mamun also penned essays and stories for the literary pages of various dailies and little magazines. He is the editor of a little magazine named Mainroad. He teaches English at Muktagachha Shaheed Smriti Government College, Mymensingh. Kazi
Nasir Mamun recently shared his thoughts, literary journey, upcoming projects and more in an interview with New Age.
New Age: The COVID-19 crisis has turned life upside down. How did you spend your days after the first COVID-19 case was detected in Bangladesh?
Kazi Nasir Mamun: Like everybody else, I spent my days at home and tried my best to cope with the situation. As I couldn't go out, I really missed hanging out with friends, visiting places and so on. To stop myself from dwelling on negative thoughts, I immersed myself in writing. I penned poems and twenty sonnets and readied the manuscript of my upcoming publication. I also participated in a few online programmes alongside both local and foreign poets. I also spent a lot of time reading poems. I finished two poems by Rumi, Mir Mosarraf Hussain's Bishad Shindhu and others.
New Age: Please tell us about your literary journey. Did you began writing poems as a passion or a profession?
Kazi Nasir Mamun: Individuals who engage in creative activities must be imaginative. You cannot pull off a creative work with planning alone. I never planned to be a poet. It simply happened to me. I started out as a playwright. I worked in Graam Theatre for some time and gradually developed an affinity towards poetry as I read Jibanananda, Al Mahmud and Joy Goswami. As I continued reading, it suddenly dawned on me that life is meaningless without poetry. So I sat down and started writing my own poems and never stopped. I later embarked on my literary journey as an editor of a little magazine named Mainroad.
New Age: In your poems, you often portray characters or describe scenes using imagery, which are often influenced by philosophy. Is there any special reason behind it?
Kazi Nasir Mamun: The imagery I use in poems is influenced by my locality. I live in Mymensingh. But the content or essence of the poem is not limited to my locality, rather it encompasses much broader area. A poem is like an intricately woven flower garland held together by a thread. The thread of a poem is the emotion the poet decides to utilise with the help of his thoughts and by using imagery, similes and metaphors. The poet paints a picture with words and thus evokes a sense of experience in the readers. Often, poets' thoughts can be inspired by philosophy.
New Age: Your poems seem infused with mysticism, especially those where adoration of nature and spirituality comingle. Would you elaborate on this?
Kazi Nasir Mamun: My recent poems are more affected by mysticism. Some readers even detect an essence of Sufism in them. Dr Ahmed S Qaderi has translated my Lokhindarer Gaan into English. He has extensively found an element of surrealism in those poems. So, maybe surrealism, Sufism and mysticism coexist or have become blurred due to an artistic vigour. Attention to the renewal of tradition is the focal point of my poems in which our relation to the external world assumes a cosmic dimension. In most cases I'm just like a wandering bard trying to grapple with love and homesickness. But I never think of myself as a nature worshiper. Nature is just a background in which human beings exist and they are my main concern.
Want stories like this in your inbox?
Sign up to exclusive daily email
More Stories from Miscellany