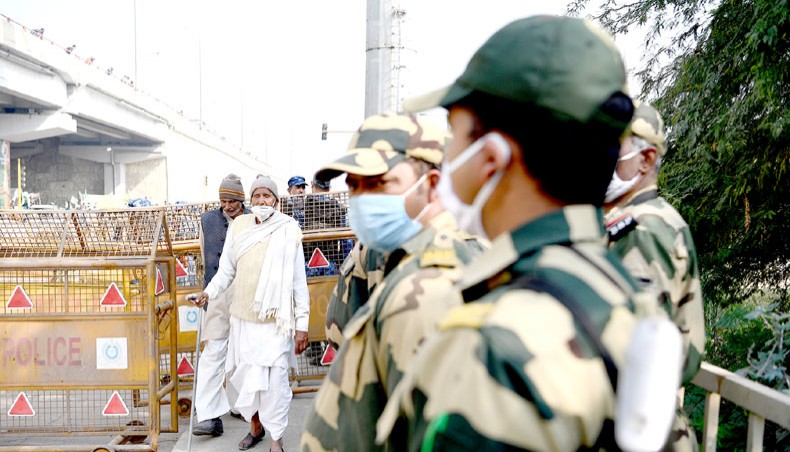 HAD prime minister Narendra Modi a way to divine Emperor Aurangzeb's advice on how to run India as a one-man state, he would have been counselled not to trifle with the peasantry.
There are common features between the Marathas and the Sikhs (who both gave Aurangzeb a hard time) which seem to be a barrier to prime minister Narendra Modi's march towards what The Economist in its current edition has described as a one-party rule. Aurangzeb's tormentors belonged to a class of proud peasants with eclectic and inclusive religious tenets. Modi is just beginning to get the feel of rural alienation.
The two peasant allies have deserted Modi for different reasons. A predominantly Maratha Shiv Sena of Udhav Thackeray had played second fiddle to the Bharatiya Janata Party in Maharashtra. Then it switched sides and took power with the support of erstwhile opponents. The transition has been a bitter one. Modi's revenue sleuths have been harassing a Shiv Sena legislator. Thackeray has issued a dire warning as only a Shiv Sena chief can. 'If you come after [our] families and children, then remember you have families and children too. You are not clean. We know how to set you straight, roast you', Thackeray said in an interview to his party's mouthpiece Saamana, to mark one year of coalition with Sharad Pawar's Nationalist Congress Party and the Sonia Gandhi-led Congress.
Modi's Sikh allies in the Akali Dal deserted him over controversial farm laws that have angered and upset farmers across the country. The ongoing agitation by the farmers sees recent laws as pro big business. Protesters have laid a veritable siege to Delhi. The participants include young and old men and women, predominantly Sikhs. Tens of thousands have braved water cannons and tear gas to camp on the borders around the Indian capital. They have come prepared for six months, if it takes that long, to press the government to write a clear law for a minimum support price for the grains they produce and which the state is supposed to purchase.
India's business media increasingly derides farm subsidies, which most capitalist countries give their farmers, as a drain on resources. The financial largesse the tycoons get are called business incentives. This mismatch in the state's approach to the two contesting groups in India's monsoon-fed economy has been a trigger for peasant uprisings.
Maratha forces under Shivaji raided the traders of Surat in Gujarat who plied their trade under the protection of the Mughal state, and walked away with large booty the peasant army needed to challenge the powerful Mughal emperor. Aurangzeb dispatched his troops to protect the mostly Hindu traders but it was too late and too little. More recently, bereft of advice from her erstwhile communist allies following her emergency rule, Indira Gandhi in her second innings chose to poke the Sikh peasants in the eye and the result was traumatic for the country. The peasants are not imbued with any ideological sophistry and they react mostly to the provocations at hand.
David Hardiman's Feeding the Baniya is insightful research work into usury in 19th-century Gujarat. It records several occasions when the peasants raided the moneylenders and emptied the silos of hidden stash of grains. Hardiman recounts oral histories of the trader-moneylender's anti-peasant perfidies. In one instance, they included organising tantric rituals to drive away rain clouds to force the peasants to be more dependent on dodgy munificence.
The Economist in its Nov 28 issue has described with anguish and some detail Mr Modi's march towards authoritarianism. 'Having enjoyed a stranglehold on the Lok Sabha, parliament's lower house, for six years, and more recently acquired control of the upper Rajya Sabha, Modi's government has passed a slew of other laws not only to expand its powers, but to dilute those of potential challengers.'
Can he be stalled? If so who is in any position to do so? Peasant groups have shown the sinews to disrupt political power but have seldom progressed to envision, much less create, a friendlier system of politics. Thackeray's rage could be typical of this transient moment: 'You indulge in a cycle of revenge', he warned Modi, which is more than anyone has done. 'Do politics if you want. But if you misuse power to create roadblocks for us, remember power is not yours permanently. In the past we know what happened. There were cases against you too. Remember how the Shiv Sena supremo (Bal Thackeray) saved you. If you remember this even a little bit, then you know times can change. Power is not just about the chair. The public is power. They are with us.'
Under the circumstances one would have expected the more experienced left parties to step up their act to save democracy. However, the news from the Communist Party of India-Marxist portends difficult days ahead for India. While the party has supported the farmers' protests, it does not seem to be in a hurry to dislodge the BJP from power. In comments that seem laced with a strange self-serving logic, CPI-M general secretary Sitaram Yechury has stated that the party would fight West Bengal chief minister Mamata Banerjee in next year's state elections and the BJP equally. In this regard, the party's Bengali organ gives the slogan of 'First Ram, then Baam.' Baam means left in Bengali.
The communists perhaps expect the BJP to either weaken or replace Mamata in next year's polls — a very nearly impossible scenario — before they regain power in West Bengal, an even more impossible scenario. Yechury was apparently responding to a call by the smaller but more strident CPI-ML to seek a loose alliance with Mamata. The CPI-ML and the CPI-M together with the CPI had done well in Bihar after allying with Lalu Yadav's regional party. And Lalu Yadav represents another section of India's resurgent peasantry.
Dawn.com, December 1. Jawed Naqvi is Dawn's correspondent in Delhi.
Want stories like this in your inbox?
Sign up to exclusive daily email
More Stories from Opinion