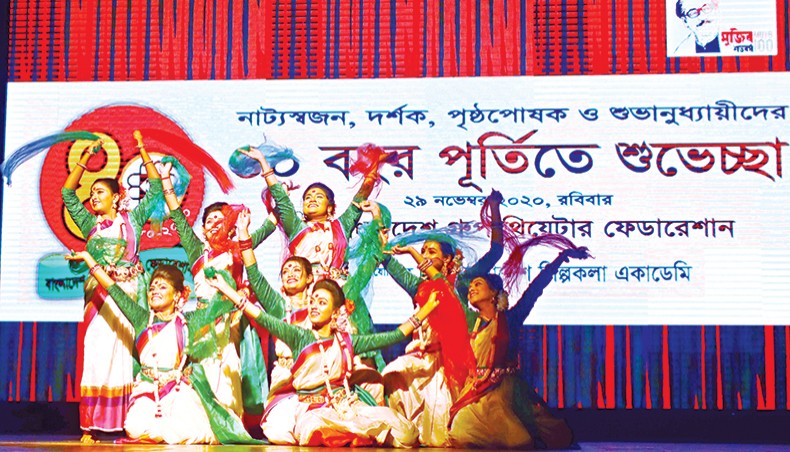 Bangladesh Group Theatre Federation celebrated its 40th founding anniversary organising a colourful programme at National Theatre Hall of Bangladesh Shilpakala Academy on Sunday.
The programme, titled 40 Bachhar Purtite Subhechchha, featured discussion, awards ceremony, songs, dance recitals and others.
State minister for cultural affairs KM Khalid was present as chief guest while freedom fighter, filmmaker and theatre activist Nasiruddin Yousuff, renowned thespians Ataur Rahman and Mamunur Rashid, theatre activists M Hamid, Akhtaruzzaman, Jhuna Chowdhury and Bangladesh Shilpakala Academy secretary Nowshad Hossain, among others, were present as special guests at the programme.
BGTF vice-president Lucky Enam presided over the event and BGTF secretary general Kamal Bayezid delivered the welcome speech at the programme, which was dedicated to the late eminent actor Aly Zaker.
'We have been going through tough time due to the COVID-19 crisis. Many noted cultural activists have died from the disease till date. We have dedicated this year's programme to the late eminent actor Aly Zaker. I thank all for attending our founding anniversary celebration programme amid the COVID-19 outbreak,' said Kamal Bayezid.
'COVID-19 has dealt a huge blow to our cultural arena. Bangladesh Group Theatre Federation has been working tirelessly to revive the local culture scene. I wish BGTF all the best in its future endeavours,' said KM Khalid.
'In 1980, a group of young theatre activists including Ramendu Majumdar, Ferdousi Majumdar, Mamunur Rashid, Ataur Rahman, Aly Zaker, Sadek Bachchu and others founded Bangladesh Group Theatre Federation with an aim to ensure the rights of theatre activists and promote theatre practices across the country. Though we are yet to establish professional theatre practice in the country, we have been raising our voices against social issues for decades,' said Nasiruddin Yousuff.
'Bangladesh Shilpakala Academy firmly stands beside Bangladesh Group Theatre Federation. We have already constructed a few auditoriums at different districts where local theatre troupes can stage plays. More auditoriums will be constructed in the future,' said BSA secretary Nowshad Hossain.
'Theatre is an integral part of our life. It gives us strength. This year we have been hit hard by the COVID-19 crisis. Many theatre troupes are struggling financially. BGTF has been helping theatre artistes alongside the government. I urge the government to increase financial assistance to theatre troupes so that they can navigate through the crisis,' said Lucky Enam.
Bangladesh Group Theatre Federation also honoured 11 former presidents and secretary generals of the organisation at the event.
Besides, Spandan artistes presented dance recitals synchronised with the songs like Natun surja alo dao and Oi ujjal din dake swapna rangin and Fakir Shahabuddin and Shafi Mondol rendered popular folk songs to the delight of the audience.
Want stories like this in your inbox?
Sign up to exclusive daily email