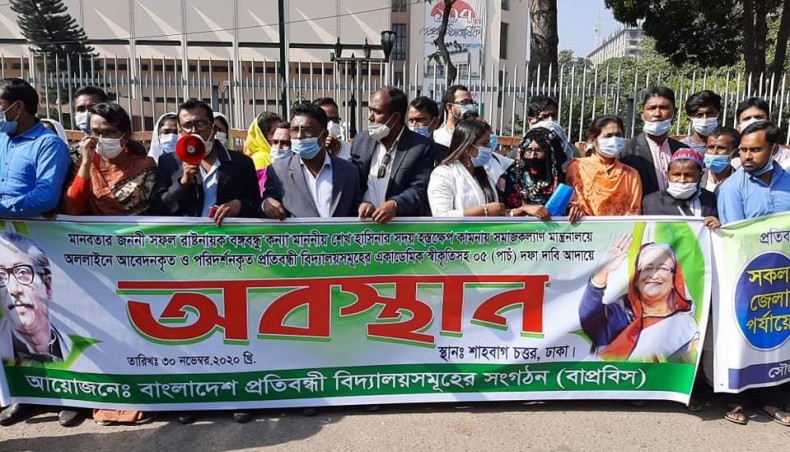 Teachers and students of schools for physically disabled students demanded on Monday that the government should recognise the importance and contribution of the schools and include the institutions in the monthly payment order system.
They placed the demands at a rally and sit-in in front of the National Museum at Shahbagh in Dhaka.
An association of the schools organised the programme to press it five-point demand.
Teachers and students of different school from across the county took part in the programme.
The association also demanded nationalisation of neuro-developmental disability and non-NDD schools that applied for registration this year.
The association president, Nasir Uddin Rasel, said, 'Schools for disabled children and rehabilitation centres are giving quality education, therapy and skill development training to the students for around last 10 years. Trained and skilled people with disabilities are contributing to country's economic development.'
'However the schools are facing multifaceted problems for not having recognition. More than 60,000 teachers and employees of the institutions are living in a miserable condition. To end these problems, the schools that were visited and inspected by social welfare ministry officers should get recognised and be included in MPO system,' he continued.
The demonstrators also demanded school feeding programmes, supply of sufficient education materials and modern academic buildings equipped with advanced technological features.
Want stories like this in your inbox?
Sign up to exclusive daily email
More Stories from Country