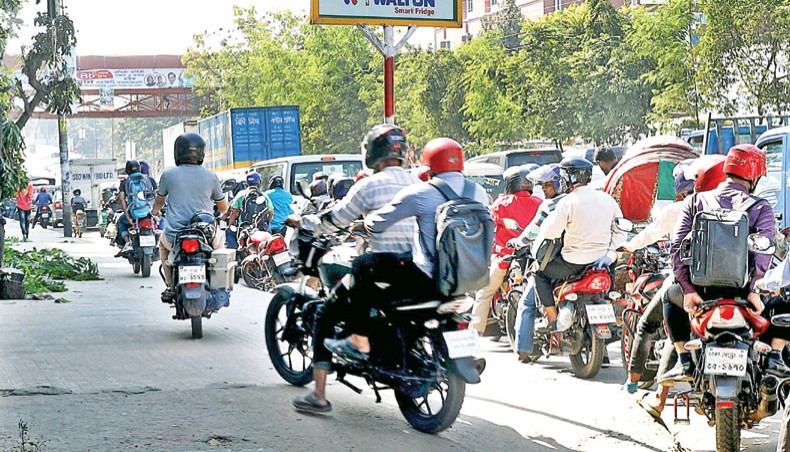 As motorcycles have outnumbered all other modes of transport across the country, the two-wheelers are also making roads unsafe due to desperate driving and rampant breaches of traffic laws by bikers, according to road transport experts.
The increase in the number of motorbikes on roads has led to more fatal accidents, they added.
The most common violations of laws by bikers include driving recklessly defying lanes and speed limits as well as not wearing helmets.
The number of bikers without using ridesharing apps is also on the rise and they are found at different intersections in Dhaka waiting to take passengers.
Due to their open structure, both drivers and passengers of motorcycles are more prone to accidents and experts say that accidents involving motorcycles are increasing while reports from different organisations provide data in support of their claim.
Additionally, most bikers are young and they become a liability for the nation, families and society after serious accidents have left them physically impaired, experts said.
In recent years, motorbikes have become a very popular because of traffic congestion in urban areas and their increasing demand in rural areas following the introduction of ridesharing services, they added.
In Dhaka city, most bikers defy traffic signals by driving recklessly while crossing intersections, driving on footpaths, not wearing helmets, especially in lanes and by-lanes, and taking pillion passengers without helmets.
Many are also seen taking passengers without using ridesharing apps at intersections at Bangla Motor, Mirpur, Jigatola, Gulistan, Paltan, Rampura, Badda, Khilgaon and Shahbagh.
Shamsul Hoque, professor of civil engineering department from Bangladesh University of Engineering and Technology, told New Age on Friday that even six to seven years ago motorcycles were around 10 per cent out of the total registered motor vehicles in the country which is now over 65 per cent.
As per Bangladesh Road Transport Authority website, till October this year, out of the total registered vehicles, 68 per cent are motorcycles.
A report of Road Safety Foundation, an organisation working to make roads safe, shows that between January and October this year, 1,026 people were killed and 417 were injured in 1,011 motorcycle-related accidents across the country.
The report was prepared based on news published in different media which also found that among the dead victims around 70.5 per cent were aged between 15 years to 40 years.
The report also showed that highest 37 per cent of the accidents occurred when the drivers lost control over their vehicles.
Professor Shamsul Hoque, also former director of Accident Research Institute of BUET, said that motorbikes were popular around the world as a faster and cheaper mode of transport and both the drivers and passengers are exposed to dangers that people in cars are not.
He also said that the two-wheelers are 30 times riskier than the four-wheelers due to their vulnerable features.
Motorcycle accidents mostly led to head, spine or neck injuries and as the injured are mostly young, they become a burden for not only the families but also society and the nation at large, he said.
'In rural areas motorcycles replaced rickshaws on even unpaved roads,' he said, adding that 'it is not possible for the police to control this huge number of drivers due to an unruly system.'
He also said that the situation was created due to the ignorance of the regulatory authorities and also because of the absence of proper and visionary planning.
Road Safety Foundation executive director Saidur Rahman said that motorcyclists are very desperate on roads as most of them are young.
'Many of them are involved in politics and that is why no one dares to stop them,' he said and added that buying motorcycles became a trend as prices of these vehicles had been reduced in recent years.
He also said that poor traffic management, unskilled drivers, absence of awareness among people and dividers on roads also led to a spike in motorcycle-related accidents.
Dhaka Metropolitan Police joint commissioner for traffic south Basudev Banik told New Age that they would take action against the errant motorcyclists for carrying passengers without using ridesharing apps.
Bangladesh Road Transport Authority chairman Nur Mohammad Mazumder told New Age on Thursday that people do not file complaints at the BRTA website about any violation by motorcyclists on roads.
If any motorcyclist was found plying their vehicles on roads in violation of traffic laws then action would be taken, he added.
Want stories like this in your inbox?
Sign up to exclusive daily email
More Stories from Country