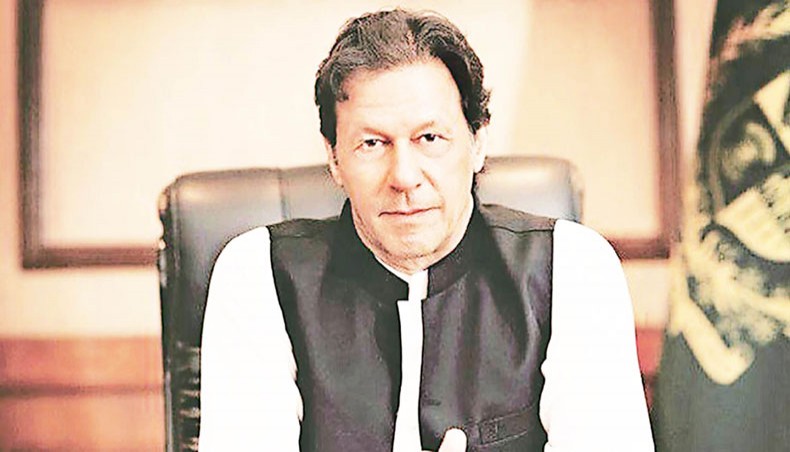 Pakistan prime minister Imran Khan says US president Donald Trump would have easily won the 2020 US presidential election despite all the media projections against him, if it weren't for the coronavirus pandemic, reports Dawn online.
In an interview on Express News programme 'To The Point' aired on Saturday, the prime minister cited the example of Trump's re-election loss to say that although media had a very important role in society, it wasn't a threat to the rule of a country's leader.
'I have no problems with criticism in the media. Media can only cause a temporary loss,' he told host Mansoor Ali Khan.
'The most classic example is of Donald Trump. The way the entire mainstream media attacked him, it appeared as if Trump would lose by a landslide. Instead he bagged the highest number of votes in American history, it's a separate thing that Joe Biden received even more votes.'
The prime minister said if COVID-19 had not caused widespread unemployment and deaths in the US, 'then Donald Trump would have won no matter what the media did'.
He said media had a big role in democracy but it sometimes didn't exhibit 'responsibility along with its freedom' and resorted to 'propaganda, slander campaign' and disinformation.
Recalling his association with the media since his cricketing days, the premier said 'criticism is an asset of society' and freedom of expression was crucial to the progression of human thought.
Asked to comment on the temporary disappearances of journalist Matiullah Jan, reporter Ali Imran Syed and Securities and Exchange Commission of Pakistan joint director Sajid Gondal, the prime minister replied, 'I don't have an idea what really happened with them. Every time we took notice of their disappearance, the missing person was retrieved.'
'I don't have an idea because I had left it upon the interior ministry,' Imran added when asked whether he had any information who had picked up the three men.
Prime minister Imran also defended the appointment of Naeem Bukhari as the Pakistan Television chairperson, saying although he was his lawyer in the Panamagate case, Bukhari had 'remained a huge personality on PTV for five decades' and therefore he was considered to be the right man for the job.
Asked about Bukhari's comment regarding a 'blackout' of the opposition on state-run PTV, the prime minister took a different line.
He said the opposition should be given airtime on PTV because the channel would lose its ratings if it only became a government mouthpiece.
Want stories like this in your inbox?
Sign up to exclusive daily email
More Stories from South Asia