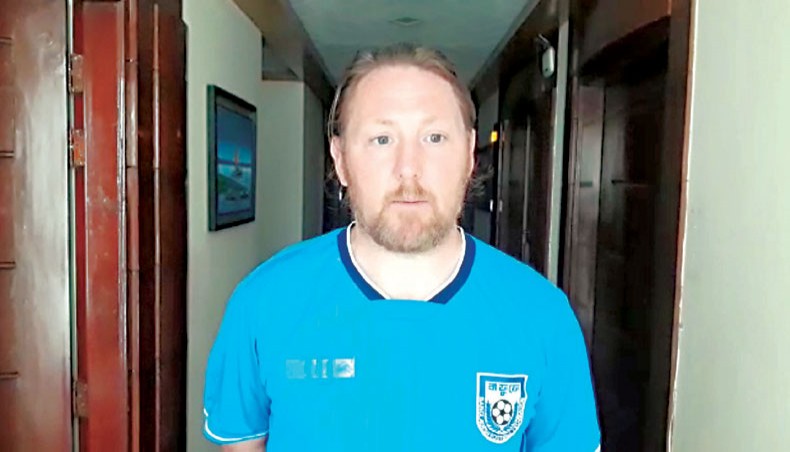 COVID-19 infected Bangladesh football team head coach Jamie Day's presence in the dugout for their December 4 FIFA World Cup and AFC Asian Cup joint qualifiers against Qatar is in jeopardy as the Englishman is now suffering from food poisoning.
Day has been in isolation for the last 14 days since testing positive for the virus on November 15.
During the past two weeks, Day has undergone COVID-19 tests three times and has tested positive on all three each occasions.
The Englishman was supposed to do another follow-up test today to know the current status of his infection but since Friday he has been lying in bed due to food poisoning.
'Unfortunately, I have food poisoning. So been very ill from last two days and stuck in bed...I can't test [COVID-19] yet, plus I wouldn't be able to travel in current condition,' Day told New Age on Sunday.
The 41-year old Englishman informed that the worst of his sickness had passed but his doctor suggested him to take rest for two more days.
When he was asked about his availability for the Qatar game, Day was still optimistic as he is expecting to fly to Doha on Wednesday, quarantine Thursday and be in the dugout on the match day on Friday.
'I have till Wednesday to fly. I did not discuss the plan with the BFF [Bangladesh Football Federation] yet. So, still hopeful,' he said.
Bangladesh team reached Doha on November 19 and played two warm-up matches against two local sides – Qatar Military on November 25 and Lusail Sports Club on the 28th– which they lost by 2-3 and 0-1 respectively.
Despite the losses, Bangladesh team assistant coach Stuart Watkiss, who is in charge of the team in the absence of Day, was satisfied with the overall performance of his charges in warm-ups, especially against Lusail Sports Club.
'I'm very pleased with the way we played the 90 minutes against a good team,' said Watkiss after the second warm-up match on Saturday.
'We have prepared as well as we can, we will have to see an extremely tough game, like Liverpool FC [current English Premier League champions] playing against Bashundara Kings [current Bangladesh Premier League Champions],' he said.
Want stories like this in your inbox?
Sign up to exclusive daily email
More Stories from Football