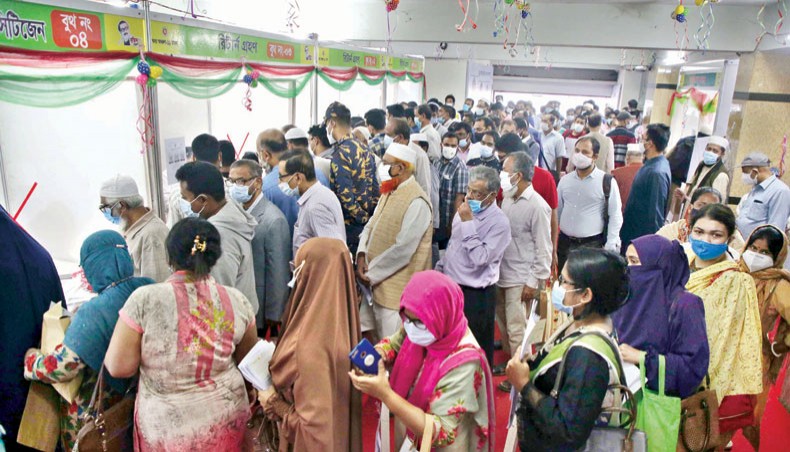 Around 74 per cent or 37.52 lakh registered income taxpayers are yet to file their income tax returns with the deadline for returns submission ending today, according to the National Board of Revenue.
Out of the 50,72,567 electronic taxpayer identification number (TIN) holders, only 13.21 lakh or 26 per cent of the TIN holders filed their tax returns as of Thursday, NBR data showed.
The number of income tax returns submission remained almost static in last two fiscal years despite various NBR efforts to improve the situation.
Poor monitoring and enforcement of the law as well as lack of awareness among people were behind the situation, experts said.
Only 22 lakh people filed their income tax returns in FY 2019-2020 and FY 2018-2019 each.
The National Board of Revenue in the budget for the current fiscal year 2020-2021 made income tax returns submission mandatory, with a few exceptions, for all TIN holders to improve the situation.
As per Income Tax Ordinance-1984, people having no taxable income but are required obtaining TINs for selling land and getting credit card and not having taxable income in the previous three years are exempted from filing tax returns.
Educational institutions receiving government benefits under monthly payment order (MPO), public university and fund, and non-resident individual having no permanent establishment or no fixed base in Bangladesh are also exempted from filing income tax returns.
The NBR on Sunday said that it would not extend the income tax returns submission deadline set on November 30 in the Income Tax Ordinance-1984.
At a press briefing held in the capital, NBR chairman Abu Hena Md Rahmatul Muneem said that the deadline would not be extended but taxpayers would be able to get additional time by filing application to deputy commissioners of taxes.
He said that tax officials were asked to accept all time petitions openly and remained flexible in imposing penalty and delay interest for filing returns late.
Penalty and delay interest are not mandatory, rather the imposition of penalty and delay interest is a discretionary power of commissioners, he added.
According to the tax law, a DCT may extend the date of returns submission up to two months from the date of application and may further extend the date another two months with the approval of the inspecting joint commissioner.
As per law, a 2-per cent delay interest on payable tax is applicable to the additional time.
A huge number of taxpayers thronged the filed-level income tax offices and were seen waiting in queues on Sunday to file tax returns.
Tax officials said that they were expecting more crowds today.
They will accept tax returns from all taxpayers who will remain present at the offices even after office hours, they said.
Muneem blamed people for waiting until the last moment for filing tax returns.
The timeframe for income tax returns submission begins on July 1 each year and taxpayers get an ample time for returns submission, he said.
There is no benefit of extending the time limit as those who are supposed to file returns will do that by the deadline, he added.
He said that tax officials would impose penalty and take other legal measures if anyone does not file the returns.
Rejecting a proposal for the deadline extension in the context of coronavirus outbreak in the country, the NBR chairman said that the outbreak had been prevailing for more than eight months and all types of economic activities were going on now.
'If anyone faces problems, he or she can get additional time by applying to DCTs,' he said.
According to the NBR, the number of returns filed until November 26 this year was 63,199 higher than that of the same period of 2019 when the NBR received 12,57,626 tax returns.
The NBR received Tk 2,387 crore with returns up to November 26, less than Tk 193 crore from Tk 2,580 crore collected in last year.
NBR member (income tax policy) Alamgir Hossain said that they were hopeful that the total number of returns submission would exceed the last year's figure of 22 lakh.
A huge number of taxpayers usually file their tax returns in the last two days of the tax returns submission timeframe, he said.
At the briefing, Muneem said that the NBR would observe Income Tax Day today on a limited scale.
No rally and discussion will be held considering the prevailing COVID-19 situation, he said.
The NBR, however, will arrange a virtual seminar on 'widening the tax net through providing developed services' and finance minister AHM Mustafa Kamal will attend the seminar.
The revenue board has been celebrating Income Tax Day on November 30 since 2008.
Want stories like this in your inbox?
Sign up to exclusive daily email