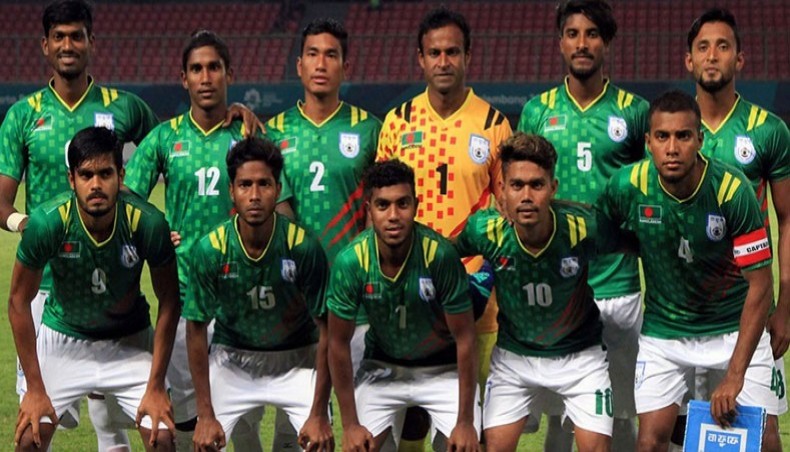 Bangladesh football team's preparation for their next month's World Cup and Asian Cup joint qualifiers against hosts Qatar ended in a defeat as they lost their second and final warm-up match by a solitary goal against Lusail Sports Club in Doha on Saturday.
Abdulrahman Mosed of the Lusail SC, a second division Qatari side, scored the match winner in the 24th minute of the game at the Al Aziziyah Boutique ground.
Bangladesh defender Yeasin Khan suffered a head injury during the match.
'Though we tried to avoid injury in the match, Yeasin suffered a minor injury on his head. He might need stitches,' Bangladesh team manager Amer Khan told media through WhatsApp from Doha.
Despite the loss, Bangladesh team assistant coach Stuart Watkiss was pleased with the overall performance of his charges in the match.
'Obviously, I'm a little bit disappointed that we did not manage to score goal. But I'm very pleased with the way we played the 90 minutes against a good team,' said Watkiss.
'It was a great practice match for us…with many changes in the second half,' he added.
Earlier, Bangladesh also lost their first warm-up match against Qatar Military by 2-3 goals on November 25 at the same venue.
Amer believed that though they had lost both the practice matches it would help the coach to pick up the best eleven for the Qatar tie.
'Coach tested the team combinations through the games for December's 4 game…Overall, these two matches will help our coaches to prepare a good team,' said Amer.
After having a rest day on Sunday, Bangladesh players will resume their training the following day.
Want stories like this in your inbox?
Sign up to exclusive daily email
More Stories from Football