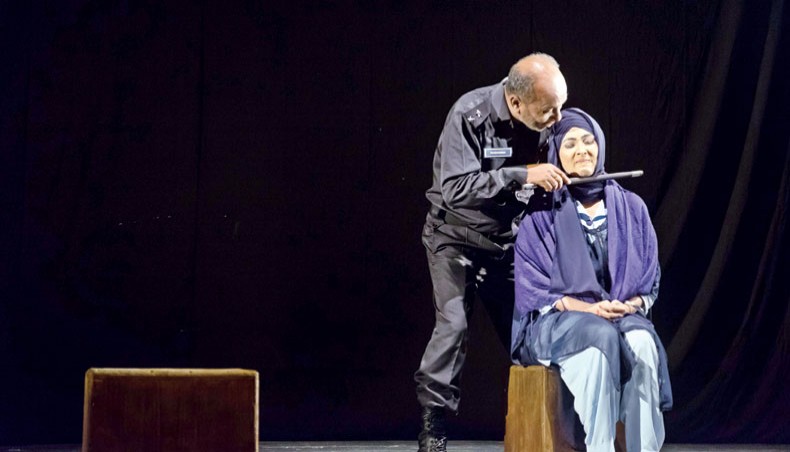 Theatre troupe Anurag Theatre premiered its play titled Objection Overruled at Nilima Ibrahim Auditorium of Bangladesh Mahila Samity on Friday.
The play, written and directed by Mahbub Alam, revolves around a woman who gets convicted for murder which she didn't commit. It also aims at raising awareness about rape, violence against women and wrongful convictions.
Objection Overruled is based on the true story of an Iranian woman named Reyhaneh Jabbari who was convicted of murdering a former Iranian intelligence officer named Morteza Abdolali Sarbandi. She was in prison from 2007 until her execution by hanging in October 2014 for killing her alleged assailant.
The play gives the audience a glimpse into the life of Reyhaneh Jabbari, an architecture graduate, who aspires to have a successful career.
She loves to talk about her goals with her friends. Sarabandi and Shekhi eavesdrop on her calls. Sarabandi approaches Reyhaneh about an interior design project.
When she visits the spot, Sarabandi tries to rape her. Sarabandi and Reyhaneh get into a fight and Sarabandi gets injured when he falls on a knife.
Reyhaneh manages to flee as Shekhi enters the room. Shekhi and Sarabandi fight with each other and Sarabandi passes away. Police arrests Reyhaneh in allegation of murdering Sarabandi.
Though there is no evidence against her, the judge awards her death sentence for killing Sarabandi.
The play ends with Reyhaneh saying, 'If we want to change the society, we will have to change ourselves.'
'We wanted to stage the play in March this year but we couldn't follow through due to the COVID-19 outbreak. We resumed our rehearsal on September 24. The play aims at raising awareness about rape and violence against women. It also sheds light on abuse of power by the influential in society and wrongful convictions. A large audience enjoyed the show,' Mahbub Alam, writer and director of the play, told New Age.
Shamsi Ara Sayeka, Humayra Anjum Arina, Shahadat Hossain Shahid,
Mir Mizanur Rahman, Josna Hawlader Dola, Mehmud Siddique Lelin, Nijam Nur, Jahid Hasan Ashik, Israfil, Mukta and Johny have acted in the play.
Want stories like this in your inbox?
Sign up to exclusive daily email
More Stories from Theatre