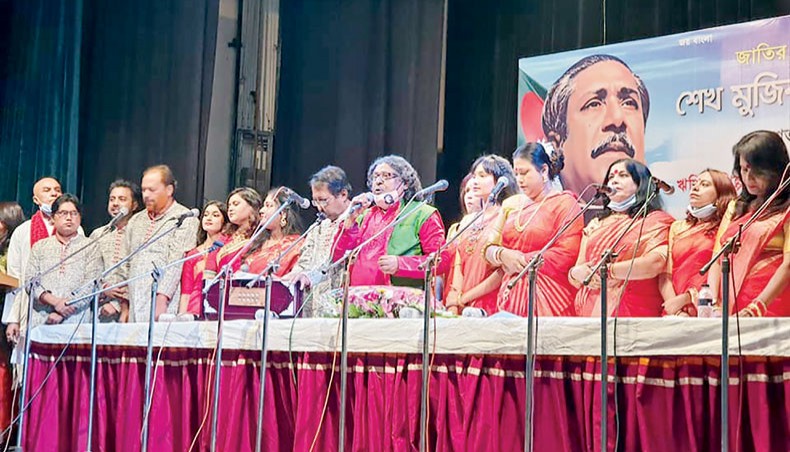 Cultural organisation Wrishiz Shilpi Gosthi celebrated its 44th founding anniversary and the birth centenary of the country's founding president Sheikh Mujibur Rahman organising a colourful programme at Music and Dance Centre of Bangladesh Shilpakala Academy on Friday.
The programme, titled Jatir Pita Bangabandhu Sheikh Mujibur Rahmaner Janmashatabarsha Udjhapan O Wrishizer 44 Bacharpurti Onusthan, featured awards ceremony, discussion and cultural show.
Artistes of Wrishiz Shilpi Gosthi commenced the programme rendering the national anthem and its theme song Amra wrishizo kori.
Liberation war affairs minister AKM Mozammel Haque was present as chief guest at the programme and handed over Wrishiz Padak.
Awami League office secretary and prime minister's special assistant Biplob Barua, Sammilita Sanskritik Jote president Ghulam Quddus and Bangladesh Film Directors' Association president Mushfiqur Rahman Gulzar were present as special guests at the programme, which was presided over by Wrishiz Shilpi Gosthi president Fakir Alamgir.
'Wrishiz began its journey in 1976 with an aim of promoting our culture among the mass people. We have been celebrating our founding anniversary organising cultural show and awards ceremony since 1983. This year we are celebrating the birth centenary of Bangabandhu along with our founding anniversary,' said Fakir Alamgir.
Wrishiz honoured renowned media personality Nawazish Ali Khan, eminent actress Sujata Azim, singer Khurshid Alam, veteran actor Raisul Islam Asad and noted recitation artiste Bhaswar Bandyopadhyay with Wrishiz Padak for their contribution in their respective fields with Wrishiz Padak.
Veteran actor Raisul Islam Asad and singer Khurshid Alam thanked Wrishiz Shilpi Gosthi for honouring them with the award. Besides, Wrishiz presented awards to representatives of Nawazish Ali Khan, Sujata Azim and Bhaswar Bandyopadhyay, who couldn't attend the programme due to unavoidable circumstances.
The programme ended with a cultural show where artistes of different cultural organisations including Sangskriti Mancha, Satyen Sen Shilpigosthi, Swabhumi, Anandan, Panchabhashowr, Ujan and Uthon presented people's songs.
Shanskriti Mancha rendered group songs Se amar Sheikh Mujib se amar swadhinata and Bangabandhu abarjakhan phirbe, Uthon artistes rendered Gari chole na, Pindare palasher bon, Amra milechhi aj and Amra pube poschime, Wrishiz artistes rendered songs like Eso aj gore tuli manabik bishwa, Prithibi ebar ese dekhe jao and others.
The celebration programme was dedicated to the late national Professor Anisuzzaman and late freedom fighter and cultural activist Kamal Lohani.
Want stories like this in your inbox?
Sign up to exclusive daily email