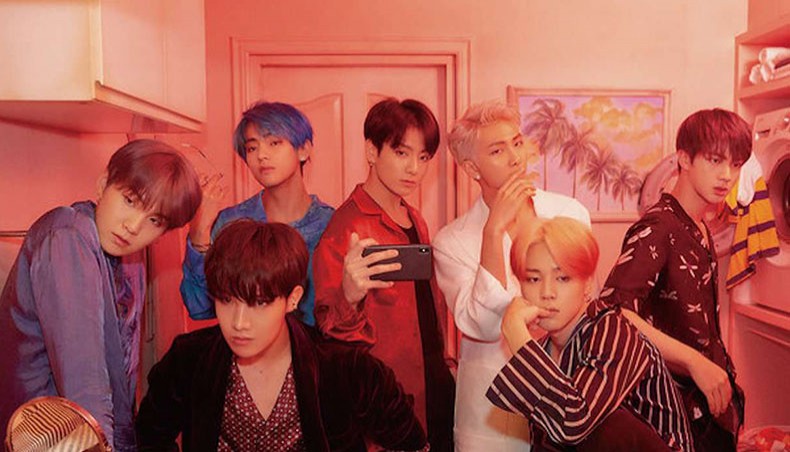 South Korean all-boys' band BTS is an international sensation in the last few years and they are successfully popularising Korean culture creating socio-economic impacts worldwide. MD Talebur Islam Rupom talks about different dimensions of their popularity
AFTER the end of the authoritarian regime in the 1980s, South Korea evolved with its soft power in form of audio-visual diplomacy which is also known as Public Diplomacy. Korean pop music and drama respectively, widely called as K-Pop and K-Drama are two most popular forms that are topping the chart in terms of cultural and economic influence.
South Korean economy has enjoyed fast development over the last 20 years, with K-Pop an important piling. K-Pop industry had flourished domestically in the early 1990s. By the mid-90s, the K-pop star system had become entrenched in South Korea. South Korea's cultural industry's output accounted for 3.7 per cent of its GDP in 2000, but the figure rose to 5 per cent last year.
K-Pop sensation BTS is certainly a key player who contributes 4 billion dollars per annum since its formation in 2010.
Notably, despite being a heavily industrialised country with big corporations such as Samsung, LG, Hyundai, still South Korean government keep endorsing and privileging the K-Pop industry which has become a global brand for the country.
However, soft power can be any kind of government-sponsored efforts aimed at communicating directly with the foreign public to establish a dialogue designed to inform and influence with the aim that this foreign public supports or tolerates a government's strategic objectives. Cultural diplomacy is also known as 'track two' or 'second track' or 'soft power' diplomacy. It can be done directly by the government or indirectly by the sponsoring and endorsing of the government by any non-governmental platform.
BTS demonstrates massively in form of this soft-power after its formation in 2010 and debuted in 2013 under Big Hit Entertainment. BTS is a seven-boy pop group and the Big Hit Entertainment is South Korean leading entertainment company.
Listening to Korean classic songs is much more popular in South Korean houses, in contrast to less prominent BTS' songs in Korean domestic residence. On top of that, most of the influences of BTS are taken place outside South Korean translating to its hefty revenues. So, how do BTS and other K-Pops make money comparatively less ripple in the local market?
BTS is one of South Korea's biggest exports with ticket sales, music downloads and merchandise racking up USD 4.65 billion last year, accounting for a sizable 0.3 per cent slice of their country's GDP. This portion is more than the annual contribution of Korean Air — the national air carrier in South Korea.
With a mix of pop, hip-hop, R&B and electronica, BTS' draws the power for its tours that rank with Taylor Swift, One Direction and Beyoncé. BTS was able to sell out London's 90,000-capacity Wembley Stadium. Staggeringly, unlike other bands, BTS's tickets were sold out in 90 minutes for the Wembley concert. The group's last year tour crashed TicketMaster's website, their tour saw selling 300,000 tickets in minutes, at an average price of USD 452.
It is the scenario of most of their global tours even during recent virtual concerts. They also became the first Asian and first non-English speaking band to sell out at the Wembley Stadium and broke the record for the single highest-grossing engagement in the Rose Bowl Stadium history. A majority of those earnings came from their 'Love Yourself: Speak Yourself' world tour, which grossed USD 44 million from just six US stadium shows. And that is only part of their fortune.
Forbes listed the group on its Celebrity 100 list of the world's highest-paid entertainers of 2019. Ranked at number 43, they earned USD 57 million in pre-tax income in the last year.
BTS does not stop only with musical performances. BTS has been even more successful in building a merchandising and endorsement empire that extends far beyond typical tour t-shirts. BTS is worth over USD 4 billion a year to South Korea's economy. They increased South Korea's popularity, contributing to a surge in tourism.
An estimated 800,000 tourists reportedly chose South Korea as their travel destination because of BTS. Their popularity also boosted the appeal of South Korean products, such as clothes, cosmetics and food. eBay, an online platform in particular saw an increase in merchandise sales thanks to BTS.
eBay Korea said in April 2019 that sales had risen by more than 50 per cent since April 2018. The country now has at least one billion dollar worth of consumer exports associated with BTS. Outwardly, they projected to bring in an economic value of USD 37 billion over the next 10 years. The economic effect of BTS' new song on production, added value and employment opportunities will be enormous.
Besides, according to a study by Hyundai Research Institute, when the popularity of BTS increases by one percentage point, based on the search volume in Google Trends, Korean exports of cosmetics rise 0.72 percentage points, while those of food and clothing go up 0.45 and 0.18 percentage points, respectively.
According to a Korean Music Awards committee member and author of the book BTS The Review: A Comprehensive Look at the Music of BTS, 'They kind of reached the point where everything about them simply works, whether that's merchandise, concerts, album singles or streaming……. I think it's one of those rare moments for an artist's career, where everything surrounding the artist simply works and makes money and more money.'
There are many examples of it including political, aid or even supporting a cause. The band's mobile game, 'BTS World' reached number 1 in downloads in 33 countries within 14 hours of its launch last June, according to the press release of the game company. Similarly, it was for the Hyundai Palisade, which launched in South Korea in December 2018 and globally in 2019.
Sungwon Jee, vice president and head of the Creative Works group at Hyundai Motor Co said, 'SUV had no brand awareness.' BTS changed that, with a marketing and social media campaign that collected 800 million likes, comments and shares. Hyundai's 'Buy Palisade' tweet was mentioned 40 times more than for any of its previously launched models.
BTS's marketing strategy is unlike other K-Pop bands; BTS began using social media platforms since its foundation and can make an unparalleled fan group which is known as BTS Army. They are the predominant factor of BTS' success in everything.
Alongside commercial products, BTS is also successful in supporting noble causes. While becoming a part of the UNICEF campaign against the violation of children, BTS has raised USD 2.3 million. Besides, they donated USD 1 million for the cause of COVID-19 outbreak earlier. BTS Army matched this amount within 24 hours to donate for the same cause.
Likewise, the shocking video of George Floyd's murder by police brutality, they did the same by raising USD 1 million for the Black Lives Matter group and left a racist reaction to the Donald Trump's online birthday card.
The founder of BTS' US fan group, US BTS ARMY, Imelda Ibarra, has spent thousands of dollars on face masks, makeup, Uno cards and Puma shoes. She even broke her 10-year practice of vegetarianism for BTS-endorsed fried chicken when she was in South Korea in 2016. So, you can imagine the influence of BTS and its penetration in the economic, cultural, and political scenario.
Outwardly, during the protests for Gorge Floyd, there was a rally of the former US President Donald Trump in Tulsa, Oklahoma, on June 20 imploded beyond his wildest dreams. Over a million people registered electronically and perhaps 100,000 were expected to show up — but only 6,200 went through the turnstiles at the BOK Center. As the media reported, were Korean pop music, or K-pop, fans, who had decided to make the event a flop by applying for tickets then not turning up, in disgust at Trump's policies.
BTS is beyond music and has impacts in politics, economy and entertainment industry. By practising soft power, South Korea is obtaining such goals which may not be possible with mainstream foreign, economic and cultural policies to conquer the world.
It is high time developing countries like Bangladesh should step in and practice the soft power to grow the individuals and also the nation collectively.
Talebur Islam Rupom is a contributor to the New Age Youth.
Want stories like this in your inbox?
Sign up to exclusive daily email
More Stories from Art Culture