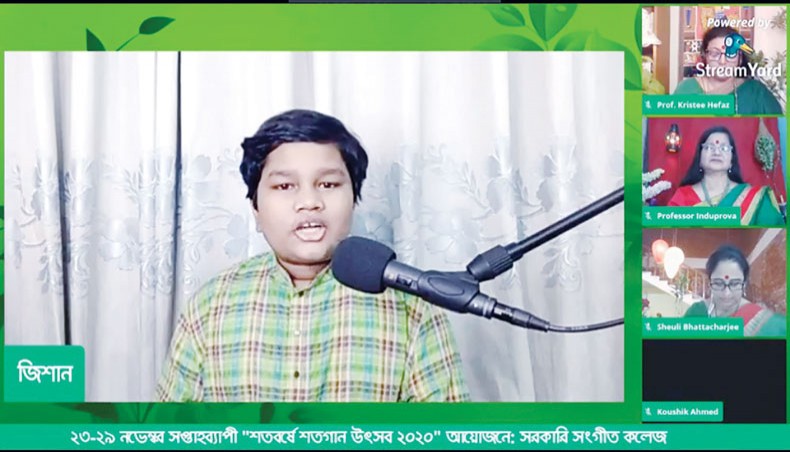 Artistes are paying tribute to the country's founding president Sheikh Mujibur Rahman in a week-long online music show organised by Government Music College.
The college has organised the event titled, 'Shato Borsher Shata Gaan 2020', marking the birth centenary of Sheikh Mujibur Rahman.
The event is featuring 100 songs about Mujib, discussion and others.
The festival, which commenced on Monday, is being streamed on the Facebook page of Government Music College at 6:30pm every day.
Sheikh Mujibur Rahman Birth Centenary Celebration National Implementation Committee's chief coordinator Kamal Abdul Naser Chowdhury attended the inaugural ceremony of the festival as chief guest and Secondary and Higher Education Division secretary Mahbub Hossain was present as special guest at the programme, which was presided over by Government Music College principal Kristi Hefaz.
Sheuli Bhattacharjee, convener of the festival, delivered the welcome speech at the event, which was anchored by Kazi Momta Hena.
'Government Music College is tirelessly working to promote our local music across the globe. We arranged this festival to pay tribute to Sheikh Mujibur Rahman. This is the first online music festival arranged by Government Music College. We have received enormous response from music lovers. I invite all to enjoy the event on Facebook,' said Kristi Hefaz.
On Thursday, thespian Ramendu Majumdar attended the programme as special guest and discussed on the life and works of Sheikh Mujibur Rahman.
Following the discussion, child artistes, teachers and students of Government Music College along with prominent singers rendered songs about Sheikh Mujib.
Jishan Ahmed, student of Chhayanaut, rendered Shuno bhai Bangabandhur desher kotha bole jai.
Asha Khandokar, student of the Government Music College, sang Liaquat Ali Lucky's song Bangla aaj kende kende kay amar Mujib kai.
Saiful Talukder sang Shaidul Islam's song Hridoyer singhasane tumi Mujib, Roksana Rupsha sang Hasan Matiur Rahman's song Ami Bangabandhur lagi kandi aj, Pujon Das sang Humayan Kabir's song Shoshitaer ghore tumi Sheikh Mujibur Rahman, Rumana Islam sang Bishawjit Roy's song Mathar upor pita achhen nai kono bhoy and others.
Prominent singers namely Sahin Samad, Timir Nandi, Chandana Majumder, Lovely Dev, Zoynul Abdin, Dev Dash, Biman Chandra, Nargis Nasrin, Momotaz Momta, Sahnaz Rahman, Ziaul Haque, Chitra Sen, Anisur Rahman and others are participating in the event.
On Friday, writer and professor Shourav Sikder attended the programme as discussant.
Following the discussion, students of Government Music College rendered songs about Sheikh Mujibur Rahman.
The festival will end on November 29.
Want stories like this in your inbox?
Sign up to exclusive daily email