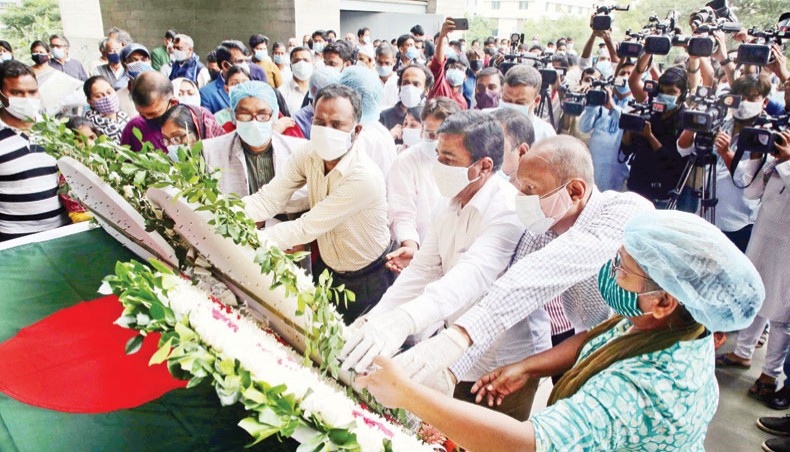 People from all walks of life paid their last respects to Ekushey Padak-winning thespian, popular television actor and freedom fighter Aly Zaker, who died while undergoing treatment for COVID-19 at United Hospital in the capital on Friday morning. He was 76.
'My father had been suffering from cancer, diabetes and other health complications for the last few years. He tested positive for COVID-19 on Tuesday,' said his son Iresh Zaker.
Different socio-cultural and political organisations including Bangladesh Awami league, Liberation War Affairs Ministry, Liberation War Museum, Dhaka district administration, Theatre troupe Theatre, cultural organisation Chhayanaut, Dhaka University's Faculty of Fine arts and other organisations placed floral wreaths on his coffin at the Liberation War Museum.
Actor-director Mamnur Rashid, renowned actor Tarik Anam Khan, veteran actress Ferdousi Majumder, actor Abul Hayat and filmmaker, freedom fighter and activist Nasiruddin Yousuff shared their memories while recalling Aly Zaker's contribution to the country's cultural arena.
'He was among the few who could understand Bangla natak. His contribution to the development of Bangla natak in the post-independence period cannot be forgotten. He has been suffering from various ailments for the last few years. Though he acted in both stage and television productions, he has always been at his best on stage as he could capture the audience through his performance. He won the hearts of the millions through his acting in plays such as Dewan Gazir Kissa and Nurul Diner Sara Jiban,' said Mamunur Rashid.
Nasiruddin Yousuff said, 'He had a strong belief in secularism and Bengali culture in line with the spirit of the liberation war. He held on to his belief till the last breath of life. Though he was not directly involved in politics, he participated in the mass movement between 1987 and 1990. I saw him in the streets during the movement.'
'He is a classic actor of our country. His acting in Galileo was marvellous. I think that Galileo is the best work of his life and it is the best play in the theatre arenas in both Bangladesh and Kolkata, India. He was successful in both acting and business. It is an irreparable loss for Bangladesh,' Nasiruddin added.
'He was a friendly and gossip-loving person. The reasons behind establishing Bangladesh were socialism, secularism, nationalism and democracy and he held on to these creeds till his last breath. It is an irreparable loss to the country especially he would be dearly missed in the art and culture field,' said Tarik Anam Khan.
Ferdousi Majumder said, 'It is really hard to think that Zaker bhai is no more. I cannot even think that he will not talk, laugh and act anymore. I acted opposite him in many productions on stage and television. I became very close to him while acting in Macbeth and Tempest. He liked my acting so much.'
'We talked and gossiped while rehearsing those plays. He was amazing as a co-actor. A good colleague like him is very rare in the industry. He will live on through his works,' Ferdousi added.
Veteran actor Abul Hayat said, 'He is considered the pre-eminent theatre activist in the country. He joined the theatre after the liberation war and took it to an international standard. Though I started theatre in 1968, he joined our theatre troupe Nagorik in 1972. I acted under his direction and he was co-actor in many of our productions.'
'There was good chemistry between us, he used to say,' recalled Abul Hayat, and added, 'He always inspired me by saying that he really enjoyed acting with me.'
'He has been suffering from cancer for the last few years. He fought against cancer but failed to fight with COVID-19. It is a matter of great grief that I could not see him one last time due to the fear of the COVID-19 infection. It makes me very upset,' Abul Hayat added.
Aly Zaker was given state honours at the museum. His body was then taken to his office of Asiatic 360 Media Agency in Banani.
He was buried at Banani graveyard following a namaz-e-janaza after Asr prayers.
Aly Zaker is survived by his widow Sara Zaker, son Iresh Zaker and daughter Sriya Sharbojoya.
Want stories like this in your inbox?
Sign up to exclusive daily email
More Stories from Theatre