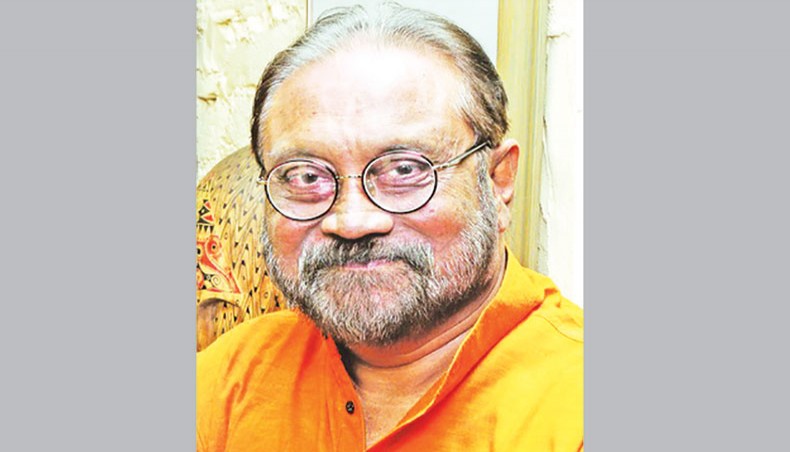 Ekushey Padak-winning thespian, popular television actor and freedom fighter Aly Zaker died on Friday morning while undergoing treatment for COVID-19 at a hospital in the capital.
He was 76. He is survived by his wife, a son and a daughter.
'He breathed his last at about 6:45am on Friday at United Hospital,' the actor's widow Sara Zaker told New Age.
She said that Aly Zaker tested positive for COVID-19 on November 24 and was admitted to United Hospital on the day.
'He had also been suffering from cancer, diabetes and other health complications for the past few years,' said his son Iresh Zaker.
He said that his father was admitted to Bangladesh Specialised Hospital for treatment on November 16 as he fell sick at home, and after his condition improved, he returned home on November 22.
President Md Abdul Hamid, Prime Minister and Awami League president Sheikh Hasina in a separate condolences message expressed their deep shock at the death of Aly Zaker, Bangladesh Sangbad Sangstha reported.
The President said, 'Thespian Aly Zaker was a shining star in the country's cultural arena. The country lost an eminent actor and cultural figure at his death. His death is an irreparable loss to the cultural arena of the country.'
He prayed for eternal peace of the departed soul and conveyed deep sympathy to the bereaved family members.
Prime minister recalled with profound respect Aly Zaker's contribution to the liberation war and the country's art and culture arena. 'His contribution to the great liberation war and the country's art and culture arena will be remembered for long,' added the prime minister while she prayed for eternal peace of the departed soul and conveyed profound sympathy to the bereaved family.
Information minister Hasan Mahmud, liberation war affairs minister AKM Mozammel Haq and state minister for cultural affairs K M Khalid have expressed profound shock and sorrow at the death of Aly Zaker.
Different socio-political and cultural organisations expressed their condolences at the death of Aly Zaker.
Bangladesh Awami League, Bangladesh Nationalist Party secretary general Mirza Fakhrul Islam Alamgir, The Jatiya Samajtantrik Dal-Jasod, Communist Party of Bangladesh along with socio-cultural organsiations such as Bangladesh Shilpkala Academy, Bangla Academy, Chhayanaut, Faculty of Fine Arts, Dhaka University, theatre troupe Theatre and others expressed shock at the death of Aly Zaker.
The body of the veteran actor was taken to the Liberation War Museum at Sher-e-Bangla Nagar in Dhaka at about 11:30am. His body was kept there for an hour.
Different socio-political and cultural organisations placed wreaths at his coffin. He was given state honours at the museum.
Aly Zaker's body was then taken to his office of Asiatic 360 Media Agency in Banani.
He was buried at Banani graveyard following a namaz-e-janaza after Asr prayers.
Born on November 6, 1944 in Chattogram, Aly Zaker attended different schools in Feni, Khulna, and Kushtia until his family settled in Gendaria, Dhaka in 1954, when he was admitted to St Gregory's High School in Class-IV.
Between 1972 and 2019, Aly Zaker directed 15 plays and acted in 31 theatre productions, including several productions that were instant hits. They include Sath Manusher Khonje, Kopenik-er Captain, Galileo, Nurul Diner Sara Jiban, Macbeth, Achalayatan, and Dewan Gazir Kissa. His performances in the role of Nurul Din, Dewan Gazi, and Galileo earned him huge acclaim.
He also adapted many plays penned by popular western dramatists such as Moliere, Anton Chekov, William Shakespeare, Bertolt Brecht, Edward Albee, and Carl Zuckmayer.
He also acted in numerous popular TV productions including Pathar Shomoy, Bahubrihi, Aaj Rabibar, Nitu Tomaye Bhalobasi, Ekdin Hothat and Nokkhotrer Raat.
He won several awards including National Academy of Performing Arts Award in 1977, Sequence Award of Merit in the category of outstanding theatre personality in 1984, and Ekushey Padak in 1999 for his contribution to the country's theatre art.
He also won Critics' Circle of India Award for outstanding direction and acting in 1984 for his seminal contribution to the development of theatre in Bangladesh.
Want stories like this in your inbox?
Sign up to exclusive daily email