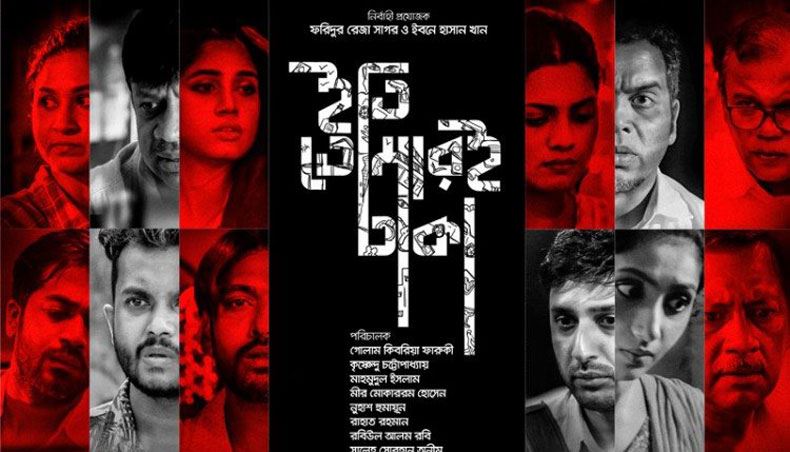 Omnibus film Iti, Tomari Dhaka has been selected as Bangladesh's official entry for the category of Best International Feature Film at the 93rd Academy Awards, popularly known as Oscars, said a press release.
Federation of Bangladesh Film Societies, which selects Bangladesh's entry for Oscars, announced the name of Iti, Tomari Dhaka after watching the film at its office in the capital's Kakrail area.
They watched two films on the day. One was Impress Telefilm Limited's Iti, Tomari Dhaka and another was Khona Talkies's Made in Bangladesh.
Chairman of BFFS Habibur Rahman Khan, Bangladesh Film Directors Association president Mushfiqur Rahman Gulzar, filmmaker Shamim Akter, among others, were present at the film screening.
Iti, Tomari Dhaka, a collection of 11 short films themed on Dhaka, was made by 11 directors. The film featured diverse aspects of the megacity Dhaka including its heritage and traditions, people and professions, dreams and nightmares through eleven short films directed by Nuhash Humayun, Tanvir Ahsan, Rahat Rahman, Krishnendu Chattopadhyay, Mahmudul Islam, Golam Kibria Farooki, Mir Mokarram Hossain, Rabiul Alam, Saleh Ahmed, Ahmed Shawki, and Tanim Noor.
Earlier, the film had participated in various international film festivals in Indonesia, India, Cambodia, Russia, South Korea, and others. Its world premiere was held at the 23rd Busan International Film Festival in South Korea on October 2018.
It also won Russian Guild of Film Critics' Award at Kazan International Muslim Film Festival.
Fazlur Rahman Babu, Intekhab Dinar, Tisha, Dilruba Hossain Doyel, Orchita Sporshia, Rawnok Hasan, Sardar Saniat Hossain, among others, had acted in the film.
Want stories like this in your inbox?
Sign up to exclusive daily email