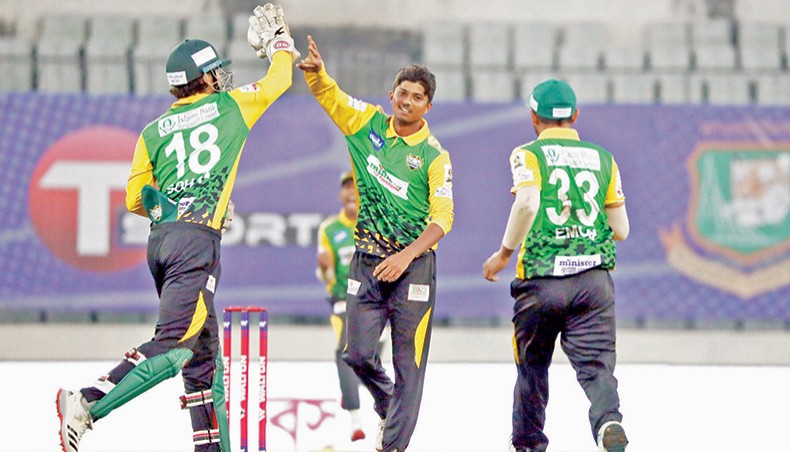 Promising Bangladesh all-rounder Mahedi Hasan on Wednesday said that he is not trying to compete against other young cricketers as he wants to carve his own path to a regular spot in the national team.
Mahedi grabbed the spotlight in the tournament opener of the Bangabandhu Twenty20 Cup on Tuesday when he hit a brisk 50 and defended nine runs in the final over to give his side Minister Group Rajshahi a two-run win over Beximco Dhaka in a back and forth encounter.
Mahedi, who one of the many young Mehedis' currently making headlines in Bangladesh cricket, said that he was not aiming to stand-out among his namesakes but was competing only against himself.
'Not about the Mehedis or others. Whoever plays the game of cricket has some sort of dream and he chases that. I am no different. My competition is against myself. I want to do well for my team, do well in this tournament and try to grow as a better cricketer,' Mahedi told New Age.
Mahedi, while speaking to New Age over phone from his team hotel, shared what was going through his mind during that last over where he had to defend only nine runs against a prowling Muktar Ali.
'The only thing in my mind was to give dot balls, nothing else. I did not take any pressure. The captain handed me the ball and told me not to take any extra pressure. I was also free from any unnecessary baggage. I was just trying to bowl as many dot balls as possible and fortunately my plans were well executed,' Mahedi told New Age.
The final over took a dramatic twist in the penultimate ball when a stumping appeal got referred to the third umpire and the tv replay showed that Mahedi had in fact overstepped.
Muktar, who had hit a four in the fourth delivery, now had a free-hit but Mahedi kept his calm and bowled another dot ball.
'Yes, tension was mounting but I did not focus on anything else, I only wanted to get a dot ball and my plan worked,' Mahedi said.
Mahedi also credited the hard work he had done during the pandemic break under his childhood mentor Salauddin Ahmed Ujjal for his good performance.
'During the lock-down period, I worked at home where Salauddin Ahmed Ujjal guided me. He has been my mentor from the very beginning.'
Want stories like this in your inbox?
Sign up to exclusive daily email
More Stories from Cricket