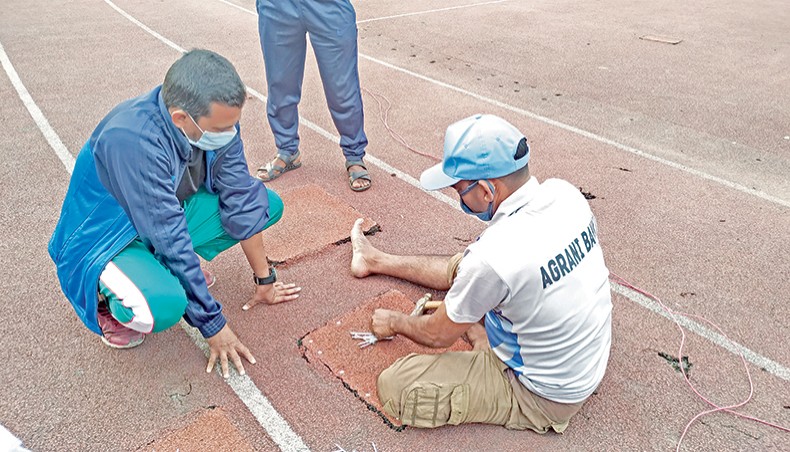 Bangladesh Athletics Federation is set to organise the 36th National Junior Athletics competition without any COVID-19 tests and on a heavily damaged track, putting budding athletes at risk of serious injuries.
The two-day-long meet will begin at the Bangabandhu National Stadium on Saturday with the participation of some 500 male and female athletes from across the country.
The athletes will compete in 41 events, split in four groups. BAF general secretary Abdur Rokib Montu said that they don't have the funds to test all players.
'We have not enough money and capacity to test all the athletes. But when our medical team will find anybody with symptoms then he or she will not be allowed to enter the venue,' the BAF general secretary said during a press conference on Wednesday.
Though the validity of the BNS running track expired several years ago, BAF is trying to organise the meet by repairing the damaged parts.
Montu informed that they waited for a long time for the renovation of the track after getting assurance from the sports ministry but could not wait any longer as the federation is accountable to the World Athletics for organising competitions.
'The validity of this track expired six years ago, but we are trying to avoid injury risk by repairing the track,' said Montu.
'We waited a lot…They [World Athletics] may suspend us, if we fail to organise competitions,' he added.
Barishal division coach Moinul Islam was assigned by BAF to repair the track and he told New Age that the risk of injury will remain even after the repair work.
'We are working on trial basis…Yes, there will be 10 per cent risk of injury of the athletes even after the repair work,' said Moinul.
Want stories like this in your inbox?
Sign up to exclusive daily email
More Stories from Miscellany