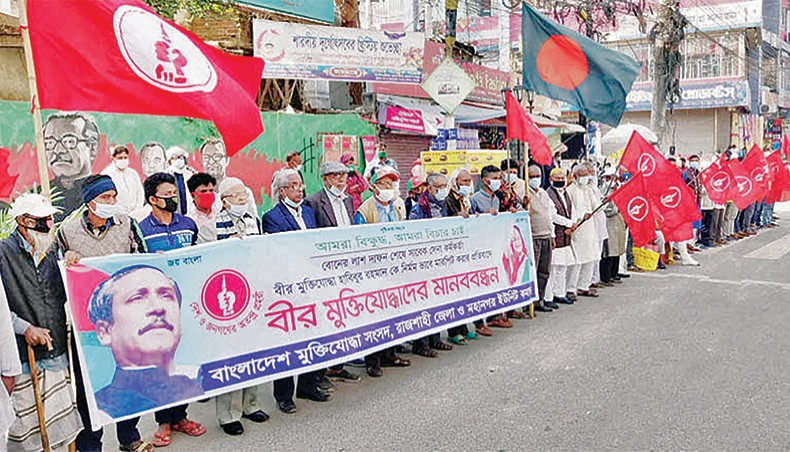 Freedom fighters on Monday formed a human chain in Rajshahi city protesting against the attack on one of their fellows by some miscreants at Paba upazila of Rajshahi on Friday.
They also demanded immediate arrest and exemplary punishment of the attackers.
On Friday, some miscreants attacked freedom fighter Habibur Rahman while he went to bury her sister in Delowabari area at Paba upazila in Rajshahi.
Rajshahi district and city units of Bangladesh Muktijoddha Sangsad jointly formed the human chain at the city's zero point to press their demand.
Speakers at the protest alleged that the law enforcers were not taking any proper step to prevent the harassment of freedom fighters.
The speakers said the freedom fighters freed the country sacrificing everything, including their own life.
'But, it is a matter of great regret that the freedom fighters are now being neglected in the country', said Bangladesh Muktijoddha Sangsad Rajshahi unit former president Abdul Mannan.
He also termed the people, who do not show due respect to the freedom fighters, enemies of the country and the society.
FF Ruhul Amin Pramanik alleged that freedom fighters have been harassed in Rajshahi in various ways for the last few months.
'A few days ago, some Rajshahi Medical College Hospital intern doctors beat up freedom fighter Ishak Ali and his son Rakibul Islam following an altercation ensued over the death of the FF's wife Parul Begum reportedly caused by due to doctor's negligence. Again on Friday, freedom fighter Habibur Rahman was beaten mercilessly while he was returning after burying his sister', he added.
He alleged that the law enforcers were not taking any effective steps to prevent harassment against the freedom fighters. Freedom fighters, who spoke at the rally, include Abul Kalam Azad, National Freedom Fighter Association founding convener Altaf Hossain, Rabiul Islam, Shahjahan Ali Barjahan, and veteran journalist Mustafizur Rahman Khan Alam.
Want stories like this in your inbox?
Sign up to exclusive daily email
More Stories from Country