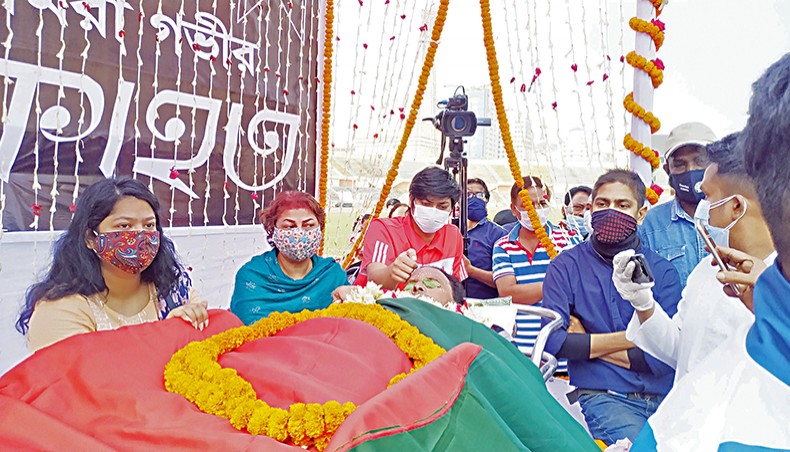 Country's sports fraternity bid its final farewell to late national award-winning footballer Badal Roy with heavy hearts before his cremation at the Sabujbagh Kali Mandir Crematory in the city on Monday.
Badal breathed his last at the Bangladesh Medical College Hospital on Sunday after losing the battle against liver cancer along with other complications.
On Monday morning, Badals' body was kept at the Mohammedan Sporting Club Limited premises where club officials, senior and junior teammates flocked to see their beloved striker one last time.
Later his body was taken to the Bangabandhu National Stadium, where athletes and organisers from almost all federations and some politicians paid their final tribute to Badal, who was given the national award in 2009 for his contribution to football.
Bangladesh Football Federation vice-presidents Kazi Nabil Ahmed, Mohiuddin Ahmed Mohi and some other officials came to pay their homage but BFF president Kazi Salahuddin and senior vice-president Abdus Salam Murshedy were absent.
Bangladesh Olympic Association secretary general Syed Shahed Reza, Dhaka South City Corporation mayor Sheikh Fazle Noor Taposh, ruling party joint secretary AFM Bahauddin Nasim were also seen among other dignitaries at the BNS.
Badal served the national team from 1981 to 1986 and sported Mohammedan's traditional black and white jersey in the Dhaka League in his entire club career from 1977 until 1989.
Badal was considered as the finest attacker of his time and led the club to hat-trick titles from 1986-1988 when football was the most popular game in the country.
Badal served as one of the vice-presidents of BFF for three terms on 2008, 2012 and 2016 and ran as a president candidate against Salahuddin in the last BFF election held on October 3, 2020.
Hailing from Cumilla, Badal was well known for his decency and dedication towards football among the fraternity.
Badal's Mohammedan team-mates fondly remembered his love for the club and his contribution in turning it into a domestic giant.
'Badal Da was always thought about football…He always tried to uplift football... He may not be with us anymore but we need to continue trying to fulfill his dreams,' former Mohammedan and national team defender Kaisar Hamid told New Age on Monday.
Badal was one of the key figures in the fierce football rivalry between Mohammedan and Abahani limited in 1980's which at times escalated to violence but even the players from his arch nemesis' camp sang praises of Badal's gentlemanly nature.
'I played with him for the national side. But in club football, he was in my rival team. We always had tussles in Abahani [Limited]-Mohammedan match…But our on field rivalry never impacted our friendship. He was an artist and a gentleman both on and off the field,' said former Abahani Limited former forward Asharafuddin Ahmed Chunnu.
'We fought against each other on the field but kept the rivalry limited to the field. His behaviour off the field was unbelievably warm; he was an unparallel footballer and good human being,' said former Abahani striker Sheikh Mohammad Aslam.
DSCC mayor Taposh urged everyone to honour him by bringing back Bangladesh football to its former glory.
'He was a great footballer of his time. He had a dream to bring back the country's football glory…I think his dream will be fulfilled through the completion of his unfinished jobs.'
BFF and Mohammedan will keep their flag half-mast for three days to show respect to the departed icon, who was also sports secretary of the Dhaka University Central Student Union.
Want stories like this in your inbox?
Sign up to exclusive daily email
More Stories from Football