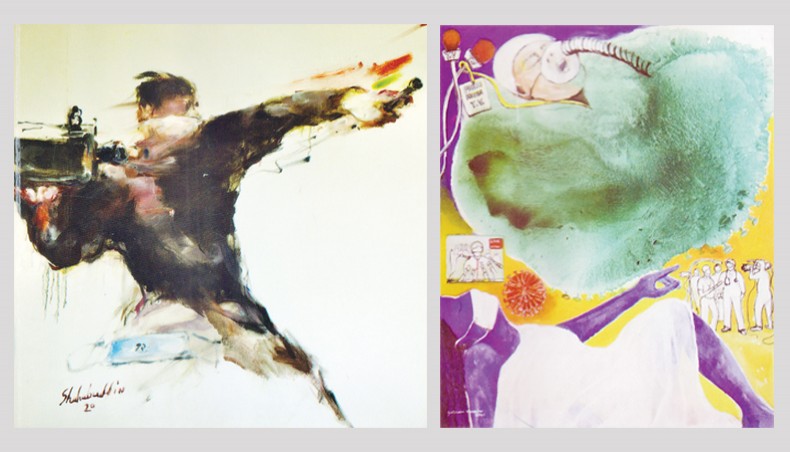 A three-day exhibition focused on the struggles of journalists during the COVID-19 outbreak is under way at Nalini Kanta Bhattasali Gallery of the Bangladesh National Museum.
The exhibition titled 'Coronay Ganamadhyamer Larai' features paintings and photographs depicting the fights journalists continue to wage to provide necessary information on the novel virus-induced situation as well as to support the members of the journalist community amid the on-going health crisis.
The exhibition organised by Broadcast Journalist Centre showcases works by artists and photographers.
The exhibition highlights include works by internationally renowned Bangladeshi artist Shahabuddin Ahmed, painter Gulshan Hossain, Mohammad Moniruzzaman, Tahmina Hafiz Lisa and renowned photographer Nasir Ali Mamun.
The photographs showcased provide a glimpse into the on-going outbreak and people's resolve to survive against all odds and the role of journalists in such a circumstance.
Photographs are of documentary genre and they were taken by five photojournalists — Al Imran Gorjon, Shuvra Kanti Das, Rubel Rashid, Jibon Islam and Komol Das.
Information minister Hasan Mahmud inaugurated the exhibition as chief guest on November 23 while Bangladesh National Museum director general Khondoker Mostafizur Rahman was present as special guest.
The programme was presided over by Broadcast Journalist Centre trustee Syed Ishtiaque Reza.
Besides, Dhaka Medical College COVID-19 researcher Dr Saleh Ahmed Tushar, artist Moniruzzaman, artist Tahmina Hafiz Lisa, the late Dainik Somoyer Alo city editor and chief reporter Humayun Kabir Khokon's widow Sharmin Sultana Rina and others spoke at the inaugural ceremony of the exhibition.
'The way the journalists have been working during the COVID-19 outbreak is really praiseworthy. When the government announced a general holiday, we saw the health officials, law enforcement agencies and journalists were out in the field engaged in their duties. As a result, 37 journalists died of COVID-19,' said Hasan Mahmud, and added that the mainstream media houses played an important role by providing accurate information to the people and making people aware about the rumours that spread on social media at the instigation of a vested quarter.
'It is a matter of great concern that some journalists are not receiving support from their authorities concerned. On the contrary a large number of journalists have lost their jobs. We have given some financial assistance to the journalists who have been hit hard by the COVID-19 outbreak after losing their jobs,' added Hasan Mahmud.
To mention a few works, Shahabuddin Ahmed's oil on canvas work titled 'Lorai' shows a journalist carrying out his duty holding a video camera in one hand and extending a microphone in another. The painterly style reminds one of those human figures leaping across the canvas that made Shahabuddin one of the interesting figurative artists of the country. The sweeping brush strokes represent the dedication with which journalists pursue their vocation.
Shahabuddin's other work titled 'Jhuki' shows a journalist at work, taking comments though his or her life is at risk.
Artist Gulshan Hossain's artwork titled 'Sammukh Joddha' shows two women — one at the bottom on a hospital bed and another on ventilator inside a greenish sphere. A group of journalists at work are shown in white garbs on the right-hand side of the canvas.
Artist Mohammad Moniruzzaman's work titled 'Daitte Abichal' shows a reporter and a videographer taking comments from people at a hospital amid risk of contamination.
The photographs depict real-life situations, focusing on the struggles of people following the virus outbreak. A wide range of subject matters have been explored through the lens, including people praying at a mosque maintaining social distancing, journalists covering news at hospital and talking to COVID-19 patients wearing PPE, covering news at public gatherings, taking photographs while giving samples at a COVID-19 sample collecting booth.
The exhibition will remain open till November 25.
Want stories like this in your inbox?
Sign up to exclusive daily email
More Stories from Exhibition