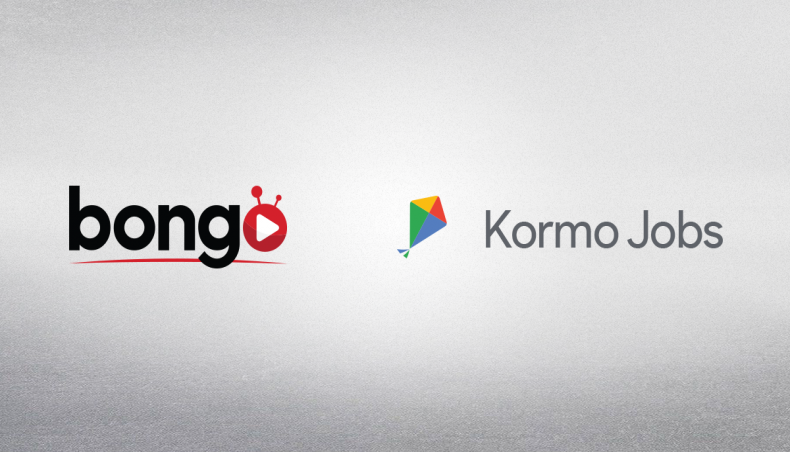 Bongo, one of the largest video streaming platforms in Bangladesh, has recently signed an agreement with Google's world-renowned job and career development app Kormo Jobs. Both organisations have taken this initiative to provide job opportunities and career development assistance to job seekers through the Kormo and Bongo apps in an entertaining yet effective way, said a press release.
Kormo Jobs is a career app that connects job seekers to businesses that are looking to hire and allows job seekers to create and maintain a digital CV, all in one app. For job seekers, joining the Kormo Jobs community gives them access to relevant job openings and interview opportunities, as well as learning contents to help them grow their career.
'We are thrilled to have such a partnership with Kormo Jobs by Google. Bongo is here to enable content that is relevant to our viewers. We strongly feel that providing content on career paths, professional etiquettes and personal communication skills will create an impact in their lives,' said Fayaz Taher, Chief Operating Officer at Bongo.
'Working with Bongo enables our teams in Kormo Jobs to assist thousands of entry-level job seekers in Bangladesh land relevant jobs. More than just connecting them to open roles, this partnership helps potential hires with relevant training courses that are not just adding to their competency but also equipping them with life-long skills. We're grateful to work with partners like Bongo who share our mission to provide income opportunities to more people,' said Bickey Russell, Operations Lead of Kormo Jobs at Google's Next Billion users initiative team.
Bongo is the leading digital entertainment platform in Bangladesh. Viewers can access Bongo through their iOS/Android APP, Website (https://www.bongobd.com), and Android TV app locally and globally.
Want stories like this in your inbox?
Sign up to exclusive daily email
More Stories from Miscellany