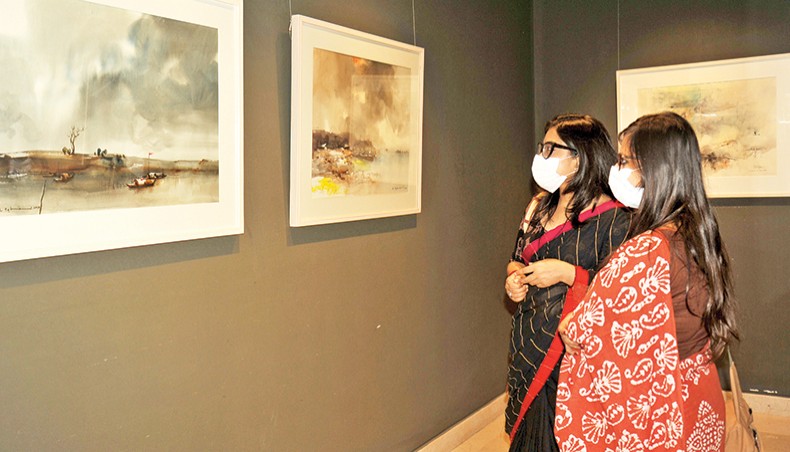 Acclaimed and young artists are displaying watercolour paintings at a group art exhibition under way at Edge Gallery in the capital's Gulshan area.
Artists created the paintings during the government declared general holiday to contain the spread of COVID-19.
One can immerse oneself in the beauty of the painters' masterly brushstrokes as they bring to life memories of places and idolise the beauty of rural and riverine Bangladesh.
The month-long exhibition titled Jolokabya-3 is a sequel to two other exhibitions titled Jolokabya. Launched on November 15, the exhibition features a total of 124 paintings by 34 artists.
The artworks address tackled subject matters like tourist attractions and heritage sites in Bangladesh, nature, life of fishermen, tradition of Bangladesh, scenic beauty of Bangladesh, moonlit night, women, seasons, flora and fauna, human emotions, birds, etc.
The participating artists of the exhibition are Alakesh Ghosh, Al-Akhir Sharkar, Anisur Rahman, Anisuzzaman, Ariful Islam, Azmeer Hossain, Biplob Chakroborty, Biren Shome, Hamiduzzaman Khan, Hasura Akter Rumky, Jamal Ahmed, Kamruzzoha, Kauser Hossain, Mintu Dey, Mohammad Eunus, Mohammad Iqbal, Mong Mong Sho, Monirul Islam, Monjur Rashid, Nabaraj Roy, Nazmul Haque Bappy, Palash Datta, Ranjit Das, Samarjit Roy Chowdhury, Shahid Kabir, Shakirunnahar Kanon, Sharmin Akter Lina, Shohag Parvez, Soikat Hossain, Sultan Ishtiaque, Swapan Chowdhury, Tamanna Tasneem Supti, Warior Rahman Sami and Zahangir Alom.
To mention a few works, renowned artist Biren Shome's painting titled 'Panam Nagar-1' shows a narrow road of Panam Nagar located at Sonargaon in Narayanganj district where a man on a motorbike is seen amidst dilapidated buildings which represents the tradition of the historic city.
Acclaimed sculptor and artist Hamiduzzaman Khan's painting titled 'Moonlit' shows a full moon over a river veiled in fog while moonlight bathes the entire scene. Depicting some boats moored on the bank of the river, the work homes in on the beauty of rural Bengal during winter.
Artist Jamal Ahmed's work titled 'First Sight' shows a home-bound woman clad in a sari carrying a pitcher against a seascape in which waves are crashing on the beach.
Artist Mohammad Iqbal's work titled 'Countryside-4' shows two cow-drawn carts plying on a mud road loaded with paddy amid the vast expanse of paddy fields set against village cottages.
Young artist Mong Mong Sho's work titled 'Songs of COVID-19' shows a fishing trawler moored on the bank of the river next to a hill. Suffused with greenery, the scene is as beautiful as any tourist spot in the hilly districts of Bangladesh.
Young artist Monjur Rashid's painting titled 'Messages from Nature-1' shows a pigeon flying over an envelope while on the top-left side of the work a moon shines.
Young artist Palash Dutta's work titled 'Rickshaw-2' shows rickshaw-pullers going with or without passengers while some people are waiting for rickshaws on roads.
The exhibition will remain open till December 15.
Want stories like this in your inbox?
Sign up to exclusive daily email
More Stories from Exhibition