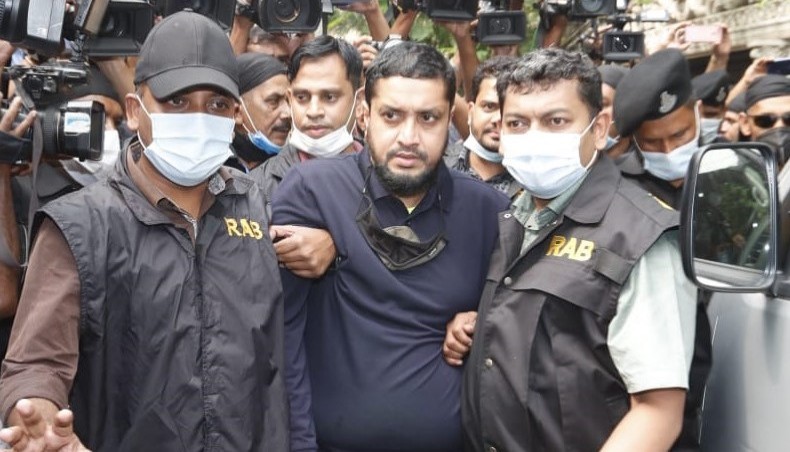 Businessman Monirul Islam, also known as Golden Monir, was placed on an 18-day remand in police custody on Sunday in three cases filed over the recovery of illegal firearms, liquor and foreign currencies from his Badda residence.
The Rapid Action Battalion filed the cases — one under the Special Powers Act, the second under the Arms Act and the other under the Narcotics Control Act — with the Badda police on Sunday, said Pervez Islam, officer-in-charge of the Badda police station.
Earlier in the day, RAB handed over Monir, who had been arrested on Saturday, to the Badda police.
The police produced Monir before two metropolitan magistrate's courts in two phases with pleas for taking him in custody for interrogation for 21 days in the three cases, reported New Age court correspondent.
Monir's lawyer appealed for his bail.
Metropolitan magistrate Abu Bakar Siddique rejected the bail petition and allowed the police to take Monir in custody for 14 days in the cases under the Special Powers Act and Arms Act.
Responding to another plea, metropolitan magistrate Masudur Rahman granted a four-day remand for Monir in the other case.
RAB arrested Monir in a 12-hour raid, which had started Friday night, at his six-storey building at Merul Badda.
The force recovered Tk 1.09 crore in cash, Tk 9 lakh in foreign currencies, 600 tolas of gold ornaments, illegal arms, alcohol and five SUVs in the raid.
Monir accumulated wealth worth over Tk 1,050 crore by forging RAJUK documents and through gold smuggling and other crimes, said RAB media wing director Ashique Billah.
He said that the elite force started the raid based on a report from an intelligence agency.
The businessman was earlier accused in at least three cases, including one on charge of forging the signature of a RAJUK officer.
Monir, who was a salesman of a cloth shop at Gausia Market, has 200 plots of land in his name at Badda, Nikunja, Uttara and Keraniganj, and used a luxurious car worth Tk 3 crore, RAB said.
It said that he was also a 'vicious' hundi trader and land broker and was involvement in gold smuggling.
Want stories like this in your inbox?
Sign up to exclusive daily email
More Stories from Country