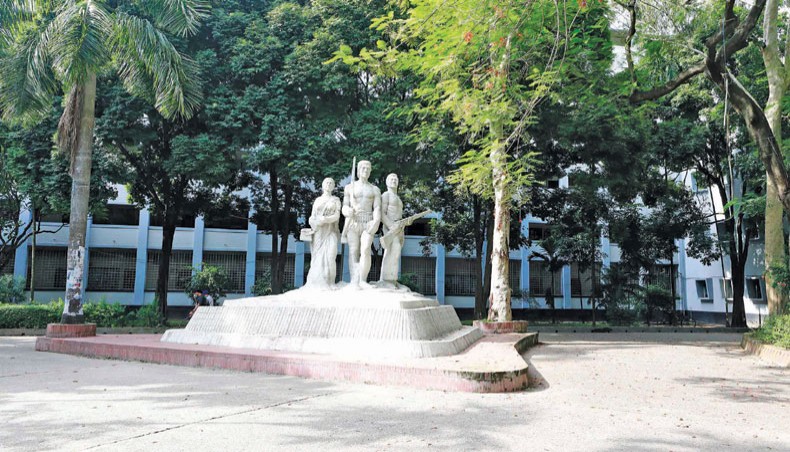 The Dhaka University is set to celebrate its 100th founding anniversary in July next year while various academic and accommodation problems still plague the country's leading and oldest public university.
Once regarded as the Oxford of the East, over the years, Dhaka University has lost its position in the global education ranking for not being able to update its curricula, teaching methods and research facilities and keeping pace with the times, present and former teachers said.
They said that teaching and research standard of the university deteriorated due to the poor allocation of funds, the recruitment of substandard teachers on political considerations and the engagement of teachers for personal benefits instead of developing their skills.
Dhaka University, however, had the reputation of producing quality graduates in various fields and leading the nation through major political movements such as the language movement of 1952, the non-cooperation movement of 1966, the uprising of 1969, the liberation war of 1971 and the subsequent political movements following independence, they lamented.
Dhaka University started operation on July 1, 1921 with 877 students and 60 teachers at 12 departments under three faculties. At present, 37018 students are enrolled at 83 departments under 13 faculties and 12 institutes. The number of teachers is 1,992.
'The size of the university has increased in terms of number of students, teachers departments and buildings. But, the core objective of the university of producing skilled and humane graduates and conducting quality researches for the welfare of the people is missing,' Dhaka University professor emeritus Serajul lsam Choudhury said.
The decline of standard is nothing but a reflection of the fall of moral values in our society, Serajul Islam said.
Earlier, teachers and students had provisions for interactions on the academic and co-curricular activities through study circles, publishing of magazines and organising sports and cultural programmes, Serajul pointed out, adding, 'But that rich cultural firmament vanished after the 1990s, leaving an adverse impact on the overall activities of the university.
This year, the British education affairs magazine Times Higher Education ranked Dhaka University in the category range of 1000+ among 1396 universities from 92 countries while it secured a position between 600-800 in 2016.
In this year's ranking, the position of several other universities of the South Asian countries like Nepal, Sri Lanka, Pakistan and India were better compared with Dhaka University.
Times Higher Education ranks a university by evaluating five indicators such as teaching, research, citations, international outlook and industry income.
Retired Dhaka University sociology professor Nehal Karim attributed the fall in the global ranking to the appointment of substandard teachers through nepotism and on political considerations.
'Instead of merit, nepotism and political colours determine which students will be teachers. Following appointment, these teachers remain busy holding different positions in the university using their political connections or making money teaching at private universities, evening courses and doing consultancies with NGOS,' Nehal said.
'They do not have time to develop their skills, conduct researches, teaching classes regularly and helping students internalise lessons outside the regular classes,' he said.
'It is really shocking when we see some teachers abusing female students and also resorting to plagiarism in their researches,' he said.
On politicisation, he said, the university lost its autonomy and had been used to carry out the political agendas of the ruling parties to gag the voices of students.
The political bias in teachers, Nehal argued, encourages a divisive student politics as these teachers continue to inspire students to get involved in activities of the ruling party's student wings.
These teachers use student leaders to exert their influence over campus activities.
Some student leaders were involved in making money through extortions, he said.
Convener of the white panel, which is lenient towards the Bangladesh Nationalist Party, Professor ABM Obaidul Islam, also acting president of University Teachers' Association, said that nepotism and power politics are the biggest problems at DU where none but the ruling party-affiliated teachers and students have voices.
The outgoing Dhaka University Central Students' Union vice-president Nurul Haque Nur said he was assaulted eight times by Chhatra League cadres on the campus.
DUCSU, which was revived in 2019 after 28 years following an allegedly rigged election, remained non-functional for the dictatorship of the Chhatra League.
Outgoing DUCSU assistant general secretary Saddam Hussain, also general secretary of DU Chhatra League unit, denied making DUCSU non-functional or exercising power to ensure that the students remained cowered down in fear.
But, Saddam admitted that due to the acute seat crisis at the halls, to secure seats students had to have connections with Chhatra League and he also emphasised that such nepotism peaked when Chhatra Dal used to dominate the campus during the BNP-led four party alliance government.
'There are only 18,123 seats at the 20 residential halls and three hostels where over 25,000 students live. Such problems would not be solved if the accommodation problem was not solved,' Saddam said.
The environment in DU residential halls is not ideal for study and students are frequently bullied and tortured by Chhatra League cadres, many hall residents told New Age.
Sometimes they force students to participate in the political programmes instead of attending classes, students alleged.
They further said that most of DU students took exams memorising notes handed down to them by their seniors to secure good marks.
DU physics professor Kamrul Hassan Mamun recommended brining a sea change in the curriculums, teaching methods and examination systems for producing graduates as per the call of the times.
'The conventional system where students pass exams memorising notes must be changed for nurturing talents,' he said.
'We have 56 research centres but none of them can be credited for noteworthy work. We don't have any recognised journal to publish researches,' Mamun said.
Dhaka University pro-vice-chancellor ASM Maqsud Kamal said that the university had undertaken a Tk 3,000-crore project as part of implanting a 15-year master plan to make the campus aesthetically beautiful, mitigating accommodation problems of teachers and students, developing international standard classrooms, increase quality of the teachers and patronising original research works.
He said that world-class library facilities would be developed, playgrounds would be modernised and special funds had been allocated for patronising researches in the next fiscal year.
Kamal, also convenor of the Blue Panel, the pro-Awami League teachers' wing, said that the political context changed in the post-1990s regime and it is different due to various unavoidable reasons.
'Still, we are trying develop each and every sector with the hope of regaining the lost glory of DU and make it a world-class academic institution,' he said.
Want stories like this in your inbox?
Sign up to exclusive daily email
More Stories from Country