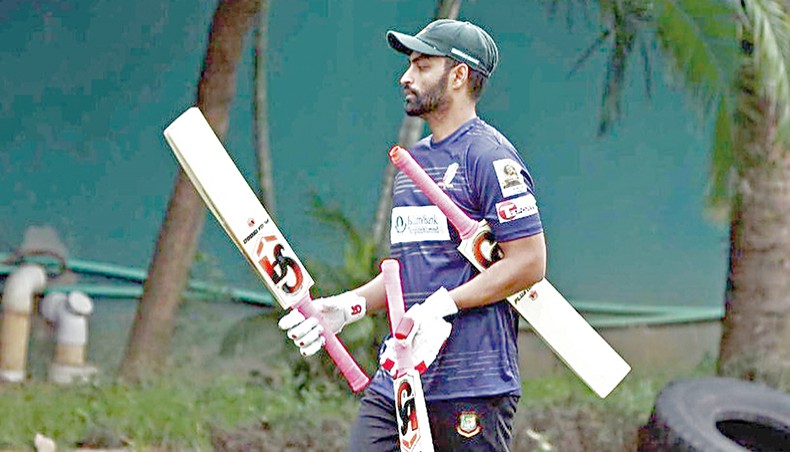 Tamim Iqbal, the national team stalwart who will lead Fortune Barishal in the Bangabandhu Twenty20 Cup, thinks that his team needs to apply 'out of the box' methods in the tournament to make up for the lack of fire-power in their squad.
Following his return from Pakistan, where Tamim went to play for Lahore Qalanders in the Pakistan Super League, the left handed opener joined the training on Saturday after testing negative in a COVID-19 test.
In his first media interaction as the captain of the Barishal franchise, Tamim expressed disappointed over the choices the team management made in the players' draft and felt that his team needed to look for unconventional methods to go all the way in the tournament.
'With the squad we have, we have to play 'out of the box' cricket to succeed. It will be difficult to play with a set plan, like we do on most occasions. With the resources we have, we must think out of the box and surprise the opponents, only then it will work,' Tamim told the reporters after practice.
'No doubt we have made some mistakes in the players' draft. No doubt about that, that's why people are talking about it. But at the same time, cricket is a game of uncertainty. We have some players who are not being talked about but you never know, they might end up getting the job done,' he added.
Barishal lacks star-power in the batting department, with Tamim being their only experienced national team batter in the roster, which added even more pressure on the opener.
'My individual performance is very important; I need to lead from the front. Forget captaincy, if I can score runs as a batsman even that can inspire the team,' he said.
'Maybe I have to play a different role in the tournament. If you have enough resources, you can plan in one way but when you are lacking you have to approach it another way.'
Tamim was pinning his hopes on the lesser known names in his team to come good in the tournament.
'Just look at the [BCB] President's Cup. Those who weren't considered promising did really well and stole the show. This time also I hope someone who is not under the limelight will come forward and perform,' Tamim said.
Barishal has been missing in the franchise Twenty20 leagues in the country since 2017, when Bangladesh Premier League side Barishal Bulls got dissolved.
Tamim is excited with the return of Barishal in a Twenty20 league and hoped to give some joy to the fans from the southern part of the country.
'It's great that Barishal made a comeback, for the last two-three years there was no participation from them in BPL. But it's true that they really have a huge fan base. As they are back, I will try to deliver some happy moments for them.'
Want stories like this in your inbox?
Sign up to exclusive daily email
More Stories from Cricket