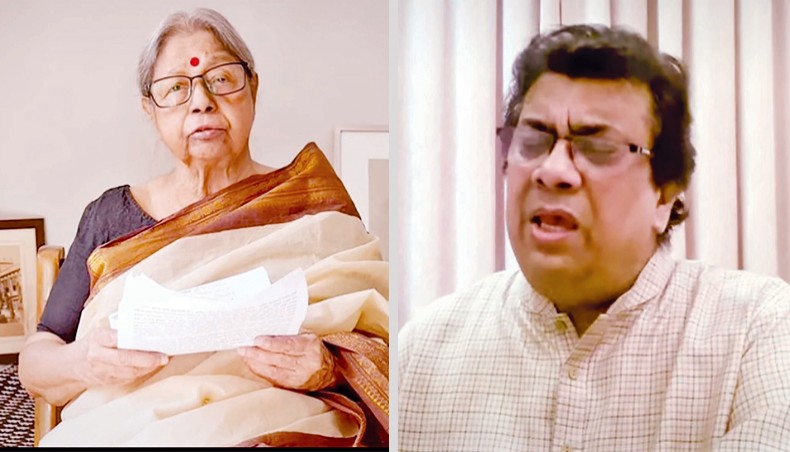 The late writer Abul Hasnat, who was also the editor of the monthly literary magazine Kali O Kalam and biannual art journal Shilpa O Shilpi, was remembered in an online programme on Friday night.
The programme titled 'Tabu Ananta Jage' was jointly organised by Chhayanaut, Jatiya Rabindrasangeet Sammelan Parishad and Nalanda Uchcha Bidyalaya. It was streamed live on the Facebook page and YouTube channel of cultural organisation Chhayanaut.
The event featured discussion on the life and works of Abul Hasnat, who passed away on November 1, music show, recitation and others.
Chhayanaut president Sanjida Khatun gave the welcome speech at the programme. Popular Tagore singer Iqbal Ahmed, Nalanda Uchcha Bidyalaya principal Sumona Biswas, Bangladesh Rabindrasangeet Sammelan Parishad general secretary Bulbul Islam and vice president of Chhayanaut Sarwar Ali spoke on the life and works of Abul Hasnat.
'It is really difficult for the elderly to recall their juniors. I saw Hasnat when he was a MA student at the Bangla department of Dhaka University in 1972. After the liberation war, he helmed a literary magazine named Ganasahitya and urged me to write opinion on the topic titled "Mohammad Farhad Er Niyantrita Sangskriti". Hasnat urged me to write on several topics and encouraged me to pursue writing. I dedicated my book named Shrestha Prabandha to Abul Hasnat,' said Sanjida Khatun.
Popular Tagore singer Iqbal Ahmed said, 'Abul Hasnat was not only a writer and editor but also a poet, journalist, cultural activist and a good organiser. I first met him in 1968 and we became friends. He was man of virtue and could easily win people over.'
Nalanda Uchcha Bidyalaya principal Sumona Biswas said, 'Hasnat Bhai's passing away left a huge void in the country's art and culture scene. I consider myself fortunate to have had the opportunity of working with him. We worked together at Nalanda. He always considered other people's opinions when making a decision.'
'Hasnat Bhai was involved with Bangladesh Rabindrasangeet Sammelan Parishad since it was established. He was always there for us whenever we needed him,' said Tagore singer Bulbul Islam.
Artistes paid tribute to Abul Hasnat presenting songs and poems.
Renowned Nazrul singer Khairul Anam Shakil rendered Nazrul song Shubhra samujjwal he chira Nirmal. Bulbul Islam sang Tagore song Achhey dukkho achhey mrityu, Iffat Ara Dewan rendered Tagore song Sraboner dharar moto and Laisa Ahmed Lisa sang Tagore song Ami badhinu tomar tire.
Sumona Biswas recited Abul Hasnat's poem Swapner Kachhe, Bhaswar Bandyopadhyay recited Abul Hasnat's Kabi Ghum O Jagorane.
Besides, Nalanda students Zaiba Tahzib, Sheikh Fabiha Haque, Samah Taufique Tapshi, Tasfia Maroarid, Fazle Elahi Ananda and Shritama Madhurja Toma read from Abul Hasnat's juvenile novel Juddha Diner Dhusar Dupur.
Abul Hasnat was born on July 14, 1943 in Dhaka. He made an immense contribution to literature exploring various genres. His collection of poems, novels, books on art criticism testify to his engagement at many levels in the literary field.
He studied Bangla at Dhaka University. Before he joined Kali O Kalam, he worked as the literary editor at the Bengali daily Sangbad for 24 years.
During the tumultuous days of the liberation war in 1971, Abul Hasnat played a vital role in inspiring the masses through cultural activities.
He was one of the trustees at Chhayanaut and had also served as the vice president of the organisation. He was the president of Nalanda Uchcha Bidyalaya run by Chhayanaut. He was a trustee board member of Bengal Foundation since 2005.He received Bangla Academy Literary Award in 2013.
Want stories like this in your inbox?
Sign up to exclusive daily email
More Stories from Miscellany