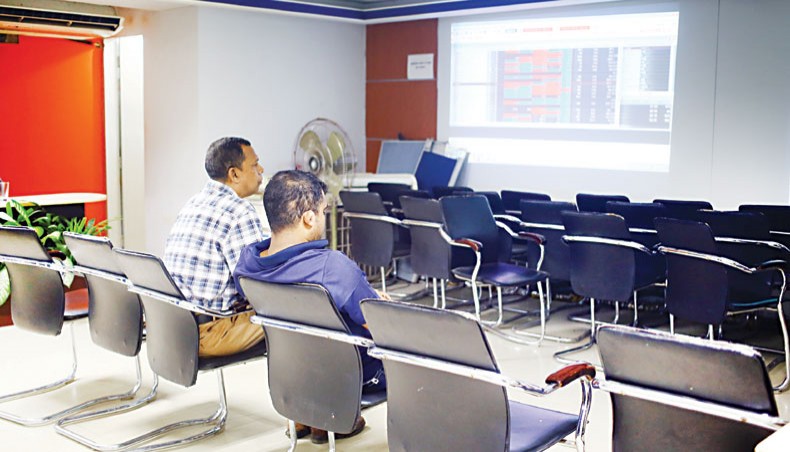 Dhaka stocks last week dropped for the second week as investors went for selling shares amid the subscription of the initial public offering of the country's second largest mobile company, Robi.
Robi's Tk 523-crore IPO subscription began on November 17 and will continue till tomorrow.
Market operators said that worries over mutual funds after regulatory measures also dampened the investors' mood over the week.
DSEX, the key index of the Dhaka Stock Exchange, lost 0.51 per cent, or 25.07 points, over the past week to close at 4,879.96 points on November 19, the last trading session of the week after losing 37.09 points in the previous week.
The core index lost in most of the sessions in the past week as investors went for share sales amid the IPO subscription of Robi and worries over mutual funds, market operators said.
EBL Securities in its weekly market commentary said, 'The capital market has stayed stagnant in recent weeks while investors concentrated on raising fund to secure an IPO lots for quickest gains.'
The IPO subscription of a number of companies has depressed the secondary market as a large amount of funds has remained stuck on the primary market.
Mutual fund and insurance sectors which had dominated the market for the last couple of months cooled in the past week after the disciplinary move by the BSEC.
The mutual fund sector plunged by 8.8 per cent over the week as the BSEC formed a committee to investigate unusual price hike of five mutual funds.
Investors also became worried after the brokerage houses and merchant banks suddenly declined to provide margin loans for mutual fund investment saying that securities rules issued in 2010 bars them from giving margin loans for investment in MFs.
The average share prices of general insurance, non-bank financial institution and telecommunication sectors dropped by 7.6 per cent, 2.2 per cent and 1.1 per cent respectively.
The daily average turnover on the DSE slumped to Tk 781.82 crore in the past week compared with that of Tk 911.28 crore in the previous week.
Out of the 359 issues traded in the past week, 199 declined, 99 advanced and 63 remained unchanged.
DSE's blue-chip index DS30 dropped by 0.60 per cent, or 10.26 points, to finish at 1,701.34 points.
Shariah index DSES, however, gained 1.02 per cent, or 11.44 points, over the past week to close at 1,128.88 points.
Beximco Pharmaceuticals led the turnover chart with shares worth Tk 294 crore traded last week.
Square Pharmaceuticals, Bangladesh Export Import Company, Grameen Scheme Two, BRAC Bank, Exim Bank 1st Mutual Fund, Associated Oxygen, AB Bank 1st Mutual Fund, Trust Bank 1st Mutual Fund and Asia Insurance Company were the other turnover leaders.
Want stories like this in your inbox?
Sign up to exclusive daily email