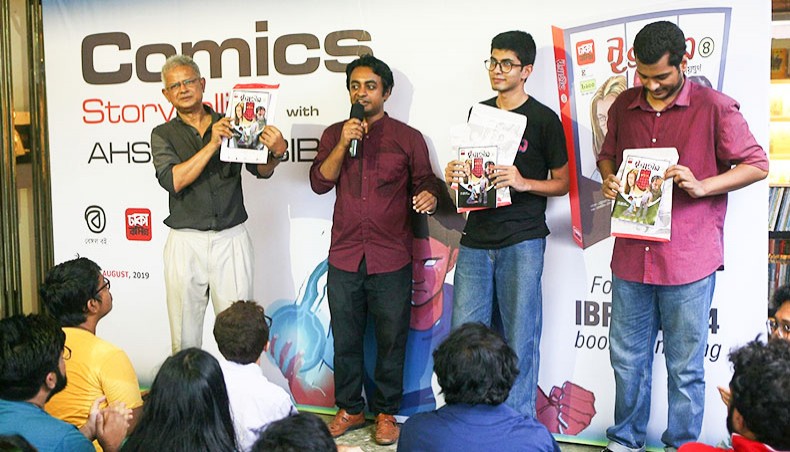 Dhaka Comics started their journey in 2013 with a view to tell the stories of our own culture with a global standard visualisation. With already 78 titles under their belt, they are now focusing to spread their comic across the country and dreaming of reaching around the world. Tanjim Ul Islam writes marking their anniversary
WHEN Dhaka Comics launched with its first four titles in 2013, there was no certainty that the publication house would survive. In Bangladesh, comics were deemed to be for comic relief or kids only. It couldn't be mistaken for proper literature per se.
Launching a comic publication house with no significant capital was a huge gamble. With its eighth anniversary right around the corner, the gamble has surely paid off.
In 2013, Mehedi Haque founded Dhaka Comics. Haque, with a group of young cartoonists and comic book artists, initiated the organisation with an aim to publish comic books that can cater to Bangladeshi audience and culture.
Dhaka Comics believes that the youth of Bangladesh has the capability and energy to produce excellent stories with standard graphics. They want to tell their own stories based on their own culture while maintaining the global visual senses.
That the ambition of Dhaka Comics is not unrealistic is proven through the immense popularity the various titles of the house have already achieved. For the first time in Bangladesh, this comic book house is providing age-group rating based comics in different genres.
Dhaka Comics has recently started to offer its content to global comic readers by translating the books into English and uploading the content via their own apps on line. It also expanded its business to West Bengal responding to popular demand of the Bengali speaking people in the area. This publishing house dreams of spreading Bangladeshi comics to all corners of the world.
Since its inception, Dhaka Comics has released seventy eight comic books and graphic novels. The main focus of the publishing house has been to ensure that their comics reflect the social context of Bangladesh while telling a compelling story.
Dhaka Comics' existing titles contain genres such as action, thriller, horror, sci-fi, comedy et cetera. This has worked towards changing the perception that comics are only for 'comic' relief. Dhaka Comics has introduced characters that have become household names for its avid reader base.
One of its most popular characters Durjoy, created by Tauhidul Iqbal Sampad, is an antihero who works outside the bindings of the law to fight against injustice in Bangladesh. Durjoy was also transformed into a collectable action figure which was welcomed by the fans of the franchise.
Dhaka Comics also has two popular horror series called 'Nihilin Club' and 'Pishach Kahini'. Both of these titles present horror stories tapping into the mythical lore of Bangladeshi culture and tradition. Mehedi Haque is the creator of both the series whilst Adrian Anik is the artist behind 'Pishach Kahini'.
It also has titles targeted towards Bangladeshi kids. Asifur Rahman's 'Jitu ar Tee' is the most popular kid's comic which follows the adventures of Jitu and his extraterrestrial friend, Tee. Dhaka Comics has published comics' adaptations of Humayun Ahmed's children's stories and Thakurmar Jhuli's 'Lalkomol ar Nilkomol'.
The publishing house has given a platform for many newcomers to publish their works under the 'Nobin Series' banner. Some of the popular titles under this series are 'Ibrahim and Zum'. Ibrahim, written by Tanjim-Ul-Islam and illustrated by Adrian Anik, is the story of an orphan teenager with superpowers who uses his powers to fight against oppression in the remote areas of Bangladesh.
Sabyasachi Chakma's 'Zum' is the story of Zumo, a teenager from Rangamati who harnesses energy from nature through meditation and has a target on his back for his abilities.
Dhaka Comics has also found success in satirical concepts. Romel Barua's series 'Lungiman' explores the conquests of Lungiman, a superhero with a super-powered lungi!
Dhaka Comics has also adapted seminal works of Bangladeshi literature as graphic novels. Kazi Anwar Hossain's 'Poncho Romancho' and Dr Muhammad Zafar Iqbal's 'Ruhan Ruhan' have been adapted as graphic novels and gained massive popularity among readers.
Things were going rather well for the publication house with a diverse set of comic books and graphic novels. Their presence transcended the book fair as they had managed to reach readers in many corners of the country through building their distribution chain.
The publication house will celebrate its eighth anniversary in January 2021. At this juncture, the publication house is facing some difficulties due to the pandemic COVID-19. This precarious situation has prompted the publication house to take two initiatives: launching digital comics and expanding its distribution chain throughout the country.
Dhaka Comics worked towards preparing their website to enable readers to get digital comics from their homes.
Dhaka Comics launched its digital comics section in June 2020. For the first time, Dhaka Comics released one of their comics online. Readers can now find the latest issue of Durjoy, Durjoy 15 in the digital comics section on Dhaka Comics's website.
Along with Durjoy 15, many of the existing comics are available in the digital library. All of the comics can be purchased at a 50 per cent discount from their original price. There is also a provision for a yearly subscription which gives a reader the option to gain access to some of the previous comics of the publisher along with the new titles set to release in the next year.
The initiative to expand the distribution channel throughout the country is aimed to ensure that the comic readers from around the country can have easy access to Dhaka Comics books.
As for Dhaka Comics's future publication plan, the publication house is working on a graphic novel containing real life stories of our liberation war from the rural areas adapted from a book titled Gramer Ekattor authored by Afsan Chowdhury.
The publication house is also hosting a horror comic contest to promote budding artists. The submissions can be found on the Dhaka Comics website. The winning comics will be featured in a compilation in the next book fair.
Along with these projects, many of Dhaka Comic's main popular series will be published in the upcoming book fair.
Although the journey has not been smooth, one thing is for sure, Dhaka Comics is here to stay in the literary arena of Bangladesh.
Tanjim Ul Islam is senior executive of Dhaka Comics.
Want stories like this in your inbox?
Sign up to exclusive daily email