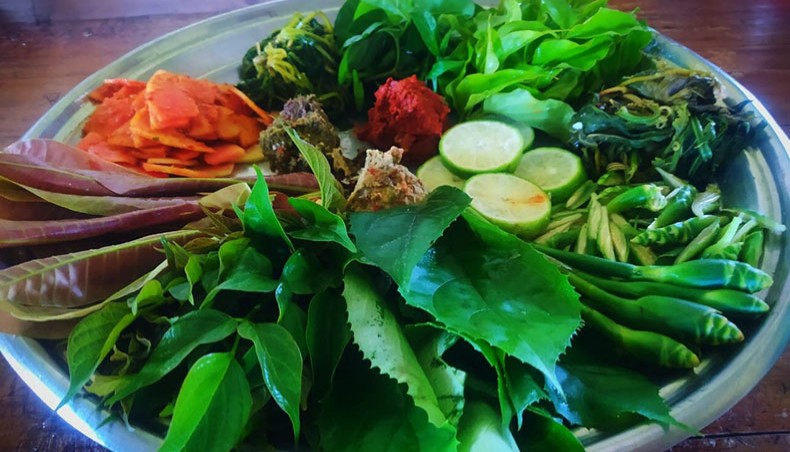 When the entire world is ravaged by the COVID-19, many indigenous communities in the Chittagong Hill Tracts have deployed age old methods to contain the disease and stop the spread among their communities. Experts are also emphasising on a strong immunity system to combat the disease. Mongsaimarma and Dr Sweuokrai Marma talks about how Marma community's lifestyle and food habits are boosting their immunity system and help fight the COVID-19 disease better
WHEN COVID-19 has spread around the world, the bodily immunity system has been discussed from different perspectives. As we know, immunity means the body's ability to prevent the invasion of germs like bacteria or virus. Lifestyles, eating habits and various nutritional values of foods help the Marma people to build a robust immunity system.
Doctors and nutritionists say immunity is important to tackle the COVID-19. A person with a weakened immune system is likely to get infected than people with strong immune system. How can we stay healthy and strengthen our immunity system is a question that has been researched in many countries. Researchers said lifestyle and eating habits are very important to strengthen the immunity.
When thousands of peoples are getting infected or dying from the COVID-19 in many districts of Bangladesh, the infectious rate, according to some claims, is relatively low among indigenous population. There are 14 ethnic groups in the Chittagong hill tracts. Marma community is one of them. They are still relatively sound and safe. There are many reasons behind it.
The first and foremost reason is — their lifestyle and eating habits. Their immunity is strong for the nutritional values of the food they consume. In fact, the secret behind their strong immunity is strongly linked to their food habit.
Chemical free food and vegetables
GENERALLY, Marma community eats pesticide and chemical free food. Conventionally, they plant various vegetables for future consumption around their home and collect their daily vegetables and foods, in a great variety, from the forest. Basically these greens are collected from social forestry that is collectively owned. They eat these vegetables and food daily. So they don't have to buy groceries from the market except salt, shrimp paste, oil and spice.
Some of these vegetables are — dannyi (drumstick leaf), Rinahkhuning (aquatic plant), taro's corms-petioles-bloom, centella asiatica, turmeric and its flower, ginger and its flower, potato (three or four species), jhum cucumber, sour leaf (three or four species), bamboo shoots, jhum chillies and 25-30 types of unknown vegetables without pesticides.
A favourite and tasty curry in the Marma community is assorted vegetables. Marma uses jnappi (one kind of spice paste made from fermented fish) to enhance the taste of their curry. There is no one who doesn't like jnappi. Marma scarcely uses oil in their daily cuisine. Monkey jack, grapefruit, wood apple, lemon, rambai, guava, ramontchi fruit, suduisi (one kind of sour fruit) and 20-30 unknown pesticide free fruits only available in CHT are in Marma cuisine.
Traditional food
AS MARMA community mostly lives in rural area, there are no fast food shops. So they have not developed the habit of consuming junk food as evident in urban areas. They make traditional pie such as kyaingdou mung (a pie prepared in bamboo), kodou mung (prepared in banana leaf), chihlou mung (fried), chesma mung (like Bengali pati shapta) and 5-10 unknown traditional pies for themselves in their home where no harmful substance is used. Every household has kongnyang (sticky rice) to make pie. They do not like packaged or processed industrial food.
Consumption of non-cultivated food
AT LEAST 30-40 per cent of the vegetables consumed daily by Marma communities are non-cultivated vegetables. Pigs and other cattle are brought up at home in small scale and to address any future financial needs. These animals are completely free of any artificial vitamins or medicines.
In contrast to the industrially grown cattle and poultry in the urban areas, Marmas do not used mass produced feed to the animals. Also, the cattle live a comparatively easier life than the industrial cattle.
Besides, Marma communities rely on frogs, fishes and crabs from local streams that are also free from any harmful chemicals and are not cultivated.
Using forest medicine to treat basic illness
MARMA community has been practising their indigenous knowledge to treat primary fever and other basic illness for ages. We know that if we have fever or cough, we drink neem leaf infused boiled water or if we have allergy, we bath with the same water. We use boiled water with chabalang (one kind of medicinal plant) when we have throat pain. Marma community knows 15-20 medicinal plants found in the surrounding forest for treatment of minor diseases. If the diseases get severe, then they go to the nearby health care centre.
Physical work
MARMA people are hard workers. Geographically, Marma community lives in rural regions far from the district towns. To survive in this ecological environment, they have to live hard and harsher life.
That is why they have to work hard both in the field and in the forest. Manual labour has a strong linkage with the immunity system. Being a hard working member of the community, one can stay safe from many non-communicable diseases such as strokes, heart diseases, diabetes et cetera. In other word, we can say that manual labour make immunity system stronger.
When a person does physical work, his/her all the organs develop well. As a result, oxygen can transport to the cells and the body can produce energy spontaneously. As they have to work in the jhum/hill land, they absorb sunlight and they do not develop vitamin-D deficiency.
Low population density
CHITTAGONG Hill Tracts are not densely populated area. For example, population density in Dhaka is 8229/per kilometre. On the other hand, population density in Khagrachhari is 195/per kilometre. For this reason, COVID-19 cannot spread in the hill areas as quickly as it is seen in urban, densely populated areas.
Furthermore, hill districts are far away from Dhaka and Chittagong for which community transmission did not take place. Another reason is about 65 per cent of the Marma people live in remote areas.
Operational hill economy
THOUGH COVID-19 has hit Bangladesh and the world economy hard, it has no similar impact on Marma community because of its economic structure. Marma people have self-sufficient indigenous economy that does not follow neoliberal or market economy for which the life of Marma people is free of modern financial traps.
Food shortage in CHT that has been reported in many media during the pandemic is not the result of COVID-19. Food shortage happens in the CHT for the eviction of indigenous people from their cultivable jhum land that are acquired in the name of tourism or declared as reservation area by the Forest Department.
The COVID-19 has impacts on small traders, travel traders such as tourist guides, agents and others who are dependent on tourism industry, gardeners of vegetables and fruits who produce in mass scale for the market. Moreover, Coronavirus has also affected garments workers, private sector employees who were laid off and were from the CHT.
Today, the intrusion of the market economy, loss of land and limited or restricted access to the forest have interfered with the pre-existing subsistence economy of the Marma people.
Experience of the COVID-19
HAVING enough experience about previous pandemics, it is predicted that the Marma community will tackle the next wave of the COVID-19 well. They have traditional knowledge to tackle the pandemic. They have gone under lockdown when coronavirus spread all over the world. They have maintained quarantine strictly. More than 100 years before the coronavirus outbreak, the world was devastated by another pandemic, which infected the Marma community in large numbers.
Recently, we see that tourists are coming in the CHT because administration has opened tourist spots. In Khagrachhari, tourist spots were opened for all on August 8. About 8-10 buses and 20-25 bikes with full of tourists were entering in the CHT on an average daily.
They are interacting with people of these areas. Community transmission is going to take a risky turn unless the district administration tackles the unregulated entry of tourists from across the country. To contain the spread of COVID-19, the concerned authority should considering closing tourist spots for a few more months.
Mongsaimarma is a LLM student at the University of Chittagong and Dr Sweuokrai Marma, MBBS is an intern at Chittagong Medical College Hospital.
Want stories like this in your inbox?
Sign up to exclusive daily email
More Stories from Mindspeak