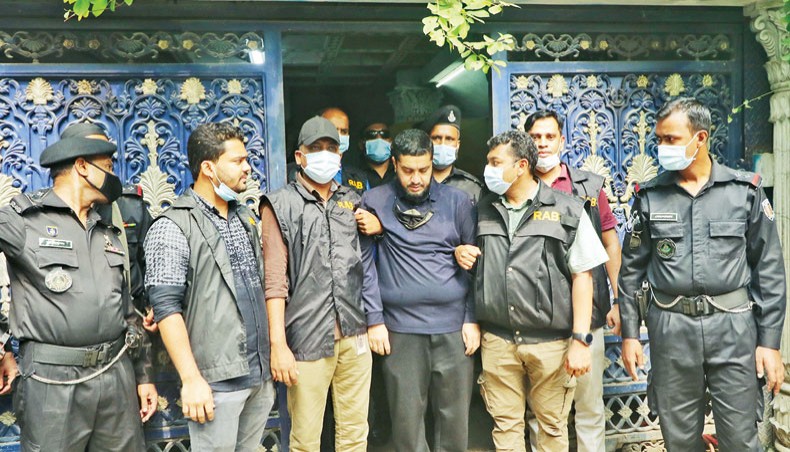 The Rapid Action Battalion on Saturday arrested a businessman named Monir Hossain and seized over Tk one crore and a stash of gold after raiding his house in the capital's Merul Badda area.
Monir, also known as Golden Monir, was held on charges of possessing illegal firearms and drugs, said RAB officers.
Monir is involved in gold smuggling and has amassed huge wealth through smuggling, said RAB media wing director Ashique Billah.
The RAB recovered Tk 1.09 crore in cash, currencies of 10 countries worth around Tk nine lakh, 600 tolas of gold ornaments, illegal arms, alcohol and five SUVs in the raid.
Monir owned wealth worth over Tk 1,050 crore by forging RAJUK documents, through gold smuggling and other crimes, said Ashique.
He said that the elite force, based on a report from an intelligence agency, started the raid on the residence of Monir Friday midnight, which continued till Saturday afternoon.
Ashique said that Monir was a donor to a political party fund.
The RAB officer did not name the political party or the intelligence agency that provided the report.
During the initial interrogation Monir admitted to owning 30 plots of land, said Ashique at a spot briefing.
But, RAB intelligence suspected, he owns at least 200 plots in Badda, Nikunja, Keraniganj and other areas, Ashique added.
The raid on Monir's six-storey Merul Badda residence and an automobile shop began Friday midnight.
RAB officers disclosed that Monir started his career as a salesman at Dhaka's Gausia Market in the 1990s. He later started 'luggage business' — bringing in undeclared merchandise from abroad in the form of luggage to dodge taxes.
At one stage he got into gold smuggling and as he smuggled huge amounts of gold into Bangladesh people started calling him 'Golden Monir', Ashique said.
Ashique further said that Monir was also a land grabber and he accumulated vast land property in collusion with some unscrupulous officials of Rajuk.
Monir's son Rafi Hossain claimed that his father was not involved in any of the crimes mentioned by the RAB.
'There were no firearms and drugs in our house. We don't know who is behind this. We will pursue legal courses for his release,' said Rafi.
RAB executive magistrate Palash Kumar Bosu, who led the operation, said that they would file at least three cases against Monir under the acts dealing with illegal firearms and narcotics use and the Special Powers Act.
Monir, he went on, has already been accused in at least three cases, including one on charge of forging the signature of a RAJUK officer.
Contacted, RAJUK chairman Sayeed Noor Alam told New Age that they conducted an operation in their office last year when they recovered 72 forged documents.
Those documents had forged seals and signatures, he said, adding that RAJUK then filed a case with Motijheel police station against Monir.
But he was not arrested or interrogated in that case, the chairman said.
Sayeed said that they did not have any plan to initiate any departmental investigation in this connection, although RAB investigators said that some dishonest RAJUK officers assisted Monir in his forgery.
Monir was taken to RAB-3 office for interrogation and the force will conduct, Ashique said, more raids if he names his patrons and associates during the interrogation.
Ashique said that they would also write to the Anti-Corruption Commission, National Board of Revenue and Bangladesh Road Transport Authority to start inquiries against Monir.
Want stories like this in your inbox?
Sign up to exclusive daily email
More Stories from Country