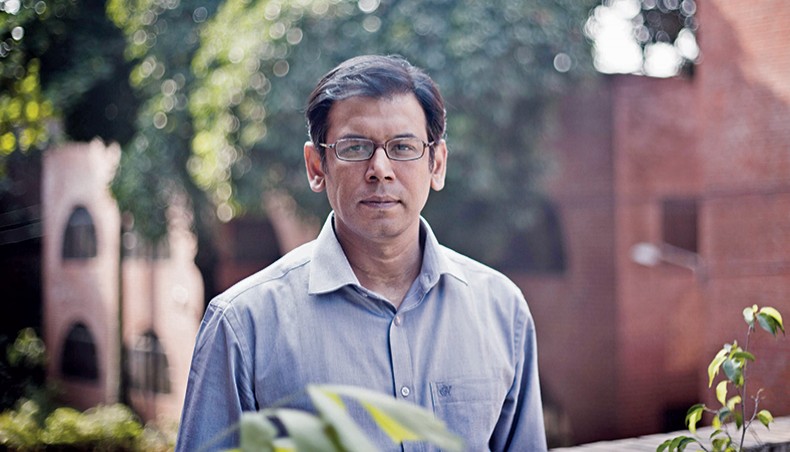 Fiction writer Faizul Islam is a voice to reckon with in the post-Elias literary scene. He started writing fiction way back in 1989. Long form story is his forte. Since 1990, his fictions have been published in numerous literary magazines of Bangladesh. So far, he has published five collections of stories under the header Nakshatrer Ghora, Khowaj Khijirer Sinduk, Ayna, Nilkhete Keno Jai, and Bakhtiar Khaner Cycle, and a novel Boy's School Band. His first collection of stories— Nakshatrer Ghora appeared in 1998. His second collection of stories—Khowaj Khijirer Sinduk was awarded as the best work in the fiction-category by Prothom Alo. Also, he writes occasional articles on literature and culture.
In a recent interview with New Age he spoke about the form of fiction, sexuality in Bengali fiction, development of Bengali novels and the necessity of contextual language and forms.
New Age: Please tell us how you first began to write? Was it out of passion or was it an attempt to begin a career?
Faizul Islam: When I was in my teen, I tried my hand in writing poems. That attempt wasn't a professional one at all. At some point in time, I discontinued. In 1988, I reviewed Hasan Azizul Huq's collection of essays that was published under the header Aprokasher Bhar. Then some writer friends inspired me to write fictions saying, 'Essentially, you're a prose writer'. After that, at the end of 1989, I devoted myself to writing fictions as a professional.
New Age: There is a lot of debate over form and content and their relationship. But the references to how this dichotomy has been resolved by writers are few and far between. What was your approach to the problem?
Faizul Islam: For me, usually, content dictates the form of any fiction. After I have conceived a plot and picked the characters who would perform in it, I look for an appropriate form to express the story. Sometimes forms differ from one plot to another, however insignificant that difference may be. So far, it has never happened to me that I have determined a form first and then settled for the content.
New Age: Hasan Huq has a tendency to write long stories. The same is true in your case. Your stories are neither novels nor novellas, just long stories. Is the genre predetermined?
Faizul Islam: I prefer writing long stories in most cases. This long form of prose allows me to accomplish at least two things. It provides me with a bigger space for crafting detailed settings of any plot, and gives me an opportunity to present the characters in many layers. Still I do leave many things untold. This is a technique of implanting mystery in prose similar to that of embedding the same in short stories.
New Age: Do you think a story remains interesting when it is too descriptive, devoid of symbolic or unconscious narratives? Moreover, is it possible to write a story without emphasising a storyline? What is your take on experimental short stories?
Faizul Islam: This is a matter of keeping a judicious proportion in description. Either in plain descriptions or in streams of consciousness narration, every word in a sentence and every sentence in the cobweb has to be measured thoughtfully. Otherwise, risk is there that the reader, with a long description, may become bored! Long but measured descriptions are very common in the long stories or novellas of Gabriel Garcia Marquez. Use of metaphors may lessen the job of lengthy waves of descriptions. Thus, a writer always struggles to deal with a dilemma regarding whether to emphasise description or to ensure readability deemphasise it in places. In my stories, sometimes linearity in telling the tale may be absent. But a storyline is always there in disguise, which may apparently deceive the reader at first. Without a storyline, a prose may become just bubbles of thoughts! A reader may not be interested in looking at messy stones piled up in a space, which, without the mortar may not give the impression of a building! Nonetheless, throughout the development of human civilization, either in oral or written tradition, we like to share our legends, myths, folktales, fairy tales, fables, anecdotes etc. in many forms.
In conventional short stories, the treatment is such that it is taken for granted that life follows a straight line. On the contrary, compared to the early nineteenth century, life has become far more complex. Hence the writers are now very keen to design stories to address the non-linearity of life. Also, life can be seen from many perspectives, and there could be different solutions to different circumstances as well. The change in perception has led to the quest for a new form and a new language for developing narratives.
New Age: Akhteruzzaman Elias once said that Alaler Gharer Dulal, or Hutom Pyanchar Naksha presented a contextual model for Bengali novelists, which was later abandoned. After that novels in this part of the world became Euro-centric. How do we liberate Bengali novels from the European model?
Faizul Islam: In Bangla literature we observe a continuity of narrative ploys found in folktales, panchalis, punthis chompukabya, etc. Since the mid-nineteenth century, the taste of the readers has been shaped mostly by the European tradition of fiction-writing. This would be very hard to change overnight. However, considering the increased scale of complicacies in life, there is always a room for new experimentation. Such a new form of expression would require contributions from many fiction writers, and this collective effort may take a long time to reach a certain state of maturity. One would have to bear in mind that eccentricity in such experiments may allow immense pleasure to the writer herself or himself, but the readers may not feel easy with that.
New Age: Is it easy to write about sex in Bangladesh as sexuality has been presented in the writings of Elias or Syed Huq?
Faizul Islam: The exchange of sexuality, one of the most powerful means of social interactions. Sexuality is a very common act in the animal kingdom, so is in human beings. In a conservative society, we just do not talk about it. Syed Shamsul Huq and Akhteruzzaman Elias did experiment with the issue of sexuality by way of revealing the nature of sexual transactions, hunger for such transactions, accomplishment or failure, etc. I believe writers should be brave in exploring the nature of sexuality. I do not think that people, in general, are unwelcoming to an artistic exposition of anything that has relevance.
New Age: Tell us about your creative processes. Do you have any unique method or routine that you follow? Which books or which writers influenced you when you started writing?
Faizul Islam: I do not have any strict routine for writing, nor do I follow any unique method. My process is simple — I think a lot and I discard even more. I wait for an overwhelming flow to come upon me, and immerse myself in it. Then, I try writing at a stretch.
In my early years, I had a great deal of influence from the fictions of Syed Shamsul Huq, Hasan Azizul Huq, Akhteruzzaman Elias, Wasi Ahmed and Shahidul Zahir.
New Age: What does a novel, as a form, actually represent? Do you see any possibility and promise in contemporary fictions and do you think these writers have been driven by social responsibility?
Faizul Islam: A novel portrays lives of people of a particular geographic space in a specific time period. Thus, there are three variables in a novel — people, place, and time. When these variables assume right values of the co-ordinates, then we call it a fiction as a 'representative work'. Nowadays, in fictions, in terms of theme, format and language, many outstanding experiments are going on. A high degree of exposure to world literature has made such experimentations possible. Sometimes the lives of commoners are almost absent there. I guess, the lack of experience of understanding the vast majority of a time-dependent geographic space has been plaguing the ability of most of the fiction writers. However, on the issue of social responsibility, I think, we cannot force a writer to assume a position regarding his or her social responsibility. Additionally, I must not discard the possibility of a portrayal of life of a particular group other than the commoners. For instance, lives of a skilled migrant, of a business tycoon, of a music band, etc. The rule of the thumb is, based on the socio-economic and cultural realities, one needs to feel the pulse of the people one belongs to, and then write about them.
New Age: Gilbert Chesterton once said that 'a good novel tells us the truth about its hero; but a bad novel tells us the truth about its author.' Since a writer is the first and the foremost reader, how do you view this matter?
Faizul Islam: There is a long debate on the criteria for evaluating a novel. Here, we do not have the space for getting into that discussion. To me a novel is a 'good novel' when it speaks about the life of an individual in a particular place and time. Here, technically, we do assume that there are no flaws in using the content, form and language in the text. Absence of this trait in a novel may appear as a failure of the writer, and her or his work may not last long — perhaps, may stay alive for a while due to sycophancy. Thus, as a writer, a process of elimination of ideas is of prime importance to me. After a certain idea strikes, then I try to be careful in calculating the way the characters would behave, converse and would respond to various impetuses and so on. After I finish writing, usually I leave the piece in a closet for a long time. Later, I go back to it to figure out the loopholes I myself had left unattended.
New Age: Literary criticism is virtually absent in Bangladesh, so what are the issues that you think plague our literary arena? Tell us a little about the function of literary criticism.
Faizul Islam: The job of a writer is finished after her or his book is published. In order to re-interpret a writer's fictitious world to the readers, we need good reviewers. Thus, reviews on books constitute another professional branch of literature that requires academic training. We lack this sort of academic training in this country. We need to learn objective techniques of review writing —how to do a good summary of a text, how to analyse the dynamics of the characters, how to figure out both strengths and limitations of the writer, how to compare her or his work to the works of the predecessors, etc.
New Age: The search for philosophical truth on and around human existence or alienation of the modern man is a major theme in many western novels. How does a novel become a great novel? Is it only by dealing with the crisis of the individual existential crisis from a philosophical point of view, or can a great novel also be based on the realities of marginal people?
Faizul Islam: This is not a binary choice question at all. It is all about an individual or a bunch of individuals — how do they behave in the context of a socio-economic development of a country on the stage of history. Theory dictates that first, a rural economy transforms to an industrial one, and then, people move to towns, cities and megacities. In the rural setting, individuals are closely linked to one another within their own communities. When urbanisation takes place at a greater extent, then, usually, some of the individuals may get alienated. For instance, rural to urban transformation is not yet complete in Bangladesh, and thus, at this stage, alienation would not be a pervasive reality, but the high scale of both absolute and relative poverty, especially in urban areas, would prevail.
New Age: the COVID-19 crisis has turned life upside down. How did you spend your days after the first COVID-19 case was discovered in Bangladesh?
Faizul Islam: During the COVID-19 deadlock, I stayed home for almost one and a half month. I never had the chance to enjoy such a long break! Thus, I could devote myself fully in writing novels and long stories. After that, I myself got infected with COVID-19 which appeared as another blessing for me. In isolation, I had the privilege of becoming a bookworm, and I wrote few articles on the development of vernacular literature in Italy, England, and the United States.
Want stories like this in your inbox?
Sign up to exclusive daily email
More Stories from Miscellany