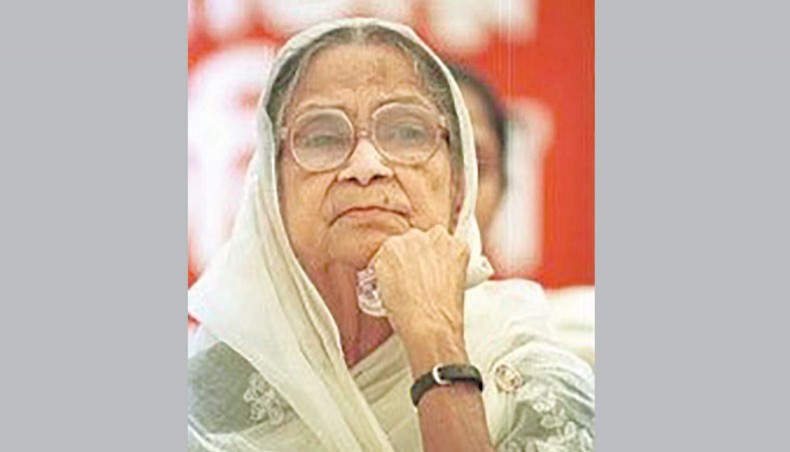 Today is the 21st anniversary of death of the late eminent poet-organiser-activist Begum Sufia Kamal, whose contribution to various cultural and political movements in the 1950s and 60s and during the liberation war helped define the newly emerged country.
President Abdul Hamid and prime minister Sheikh Hasina issued separate messages paying profound respect to the memory of the poet on Thursday. They prayed for eternal peace of the departed soul of Sufia Kamal, reports Bangladesh Sangbad Sangstha.
Sufia Kamal was born on June 20, 1911 at Shayestabad, Barishal. Her father was Abdul Bari and mother was Sabera Begum.
Back then women's education was prohibited so a young Sufia was deprived of formal education but she did learn Bengali, Hindi, English, Urdu, Arabic, Kurdish and Persian languages from house tutors.
Sufia Kamal wrote her first story Sainik Badhu in 1923, which was published in the Tarun, a literary magazine.
Her first collection of poems Sanjher Maya was published from Kolkata in 1938. Both Rabindranath Tagore and Kazi Nazrul Islam had praised the work.
A civil society leader and a women's rights activist, Sufia Kamal played an active role in the language movements, the liberation war and different human rights movement.
She was involved in the protest movement against the embargo on Tagore songs imposed by then Pakistan government in the late 1960s and was also involved in the mass upsurge of 1969 and the non-cooperation movement of March 1971.
She played a crucial role in the emancipation of women in post-independence Bangladesh.
She authored more than a dozen collections of poems and several volumes of short stories, short novels, travelogues, etc. Her Ekattarer Diary tells the untold stories of the Bengalis in 1971.
Sufia Kamal also edited the women's magazine Begum. Her poems have a wide range of themes drawn from the rich tradition of Bengali literature. Her works have been translated into various languages including Chinese, English, German, Italian, Polish, Russian, Hindi, Urdu and others.
Sufia Kamal was the founder chairperson of The Bangladesh Women's Rehabilitation Board, Bangladesh Rural Advancement Committee, Dustha Punarbasan Sangstha. She was the president of Chhayanaut, Bangladesh Protibondhi Foundation and Nari Kalyan Sangstha.
Sufia Kamal received numerous awards including the Tamgha-i-Imtiaz in 1961, a major national award conferred by the Pakistani government that she returned in 1969 in protest at the then government's oppressive treatment to Bengalis, the Bangla Academy Award for Literature in 1962, Ekushey Padak in 1976, Jatiya Kavita Parishad Award in 1995, Women's Federation for World Peace Crest in 1996, Begum Rokeya Padak in 1996, Deshbandhu CR Das Gold Medal in 1996, Independence Award in 1997 and others.
She also received a number of international awards, including, Lenin Centenary Jubilee Medal from the Soviet Union in 1970, and the Czechoslovakia Medal in 1986.
Sufia Kamal died on November 20 in 1999.
Want stories like this in your inbox?
Sign up to exclusive daily email
More Stories from Literature