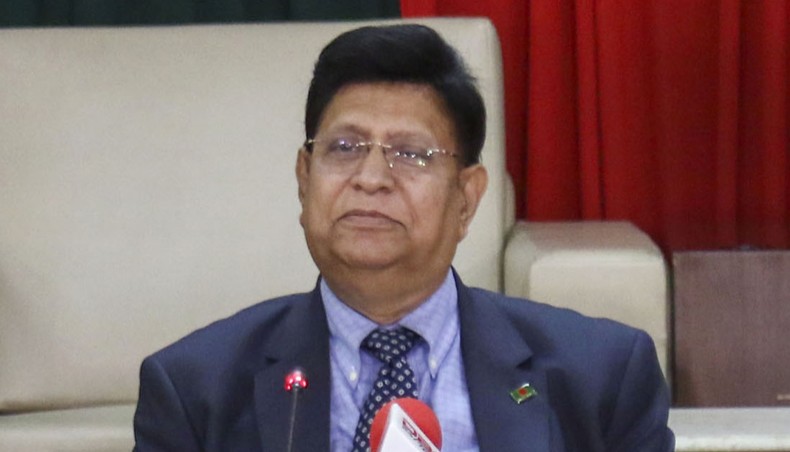 Bangladesh and India would not sign the much-expected agreement on the sharing of water of the river Teesta during the prime minister-level talks set to be held in December, according to foreign minister AK Abdul Momen.
'No magic will be offered during the talks. I don't believe that an agreement on the Teesta will be signed overnight,' Momen told journalists at an event styled as 'meet the press' in Dhaka on Wednesday.
The two countries have readied an agreement, but could not sign due to India's 'internal problems,' he said. 'India has not said they would not sign it. They said they could not sign it due to their internal problems. There has been no progress after that.'
The two governments would discuss the signing of a framework agreement on seven other rivers, the foreign minister said, adding that a technical body would visit India next month to discuss water-related issues.
Four memorandums of understanding are likely to be signed on the day of the summit-level talks between prime minister Sheikh Hasina and her Indian counterpart Narendra Modi, he said.
The two prime ministers are set to hold a meeting virtually in the third week of December, according to diplomats from both sides.
The MoUs would be finalised in a meeting of the foreign secretaries in New Delhi, Momen said. Foreign secretary Masud Bin Momen would visit New Delhi for a foreign office consultation in which his Indian counterpart Harsh Vardhan Shringla would lead the Indian side in the second week of December.
Replying to a question on Bangladeshi citizens who remained stranded in many countries trying to find their way into Europe, the minister said the government decided to bring to book the people going abroad illegally and earning a bad name for the country.
Their family members will also be brought under the law for encouraging them to go abroad illegally, he said.
On a question regarding siphoning of money overseas including Canada, the foreign minister admitted that the problem exists, but said with reference to information on 28 cases on the matter, 'I thought many of them might be politicians. But there were only a handful of them and some were RMG factory owners while most of them were families of government officials.'
He alleged that the Swiss authorities have the habit not providing information on money transferred to the banks in their country, but they often talk about transparency. 'It is a glaring example of double standard,' he added.
Dhaka Reporters Unity organised the programme in which its president Rafiqul Islam Azad and general secretary Riaz Chowdhury also spoke.
Want stories like this in your inbox?
Sign up to exclusive daily email
More Stories from Foreign affairs