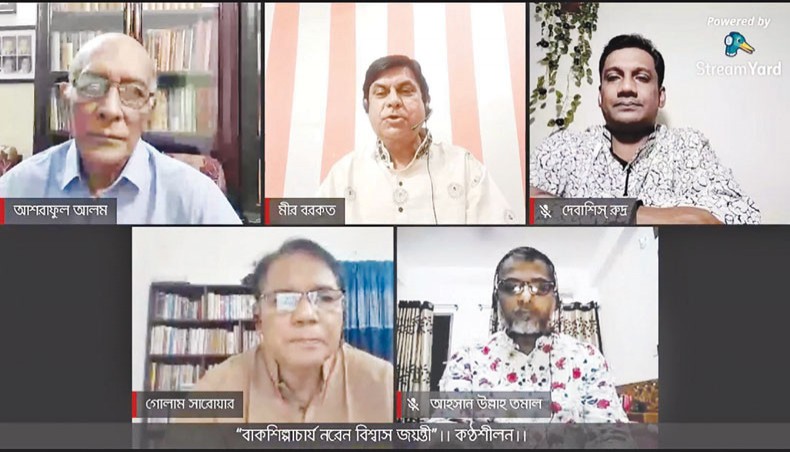 The late linguist, recitation artiste, poet, playwright and lyricist Naren Biswas was remembered in an online programme organised by Kanthasilan on Monday night.
The event was streamed live on Kanthasilan's Facebook page marking Naren Biswas's 75th birth anniversary, which was observed on November 16.
The programme featured discussion and recitation show. Naren Biswas died on November 27 in 1998.
Swadhin Bangla Betar Kendra artiste Ashraful Alam, recitation artistes Ahsan Ullah Tomal and Debashish Basu, Kanthasilan president Golam Sarwar and others participated in the programme, which was conducted by renowned recitation artiste Mir Barkat.
'Naren Biswas used to live a simple life. He used to walk the streets of Dhaka donning simple attire. One could not guess that he was a teacher of Dhaka University at first sight. He conducted recitation workshops and played an important role in promoting recitation among younger generations. He also tried his hand at theatre during his college and university days,' said Ashraful Alam.
'He brought out Oitijyer Angikar comprising at around 13 recitation albums. It features works by Michael Madhusudan Dutt, Dinabandhu Mitra, Girish Chandra Ghosh, Sergei Lebedev, Dwijendralal Ray, Srikrishna Kirtan, Brojobuli, Rabindranath Tagore, Kazi Nazrul Islam, Shamsur Rahman and others. I was with him when he selected the manuscript, artistes and promoted the production,' added Ashraful.
'Naren Sir's death left a huge void in the country's recitation arena. He was a patriotic person. He participated in the liberation
war and was imprisoned but he didn't yield. We learned a lot from him. We will try to promote his works among the younger generations,' said Gloam Sarwar.
Besides, recitation artistes paid tribute to Naren Biswas reciting poems penned by leading poets.
Among others, acclaimed recitation artiste Ahsan Ullah Tomal recited poet Soumitra Chatterje's poem Khandabdahaner Pore, Debashis Basu recited Shamsur Rahman's Naren Biswas Ke Mone Rekhe, Shahadat Hossain Liton recited Rabindranath Tagore's Hothat Dekha, Annana Goswami recited Soumitra Chatterjee's Taranga Chhayar Modyhe, Emdad Hossain Koishor recited Rabindranath Tagore's Sandhya O Probhat, Monir Hossain recited Dilip Das's I can't Breathe, Sharif Ahmed Biltu recited Joydev Saha's Smriti
Niye Gelam, Marif Bappy recited Rabindranath Tagore's Nirjharer Swapnabhanga and Bilkis Ahmed read selected parts from Rabindranath Tagore's essay Bandhutwa O Bhalobasa.
Want stories like this in your inbox?
Sign up to exclusive daily email
More Stories from Literature